Lemon Rosemary Vinaigrette is a tart-bright dressing perfect for salads, drizzling on wraps and more. This is best made in a mortar and pestle but can be made in a food processor as well.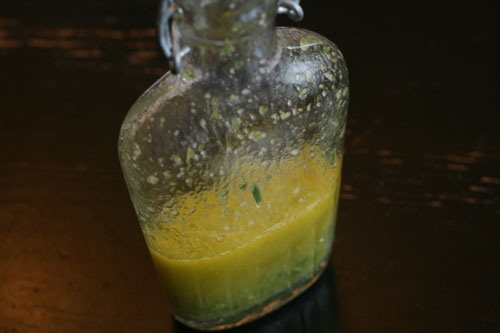 When I served our salad last night, I was a little apprehensive.
My husband Shawn isn't a big fan of lemon so I wasn't sure he'd even try this dressing. But he tasted it on one piece of lettuce and then dressed his whole salad with it.
"Rosemary is really the star," he remarked … and it is.
My whole family adores rosemary. The woody herb, with its pine-like needles, grows outside our front door in a planter in the summertime.
I love being able to send the kids out for a fresh, just-picked snippet. It was only natural that when I wanted to make a new dressing the other day, I would turn to rosemary.
Lemon and rosemary are a natural fit for each other, making a tart-bright dressing that holds its own against sharp ingredients.
Consider serving on a salad with a sprinkle of freshly grated sharp provolone. This would also be fab with feta, Kalamata olives and cucumbers on a bed of romaine.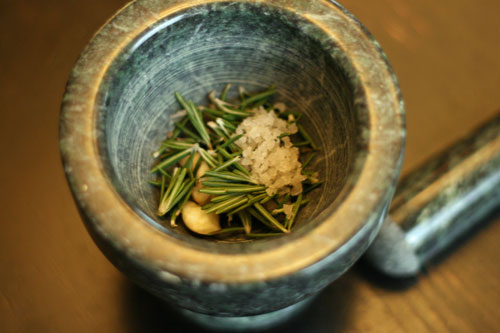 This is a dressing I make by hand in my mortar and pestle. However, if you don't have one, this can be made in a small or mini food processor. To do so, process the garlic, rosemary and salt together well before adding the lemon juice and oil and processing some more.
Also, one more note: You may also want to pre-mince the rosemary, if you do it that way, to ensure that it gets sufficiently broken down.
Do you make your own salad dressing? What's your favorite blend?
Lemon Rosemary Vinaigrette Recipe
Ingredients
1 clove garlic, peeled
2 sprigs rosemary, stems removed
1/2 tsp sea salt
1 lemon, juiced
1/4 cup olive oil
Instructions
Add garlic, rosemary and sea salt to the bowl of the mortar. Use the pestle to mash to a paste.
Add the lemon juice in a fine drizzle, stirring and mashing during the addition. Add the olive oil, stirring and mashing during the addition.
Transfer to an airtight container and use within a few days
Notes
- This yields enough to dress four salads with 2 tbsp dressing each. - Instead of discarding the lemon peel, freeze it for future use (it can be zested from frozen!) - Mash the rosemary well, so that it breaks down into fine pieces.
Sarah Walker Caron is a cookbook author, freelance writer and founder of Sarah's Cucina Bella. She is the author of several cookbooks including The Super Easy 5-Ingredient Cookbook and One-Pot Pasta, both from Rockridge Press. A single mother to two kids in middle school, Sarah loves nightly family dinners, juicy tomatoes plucked fresh from the vine and lazy days on the beach. She also adores reading and traveling.