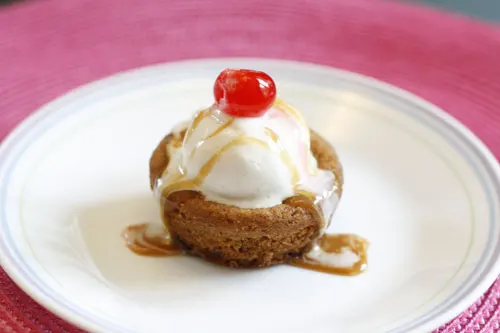 Earlier this summer, I sat down and wrote a list of all the things I wanted to do this summer. Some years, it's felt like summer just passed me by, leaving me yearning for that feeling you have when you are young and summer feels like it lasts forever. This year, I wanted to reclaim that feeling — not just for me, but for the kids as well.
So, we've spent this summer digging our toes into the sand and hiking around a park where Dinosaurs once roamed. We've camped at a fabulous campground (in a cabin!), spent afternoons at the zoo and shopped till we dropped. It's been awesome. This summer has felt like a true summer. And all of that has allowed me to get to that point that I used to love: the one where you anticipate what's to come and imagine the wondrous things that fall and the school year will bring.
It feels so good.
So, in anticipation of fall, I am already thinking of fun snacks and desserts that I can whip up for a grade-well-earned or a just-because when school starts. This fabulous Cookie Cup Sundae totally fits the bill. It's easy enough to whip up on a whim.
You start with chocolate chip cookie dough baked in a muffin tin. For the recipe, I use store bought dough since it's so easy and fast. However, you can make it with homemade chocolate chip cookie dough too (note: you will have more dough than this recipe requires — bake the recipe of the cookies right away, or freeze it in balls and transfer them to a resealable bag for later usage).
So, by cooking the cookies in a muffin tin, they mold into this perfect little cup shape. It's just the right size to hold a scoop of ice cream from my cookie scoop (I love my Oxo Good Grips Cookie Scoop — one of my fav kitchen gadget purchases ever). Then you drizzle it with hot fudge or caramel sauce (caramel is pictured), top with a cherry and voila!
Also check out my Berrylicious Cookie Cup Sundae, which uses a similar method to make mini cookie cups with a mini muffin tin.
Cookie Cup Sundaes
Ingredients
1 pkg Pillsbury Simply Chocolate Chip Cookies
Vanilla Bean ice cream, (about 3 cups)
1/2 cup hot fudge
12 maraschino cherries
Instructions
Preheat oven to 350 degrees.
You will need a muffin tin with 12 cups. Divide the 12 squares of cookie dough and place one into each of the muffin tin cups.
Bake the cookies in the muffin tin for 14-16 minutes, until lightly browned and cooked throughout.
Let the cookies cool in the muffin tin for 10 minutes. Then, loosen from the edges with a butter knife and turn out onto a cooling rack. The center of the cookies will deflate as they cool.
Finally, construct the cookie sundaes: Place one cookie cup on each plate. Top with a small scoop of ice cream (I use a cookie scoop, which is a little over 1 1/2 tablespoon of ice cream). Drizzle the hot fudge or caramel sauce over each sundae. Then, top with a maraschino cherry and serve.