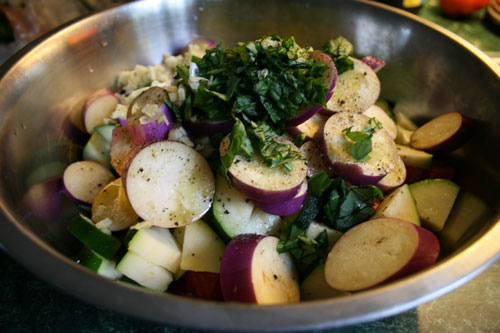 When I saw the eggplant in my CSA basket last week, I couldn't contain my excitement. Yes, I yelped. I've been waiting for eggplant to appear for weeks, which is a funny thing since I didn't eat it at all for many years. When I was in my early 20s, coworkers of mine gushed about a fabulous eggplant parmesan sandwich sold at a local restaurant. They urged me to try it, but I sharply resisted … after all, eggplant was on my "no way" list. I played it safe with chicken parmesan, and told them no way, no how would I ever eat eggplant. Ever. My aversion started in childhood. When I was a little girl, my mother used to tell me everything was chicken — what's this shrimp-like thing? Chicken. This breaded circle? Chicken. The whole thing completely backfired. I didn't eat shrimp until a few years ago. But the eggplant was the most traumatizing — when I bit into the breaded circle and felt seeds swimming around my mouth, I gagged. I didn't eat eggplant for more than 20 years — close to 25. Thank goodness for maturity. A few years ago, I started opening up to try things that I didn't think I liked. After all, if I asked that of my husband, shouldn't I be willing to try things again too? As a result, I have discovered a fondness for shrimp, an adoration of squashes and even a fondness for eggplant. As a side note, I am firmly against lying to my kids about what they are eating. When I make
bread with zucchini
or
cupcakes with squash
, they know it.  The sneaky food movement? Totally not my thing.
Back to the eggplant. All summer, I have been waiting to make two things:
eggplant parmesan
and ratatouille. I made
ratatouille in the crockpot
a few years ago, but I rarely use that anymore … and I wanted a version that would cook up faster and without heating the chicken. This Grilled Ratatouille does the trick. Ratatouille is kind of like an all-star summer veggie dish. Eggplant, zucchini, onions, garlic, tomatoes and more are chopped and grilled in a foil packet until tender. Then the dish is finished with a drizzle of balsamic vinegar. It's warm and comforting and so flavorful. The vegetables retain their shape, but the flavors meld and blend … it's just perfect. Do you have any traumatizing food stories from your childhood? Share in the comments.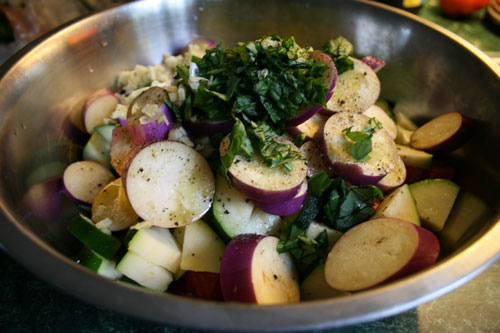 Yield:

6 servings
Grilled Ratatouille Recipe
Ingredients
2 slim eggplants, sliced into 1/4 inch slices
1 sweet onion, roughly chopped
1 sweet red pepper, cut into 1
2 large plum tomatoes, diced
3 cloves garlic, minced
2 zucchini, sliced into 1/4 inch slices
2 tbsp chopped fresh basil
1/3 cup olive oil
salt and pepper
balsamic vinegar
Instructions
In a large bowl, stir together the eggplant, onion, red pepper, tomatoes, garlic, zucchini and basil. Drizzle with olive oil and salt and pepper well. Stir again.
Lay out a large sheet of aluminum foil and spread the vegetable mixture in the center. Top with a second sheet of aluminum foil. Seal the edges tightly.
Turn on your grill (if using a gas grill) and set to high heat. Place the foil pack on direct heat and cook for 35 minutes. If using a charcoal grill, cook a little longer to ensure that all the vegetables are tender.
Transfer the vegetables to a serving bowl and drizzle with balsamic vinegar (just a couple tablespoons!). Stir well.
Serve immediately.
Nutrition Information:
Yield:
6
Serving Size:
1
Amount Per Serving:
Calories:

121
Total Fat:

9g
Saturated Fat:

1g
Trans Fat:

0g
Unsaturated Fat:

8g
Cholesterol:

0mg
Sodium:

45mg
Carbohydrates:

9g
Fiber:

2g
Sugar:

6g
Protein:

2g
Sarah Walker Caron is a cookbook author, freelance writer and founder of Sarah's Cucina Bella. She is the author of several cookbooks including The Super Easy 5-Ingredient Cookbook and One-Pot Pasta, both from Rockridge Press. A single mother to two kids in middle school, Sarah loves nightly family dinners, juicy tomatoes plucked fresh from the vine and lazy days on the beach. She also adores reading and traveling.

Ratatouille is kind of like an all-star summer veggie dish. In this Grilled Ratatouille recipe, chopped eggplant, zucchini, onions, garlic, tomatoes and more are grilled in a foil packet until tender. A drizzle of balsamic vinegar finishes off the warm, comforting dish.