When it comes to citrus, lime is my clear favorite. Yes, I like orange juice and the occasional grapefruit. And yes, lemon is perfect for some dishes. But I save my lovin' for the lime.
Limeaid, lime in guacamole, Lime White Chocolate Cookies — I love it all. So, lime in a dressing? Naturally, when the idea popped into my head, I was all over it. Lime, olive oil, cumin, paprika … oh yea! And what could be better to toss it with than a fabulous black bean salad?
My mouth was watering thinking about it. Oh wait, it still is.
The tart lime, creamy avocado, sweet red peppers and meaty black beans go perfectly together. The shrimp finish off the salad so nicely, giving it substance.
I served this over Boston bibb lettuce leaves, but you could plate it over baby greens, rice or without any base. It's all up to you on that one.
Another great thing about this salad? It's ready in about 15 minutes. I pan-fried these extra-large shrimp, but any cooked shrimp will do — and if you use precooked shrimp, it's even faster to whip up (maybe 10 minutes?). Perfect for a speedy lunch on a busy day.
What's your favorite fast lunch?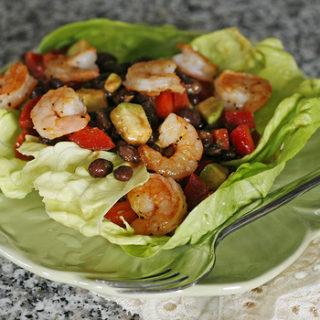 Lime Black Bean Salad with Shrimp
Ingredients
1 red bell pepper, , diced
1 Hass avocado, , diced
1 can black beans, , drained and rinsed
1 lime, , zested and juiced
1/4 cup extra virgin olive oil
1/2 tsp cumin
1/2 tsp paprika
salt and pepper, , to taste
1 lb extra large or jumbo shrimp, , cooked
Instructions
In a large bowl, toss together the red peppers, avocado and black beans.
Whisk together the lime juice, zest, olive oil, cumin and paprika. Taste and season, as desired, with salt and pepper.
Pour the lime mixture over the veggies/black beans and toss to coat.
Divide the black bean salad evenly among four plates. Top each with shrimp and serve immediately.