Satisfying cauliflower, sweet potatoes and meaty garbanzo beans, combine for a symphony of sweet and savory flavors. This is perfect over rice.
This morning, I found out that a friend of mine has cancer. No, wait, that's Cancer, with a capital 'C.' I've been processing this all day and am still at a loss for words. I am praying for her health. But my friend's story isn't mine to tell.
Learning that this wonderful, kind, sweet woman has cancer hit me like a ton of bricks. Cancer doesn't care how good or nice you are. It just attacks, a cruel and invasive enemy.
This got me thinking … What can we do so that we set ourselves up to avoid this monstrous disease? How can we give ourselves a fighting chance against cancer?
We can't prevent it. But what we can do is take steps to give ourselves the best chance of avoiding it. How? Eat well. Live well. Be fit.
For diet, there's something called The Anti-Cancer Diet, which stresses lots of fruits and veggies, healthy oils and fats and more plant-based food than meat. It sounds similar to the Mediterranean Diet and Clean Eating. It's important to think about what you are eating and make deliberate, informed choices.
See also Eat. Live. Be. For a Better 2011.
Then there is exercise — regular exercise. As if by a strange coincidence, the kids and I started jogging this week, and I am considering running a 5K. But whether you jog or hit the gym or Zumba like crazy, doing something to raise your heart rate and keep your body fit helps.
So, with The Anti-Cancer Diet in mind, Paige and I made this for lunch today. This recipe draws on healthy, anti-cancer foods like cauliflower, sweet potatoes and garbanzo beans. The filling combination of sweet and savory is perfect over rice. If you want to up the health ante, use brown rice.
What's your favorite anti-cancer food?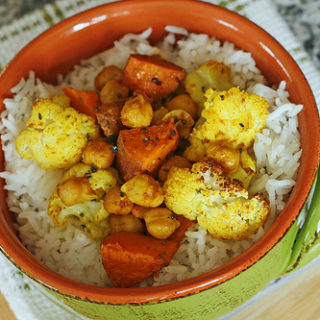 Roasted Cauliflower, Sweet Potatoes and Garbanzo Beans Over Rice
Satisfying cauliflower, sweet potatoes and meaty garbanzo beans, combine for a symphony of sweet and savory flavors. This is perfect over rice. 
Ingredients
1 medium cauliflower, cut into 1" florets
1 4-5 " long sweet potatoes, cut into a 3/4" dice
1 15.5 oz can garbanzo beans
2 tbsp olive oil
1 tsp ground ginger
1 tsp turmeric
1/2 tsp ground cinnamon
salt, to taste
Instructions
Preheat oven to 400 degrees. Line a baking sheet with aluminum foil.
In a large mixing bowl, combine the cauliflower, sweet potatoes, garbanzo beans, olive oil, ginger, tumeric and cinnamon. Toss well to mix, taking care to distribute the spices all over.
Slide the tray into the oven and bake for 20 minutes. Stir well. Bake for an additional 5-10 minutes, until the veggies are cooked through and lightly browned at the edges.
Serve over rice.
Sarah Walker Caron is a cookbook author, freelance writer and founder of Sarah's Cucina Bella. She is the author of four cookbooks including The Super Easy 5-Ingredient Cookbook and One-Pot Pasta, both from Rockridge Press. A single mother to a tween and a teen, Sarah loves nightly family dinners, juicy tomatoes plucked fresh from the vine and lazy days on the beach. She also adores reading and traveling.