It's not often that overripe bananas find their way into my kitchen. Between Shawn and the kids, we easily plow through a dozen or more a week. But a couple times a year, I get way too overzealous buying bananas or the kids just get tired of them temporarily, and a few of those bananas are ignored or forgotten. Then suddenly there they are, browning bananas staring me down.
When I have them, they often find their way into banana bread. But let's face it: everyone and their mama has a great banana bread recipe or five. Heck, I have my very own favorite too.
But bananas are good for so much more than just bread. Like cookies or pancakes. Actually, most often, like pancakes.
Preferably these pancakes.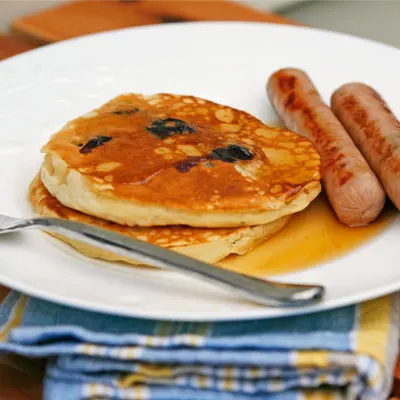 The super-ripe mashed banana makes these pancakes unbelievably tender and fluffy, adding a lovely hint of banana to the flavor. And the inherent sweetness of these pancakes is nicely offset by the tart, plump fresh blueberries. I recommend fresh, but you could use frozen too. If you are using frozen though, find wild ones, which have more flavor and tend to be naturally tart.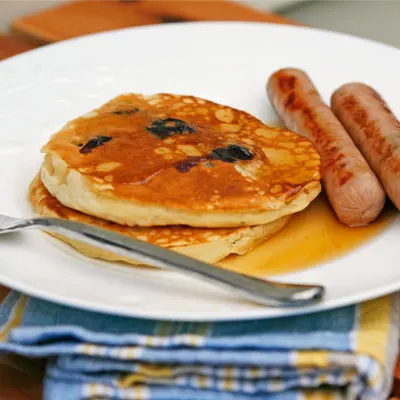 Banana Blueberry Pancakes
Ingredients
1 large egg
1 cup all-purpose flour
3/4 cup low-fat milk
1 tbsp organic sugar
1 tbsp canola oil
1 tbsp baking powder
1/4 tsp kosher salt
1 overripe banana, mashed well
1/2 cup fresh blueberries, frozen can be substituted
Instructions
Heat a large skillet over just below medium heat on the stove. While it's heating up, prepare the batter.
Start by cracking the egg into the bowl of the stand mixer. Mix well on medium-high speed until it's frothy and light yellow in color.
Add the flour, sugar, oil, baking powder, salt and banana to the mixer and beat until just combined. Fold in the blueberries.
Drop the batter by the ladleful onto the heated skillet. Cook, flipping once, until golden and cooked through.
Enjoy with fresh maple syrup. The real stuff.