Fresh vegetables combine with rich balsamic vinegar to create this dynamic Warm Balsamic Red Cabbage and Beets Salad.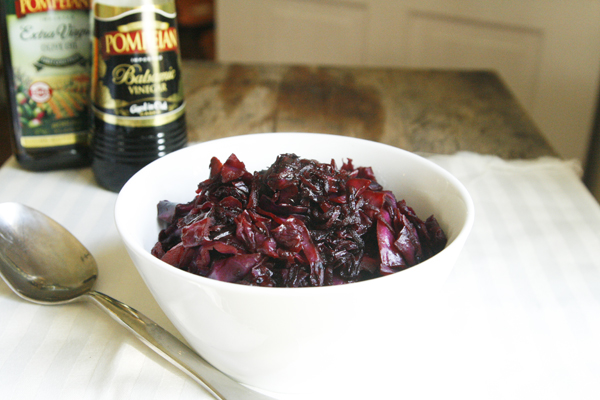 This recipe was created for a client, but all opinions are my own.
A few years ago, I planted rows of red cabbage in my garden. I remember watching the cabbages grow with interest. While my tomatillos, cucumbers for pickling and tomatoes produced big bounties, the red cabbage grew much slower and without the same zeal.
In the end, I had nine small cabbages, which I picked and used together — since one wasn't enough to feed four people.
These days, I let the farmers do all the growing. And with summer fast approaching, that means that soon table upon table at our local farmers markets will be heaped with fresh red cabbages, big, round beets still dusted with the soil they came from and other veggies ripe for eating. I can hardly wait.
There's nothing quite like the season's freshest produce.
And this Warm Balsamic Red Cabbage and Beets Salad? It's perfect for taking advantage of all the red cabbages and beets that will soon be ready for eating.
Making it is simple. First, you shred some fresh red cabbage. I like to cut my cabbage in quarters when shredding it, to create good size pieces that, when cooked, won't require cutting to enjoy. Then you shred beets — one big one will do it, or a few smaller ones. A food processor fitted with a shredder attachment makes quick work of this.
Saute a little garlic, add the red cabbage and beets and then use a little water to make everything soften up. Finally, you add balsamic vinegar and let it cook down until it's all saucy and perfect. All in all, this is ready in less than 30 minutes. Just add your favorite foods off the grill, and you are ready for a delicious summer dinner.
For this recipe, I used Pompeian Extra Virgin Olive Oil and Pompeian Balsamic Vinegar. Recently, I agreed to be a blog ambassador for Pompeian because I love their oil and vinegar products. Pompeian Balsamic Vinegar is aged in wooden casts, which gives it a rich, delicious flavor. I also love that Pompeian Balsamic Vinegar is naturally gluten-free, so my friends who have to avoid gluten can enjoy this with me.
I used regular Balsamic Vinegar, but Pompeian also makes White Balsamic Vinegar and Pomegranate Balsamic Vinegar. All three are sold for about $3.29 per 16 oz. bottle — which makes this a pretty affordable balsamic too.
Now, about this salad …
Warm Balsamic Red Cabbage and Beets Salad
Ingredients
1 tbsp Pompeian Extra Virgin Olive Oil
1-2 cloves garlic, , minced
4 cups shredded red cabbage
1 1/2 cups shredded fresh beet, (use a shredder attachment on your food processor)
1/2 cup water
Kosher salt and pepper, , to taste
1/2 cup Pompeian Balsamic Vinegar
Instructions
Heat the olive oil in a large sauté pan with high sides. Add the garlic and cook until fragrant – about 1 minute.
Add the cabbage and beets and stir well to combine with the garlic mixture. Pour the water over and season with salt and pepper. Cover and cook until the cabbage is wilted – about 6-8 minutes.
Remove the cover of the pan and stir well. Pour the balsamic vinegar over the cabbage mixture and toss to combine. Cook for an additional 8-10 minutes, until the vinegar coats the cabbage and little liquid remains. Season with additional salt and pepper, as needed.
Enjoy immediately.
---
Disclosure: I was compensated for creating this Warm Balsamic Red Cabbage and Beets Salad recipe, but all opinions are my own.