Transform leftover bolognese sauce into a tasty ravioli dish perfect for winter with this Easy Creamy Baked Ravioli with Meat Sauce recipe.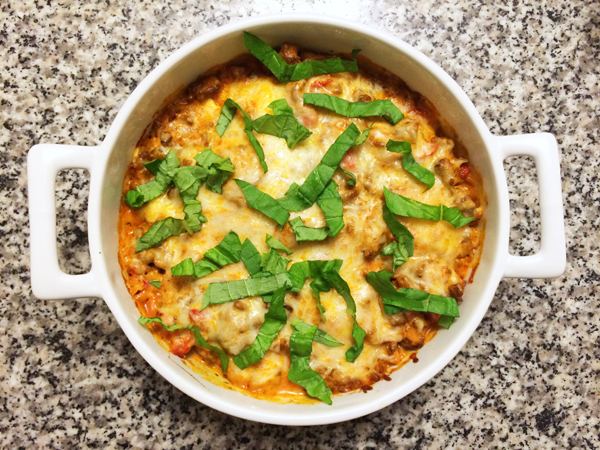 On Sundays, I write out our menu for the week. Usually, that includes a night out, but this week I didn't schedule one. With the holidays nearing and a stocked fridge, I just didn't see the point. There are presents to buy and fun to be had, so it seemed like something we could quietly skip.
The kids disagreed. While driving home tonight, Paige pressed me as to why I didn't plan to eat out tonight (we often eat out on Wednesdays). I didn't have an answer for her. Instead, I pointed out that there's nothing wrong with the menu I planned. And there wasn't.
Tonight's dinner, creamy baked ravioli, was something I dreamed up recently as a way to use up leftovers in the freezer. Always a good thing. In this case, you leftover meat sauce (for instance, Sausage Bolognese would be perfect) is combined with cream and vodka to make a rich, creamy sauce that bathes ravioli and bubbles to perfection in the oven.
The fresh basil, sprinkled on top after baking is complete, adds a bright dimension to the dish.
Making this is truly easy. Start by boiling some fresh ravioli — you know the ones: they are often sold near the deli — and layering them in a greased baking dish. Then mix that meat sauce with heavy cream and a bit of vodka (if you choose) and pour over the top. Sprinkle with mozzarella cheese. Bake that baby for about 25 minutes — or until it's hot and bubbly. Then serve it with a sprinkle of fresh basil.
This recipe only serves two to three people (it was perfect for the kids and I with big salads), so you will want to double or triple it depending on the size of your family — and appetites. And serve it with a salad. It's just right that way.
Do you eat out often?
Quick and Easy Baked Ravioli with Creamy Meat Sauce
Ingredients
12- oz package fresh cheese ravioli, , prepared according to package directions
1 cup leftover meat sauce, (bolognese)
1/2 cup heavy cream
1 tbsp vodka, (optional)
1/2 cup shredded mozzarella cheese
1/4 cup sliced fresh basil
Instructions
Preheat the oven to 375 degrees.
Place ravioli in an oven-safe baking dish.
In a small bowl, stir together the meat sauce, heavy cream and vodka. Spoon over the ravioli. Sprinkle with mozzarella cheese.
Bake for 20-25 minutes, until bubbly around the edges. The cheese should be completely melted. Remove from the oven and sprinkle with basil.