This Cinnamon Raisin Beer Bread recipe creates a tender, lightly sweetened loaf stuffed with plump raisins and swirled with cinnamon. It's perfect for holiday gifting!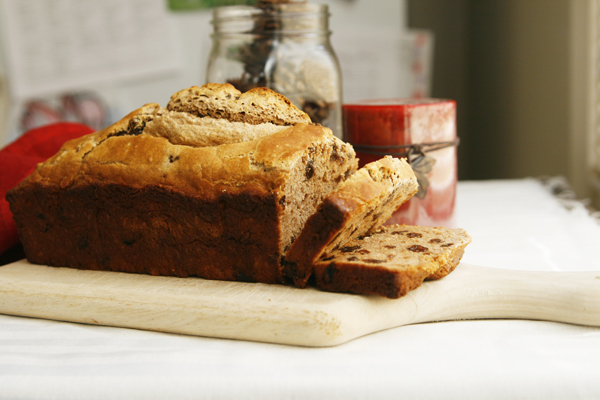 This recipe was created for my client California Raisins via the Kitchen PLAY network, but all opinions are my own.
As soon as Thanksgiving was over this year, I started thinking about baking. There's something about the merriment of the season that makes me yearn for the scent of baking sweets wafting through the house.
During the holiday season, I also love gifting delicious baked goods to friends, families and coworkers. Once upon a time, that meant whipping up dozens of varieties of baked goods, and packaging them as pretty as can be into gift baskets. But sometimes simple is better — a batch of favorite scones or a full-size loaf of a totally delicious bread. (HINT: You can still go pretty with the packaging!)
Like this one.
Cinnamon Raisin Beer Bread only requires a five ingredients to create a tender, moist loaf. Yes, it's super easy — but it's also perfect for enjoying slice by slice, toasting and buttering, using for sandwiches (PBJ!) or even transforming into French toast. But what's really awesome about it is that it's sweetened naturally — with a lot of naturally sweet California Raisins and a hint of honey.
Did I mention that it has only five ingredients? This is a perfect loaf for making, sharing and gifting.
And psst! I'm so excited to be working with California Raisins on their "Sweet. Naturally." campaign. Raisins can add so much flavor to recipes with their natural sweetness. And since they're high in antioxidants, and a good source of nutrients like potassium, iron and dietary fiber, these fat and cholesterol free dried fruits are a fantastic addition to sweet and savory recipes.
In this bread, they turn a normally savory loaf into something with just the right amount of sweetness.
What's your favorite way to enjoy raisins?
Cinnamon Raisin Beer Bread
Ingredients
2 2/3 cups self-rising flour
1 cup California Raisins
1 tbsp ground cinnamon
12 oz. bottle beer, (lager recommended)
3 tbsp honey
Instructions
Preheat oven to 375 degrees. Grease an 8.5-inch loaf pan.
In a mixing bowl, stir together the flour, raisins and cinnamon. Add the beer and stir to combine. Drizzle in the honey and stir again. Pour the batter into the loaf pan and tap gently to even out.
Bake for 45-50 minutes, until cooked through. Cool for 10 minutes before removing from the pan.
Enjoy hot or cooled.