Red onion, red peppers, mushrooms, tuna, white wine and butter come together in this rich Mediterranean Tuna Pasta recipe — perfect for dinner tonight!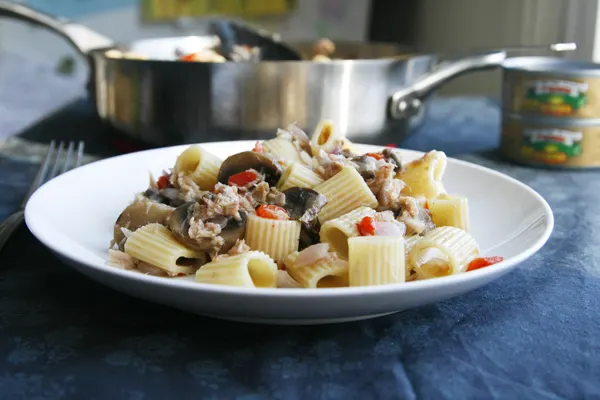 This recipe was created for my client Genova Torro, but all opinions are my own.
Growing up, canned tuna exclusively went into mayonnaise-laden tunafish sandwiches. I can still remember the smell and texture as I stirred together the ingredients. While I learned to make tuna like my grandmother from an early age, I seldom ate it. The flavor just didn't do it for me.
It wasn't until much later that I discovered that not all tuna is created equal — and when you find one you love, it is a delicious addition to meals. Moreover, I discovered that canned tuna is a great protein for use in a variety of dishes from tuna cakes to salads. It's also fabulous in tuna pastas for dinner.
Recently, I was asked to try Genova Torro solid light tuna packed in olive oil and create a new recipe with it. I accepted the challenge to work with this Mediterranean-style tuna, and was happy to discover that I love it. It's fresh, light and nuanced — just the kind of thing I love to cook with and eat. Made with premium wild-caught yellowfin tuna, Genova Tonno is naturally gluten-free, packed with Omega-3 fatty acids and also heart-healthy. And if you haven't had tuna packed in olive oil, it's time to try it — the flavor is superior.
I used this tuna to create a light but filling pasta. This quick and easy recipe combines red onions, sweet red bell peppers, meaty mushrooms and tuna with a light sauce made with white wine and butter. It's tossed with pasta and served hot. All in all, it's ready in about 30 minutes.
Of course, a meal like this is only awesome if the whole family loves it right?
My daughter Paige, 7, was skeptical when I told her I was making Mediterranean Tuna Pasta. Despite having an adventurous palate, Paige can sometimes be deterred by the perception of the name of a dish. But, as I reminded her, you can't say you don't like something you've never had. So, she tried it. A few bites in, I asked her how it was. Paige smiled mysteriously and didn't answer at first. I could practically see the wheels turning in her head. If she admitted that she liked it, she would be saying I was right … and we can't have that. But she did really like it so …
"It's good," she said finally, smiling into her bowl.
When she asked for seconds later, it was my turn to smile. Seconds means that she didn't just like it — she loved it and wants me to make it again. High praise, folks!
Mediterranean Tuna Pasta
Ingredients
2 tbsp extra virgin olive oil
1 red onion, diced
1 cup diced red bell pepper
8 oz sliced mushrooms
salt and pepper, to taste
1 5- oz can Genova Tonno Solid Light Tuna in Olive Oil
1/2 cup white wine
1 tbsp butter
1/2 lb pasta, prepared
Instructions
Heat olive oil in a large saute pan set over medium heat. Add the onions, red pepper and mushrooms. Season well with salt and pepper. Stir gently and then cover and cook for 6-8 minutes, or until the mushrooms have released water. Remove the lid and stir well. Cook until the liquid evaporates.
Add the tuna and stir well. Drizzle with white wine and add the butter. Cook, stirring occasionally, for 10-12 minutes, until most of the liquid evaporates. Add the cooked pasta and toss well to combine.
Serve immediately.