Slow roasting gives this tangy Lemon Garlic Cauliflower Casserole a silky texture that's perfect with fresh spinach and an egg over easy.
Every so often, Facebook or Timehop will show me a photo of my kids from a few years ago. In these images, they'll be so little and fresh faced. Often, they're standing at the mixer or wearing an apron or doing something in the kitchen. Or sometimes they are swinging in our former backyard.
Will's broad smile. Paige's plump baby cheeks. Little hands. Little bodies. Dazzling stars in their eyes.
Those were the years when we cultivated a raised bed garden together, when I'd hand them buckets of chalk to write and draw all over our concrete foundation, when days were split between my growing career as a freelance writer and raising two little kids …
The memories will catch me by surprise, spurred by the images. Inevitably, I'll try to remember what we were doing when I snapped the photo. How was life for them in those days?
All these thoughts come with a tinge of sadness. Did I enjoy them enough then, doing an adequate job of balancing work and play? Was I attentive enough? Did we do enough together? Was our life happy enough?
That was before the bad thing happened. Before we moved twice — first from the tiny house they came home to after birth to a larger one nearby and then, just the three of us, to a townhouse in Maine.
In their smiling eyes, I can see that they were happy. There was glee in their lives, and excitement in the things — little and big — that we did. Life, through their eyes, was good.
Then I think of them now. Will is 10, and nearing middle school. He's grown up so much, and is taking on more responsibility — both at home and in his life. With a generous soul, and a penchant for silliness, he can be so fun. Paige is 8. She's bold and opinionated, funny and dramatic. She loves sports, imaginative games and makes friends everywhere.
Though growing up comes with pressures — getting good grades and considering the future, for instance — they still have so much joy, excitement and glee. And while we can never recapture the innocence of younger years, the reality that life isn't always good, fun or fair doesn't have to stand in the way of happiness. It's not.
Oh, it's so good to be happy. And we all are.
It goes without saying that our lives have changed, but that's to be expected. Life moves on, and so do you. But some things? Some things never change.
My love for cooking hasn't changed. And my kid's love of helping to cook hasn't changed either … though they can help in whole new and different ways now that they are older. I love to think that someday in a few years Timehop or Facebook will be showing me pictures of the kids and I in the kitchen at this age, and I will remember fondly our years in this townhouse, and how so much good change happened here.
Note to self: Take more pictures of us cooking together.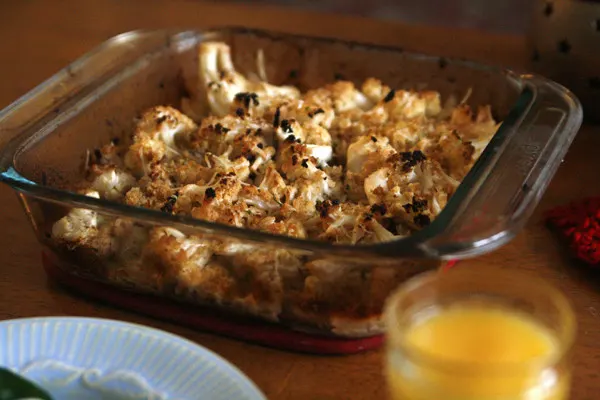 Truth be told, this cauliflower casserole recipe isn't something I've made with the kids. I started working on it when they were away for the weekend, and fell hard for the flavors. But it is something they'd love … if I shared it with them. Tangy, garlicky slow roasted cauliflower is bathed in a lemon garlic vinaigrette. And then it's served on a bed of baby spinach with an egg cooked over easy.
Creamy, tangy, bright and comforting. That's how I'd describe this dish.
But, you should know that this recipe isn't for busy nights. Slow Roasted Lemon Garlic Cauliflower Casserole is really for those afternoons or evenings when you have time to linger. Though it only takes about 10 minutes to toss in the pan and start cooking, it requires a little effort on your part. It needs to be retossed every 15 minutes. And then, just when it's about to be done cooking, it needs a special parmesan and buttery breadcrumb topping to finish it off. So when you make it, stay close. Nurture it.
Then heap it onto your plate.
And enjoy.
Slow Roasted Lemon Garlic Cauliflower
Cook Time:
1 hour
5 minutes
Total Time:
1 hour
15 minutes
Slow roasting gives this tangy Lemon Garlic Cauliflower Casserole a silky texture that's perfect with fresh spinach and an egg over easy.
Ingredients
1 head cauliflower, broken into florets
1 lemon, juiced
2 tbsp grapeseed oil
1-2 cloves garlic, minced
salt and pepper, to taste
Topping
1 tsp unsalted butter
2 tsp Italian seasoned breadcrumbs
2 tbsp freshly grated parmesan cheese
Optional
2 cups baby spinach
4 eggs, cooked over easy
Instructions
Preheat the oven to 350 degrees Fahrenheit.
Spread the cauliflower florets in an 8x8-inch glass baking dish.
In a small bowl, whisk together the lemon juice, grapeseed oil, garlic, salt and pepper. Pour over the cauliflower.
Bake for 15 minutes. Transfer cauliflower to a large mixing bowl and stir well to combine. Return to the baking dish. Repeat twice (for a total cooking time of 45 minutes). Season with additional salt and pepper, as needed. Then increase the oven temperature to 400 degrees, and cook for an additional 15 minutes.
Melt the butter. Stir together with the breadcrumbs. Set aside.
Sprinkle the cauliflower with the parmesan cheese, and then the butter/breadcrumb mixture. Bake for an additional 5 minutes.
If desired, serve on a bed of baby spinach with an egg over easy.