Looking for a creative dinner that the whole family will love? Hand over the reins and see what your favorite creates with a fun make your own tostada bar.
While the concept of Taco Tuesday has taken the country by storm, my family has been creatively topping its close cousin: Tostada Thursday (or Tuesday, or Monday or whenever). Tostadas are flat, crispy fried corn tortillas that are perfect for topping — and the possibilities are endless.
Why Tostadas?
Years ago, tostadas were one of the few vegetarian options at a popular fast food joint — and I quickly fell in love with them. What's not to like? Crispy fried corn tortillas spread with refried beans and piled with toppings are a delicious and satisfying meal.
More over, it's fun, particularly when you lay out a bunch of toppings and let everyone create their own version.
I'll admit, my kids were a little skeptical at first. But after they made their first tostadas and dug in, they were totally hooked. Now, whenever the tostada shells come out, it's all cheers.
Start with the Shells
Not sure where to get the shells? They can be hard to find in some areas.
I usually purchase tostada shells in the Mexican section of my grocery store, and then heat them in the oven just before we eat. About 6 to 8 minutes at 325 degrees gets them nice and crispy.
But if you can't find already made shells — or you just want to make your own — there's a great tostada tutorial on Craftsy that will show you how to fry them at home. If you'd prefer baked tostada shells, Yellow Bliss Road has a tutorial on how to make 10 minute baked tostada shells.
Choose Your Beans
Refried beans are a must for topping tostadas. But which ones? Spend a little time in your grocery store aisle and look for ones with the simplest ingredients list. The ones I use only have four ingredients, which is as close to homemade as I can get.
Of course, for a more Mediterranean take on this food, try warmed hummus for spreading. Or offer both! Choice makes it so much more fun.
Toppings, Toppings, Toppings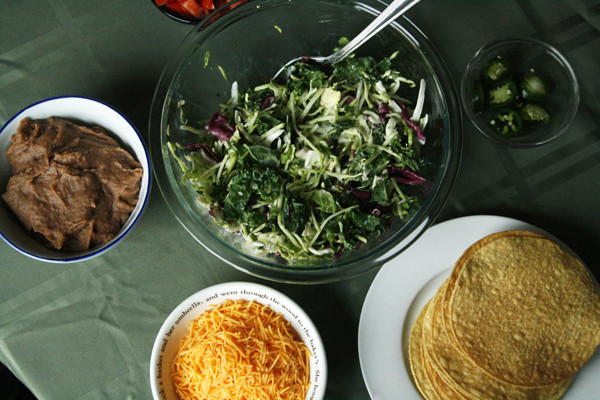 Cheese: You'll want some cheese. I usually just put out cheddar, but Mexican queso blanco can be delightful too. If you are offering hummus, some crumbled feta cheese, freshly grated parmesan or even fresh mozzarella can be a great alternative.
Veggies: Sliced avocado is a must. Sliced cucumbers, jalapeño peppers, radishes and julienne cut carrots are a nice touch too. And thinly sliced red onions, warm boiled potatoes and sauteed bell peppers are good as well. And don't forget the tomatoes!
Salad: What? More veggies? YES! I love a good dressed salad to pile on my tostada. For these pictured I used Eat Smart Gourmet Vegetable Salad Kits, but more on that in a minute.
Olives: We love sliced black olives on our tostadas. For a mediterranean take, sliced kalamata olives are great too.
Salsa: Mild, medium, hot, green, red, corn, whatever … salsa makes a tostada even better!
To Meat or Not to Meat: Sometimes we stack taco meat with homemade taco seasoning on our tostadas. Somethings we use shredded chicken. A nice beef roast would be good too. But other times, we skip the meat altogether or serve it alongside (my Pico de Gallo Chicken Breasts are delicious with this). This is a great time to break out the leftovers, warm it up and slice or shred. Again, the more options, the merrier!
Speaking of Salad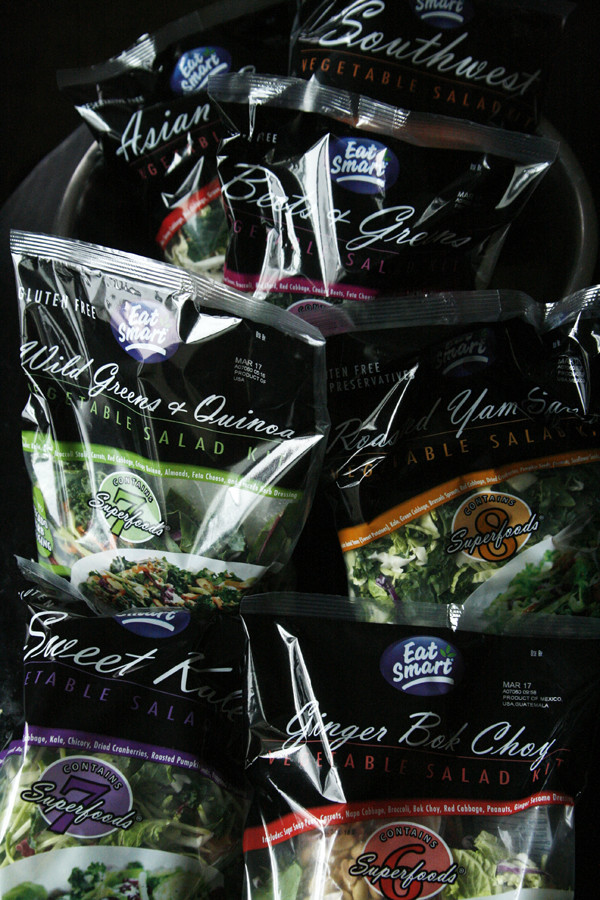 The inspiration for this post came from an assignment from Eat Smart Gourmet Vegetable Salad Kits in honor of National Nutrition Month (that's March!). They asked me to get creative with these kits and show how versatile they are. Such a fun assignment — and I immediately decided to pile the tasty salads on tostadas.
The kits are chef-inspired, and offer tasty blends that feature five or more superfoods — along with dressing and mix-ins — to create tasty, innovative, convenient salads that are healthy and easy. And when you are whipping something up like these tostadas, or other dishes like rice bowls or even homemade pizzas, these are delicious to mix up and pile on top.
The Eat Smart Sweet Kale Salad Kit, in particular, was a favorite for me, and reminds me of a salad I used to make often when I worked at home. The kit includes seven superfoods — kale, green cabbage, broccoli, Brussels sprouts, chicory, roasted pumpkin seeds and dried cranberries — and is dressed with a sweet-tangy poppy seed dressing. And making these is so simple — you just add the ingredients to a bowl, mix and use.
This bright, crunchy salad has notes of sweetness, meaty seeds and tangy-sweet dressing — it's super delightful. And the cool, fresh salad is a great contrast to warm ingredients on a tostada.
Putting It All Together
We always begin by spreading warm beans on our tostadas — Usually refried beans but sometimes hummus. Then you top them however you wish. Tomatoes, avocado, jalapeños, cheese, perhaps meat.
For mine, I used refried beans, tomatoes, red bell peppers, jalapeños, cheddar and Eat Smart Sweet Kale Salad. So good.
Then dig in. I usually eat my tostadas with a fork. Paige, my 8-year-old daughter, likes to pick hers up and eat it. I'm not sure there's a right or wrong way, so do what works for you.
Now … how will you top yours?
Curious about Eat Smart Gourmet Vegetable Salad Kits? You can sign up for their e-blast at the bottom of the Eat Smart website. Also, follow Eat Smart on Facebook.
I was selected for this opportunity as a member of Clever Girls and the content and opinions expressed here are all my own.