A tender citrus-scented cake with sweet blood orange frosting, Blood Orange Olive Oil Cake is perfect for everyday celebrations. What's yours?
There's a framed photo hanging in the hallway of our home. It shows the Seattle skyline at dusk in rich blues, and hold a bevy of good memories. Back in Connecticut the photo hung in my bathroom, and later in my office. Now it's the last thing I see every evening before heading into my bedroom.
My friend Cate took the photo when we traveled together to Seattle on a business trip years ago. We'd just arrived after a long flight, and our driver took us a special lookout with exceptional views of the Seattle skyline. It was breathtaking, and more beautiful than I ever imagined it could be.
Our trip came about a month after Seattle writer Sarah Jio's first book, "The Violets of March," was published. The book tells the story of Emily Wilson, a writer whose life has taken a bad turn. Emily heads to Bainbridge Island in Washington State on the invitation of her great-aunt Bee to heal and work on her next book. While there, she finds a mysterious diary, dated 1943, that has stunning parallels to her life. The story was thoughtful, touching and gripping, and I loved it.
Sarah Jio has now written seven novels, and I've read every one. But what initially drew me to her books was her from her work for Glamour magazine, which I'd been reading for years. She'd even once featured a zucchini bread recipe of mine on Vitamin G, a health blog she wrote for Glamour. Though I don't really know her, beyond a passing tweet, I was so excited for this fellow work-at-home writer with young kids to publish her first novel was cause for celebration. She's an excellent fiction writer whose well-researched books are imaginative and interesting so it's no wonder that she's now an international bestselling author.
Recently, when we were in a bookstore (we're often in bookstores — total book junkies here), I picked up a copy of her most recent book, "The Look of Love." I'd read it when it was first released in November 2014, but wanted to dig into it again. The book is about a woman named Jane Williams who learns on her 29th birthday that she has a special gift: the ability to actually see love. But before she turns 30, she has to identify all six types of love in people in her life or else she'll never be able to experience love itself. The story showcases love in so many forms, exploring both how wonderful and how messy and imperfect it can be.
The book also has much food in it — flaky, tender chocolate croissants, mashed sweet potatoes, a special cherry pie, a crudites spread, risotto, a burnt roast.
But a scene in Chapter 3 inspired me to get in the kitchen. It's Christmas morning and Jane — the main character — has joined her friends Elaine and Matthew at their house for Christmas dinner. Matthew also had invited their new neighbor Charles and his young daughter. Elaine begins making an olive oil cake, and shares the secret to her grandmother's recipe: citrus. In particular: blood oranges. This ends up being a moment of connection for Elaine and Charles when he suddenly looks up and asks, "Was she [her grandmother] from Sicily?" Her grandmother was. So was his.
I love olive oil cakes, so I decided to experiment with making the cake from the book.
Have you had blood oranges? Their ruby red interior is beautiful, and lends a lovely citrus flavor to both the cake itself and the frosting. The end result is fragrant, tender and elegant, but not too sweet.
Making this is a cinch, since it's a one-bowl cake. You simply mix everything in the bowl of your stand mixer and then pour the batter into your prepared cake pan. Smooth it out as best you can to keep the batter in an even layer. Tapping it gently on the counter can help too.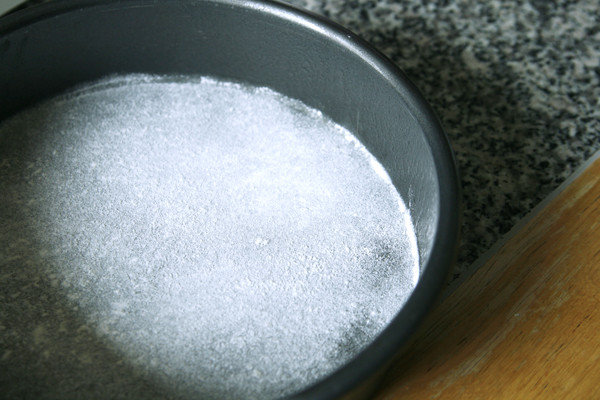 Hint: Grease the whole pan (sides and bottom) and then flour the bottom of the pan for easy release when the cake's done.
Once the cake is baked, let it cool completely before frosting. A warm cake will make the frosting too soft (or worse: runny!).
When it's cooled, make the blood orange frosting in the stand mixer. Butter, sugar, blood orange zest and reduced blood orange juice come together for a rich, creamy, citrus-scented frosting that pairs perfectly with the fragrant cake.
Now, the only question is how to frost it. You could frost it with a creative design, or you could just spread it on. But I am really partial to creativity — like this fun swirly semi-naked design by my friend Vanessa, who decorated this for me.
This cake is best enjoyed the day its created, but should ultimately be eaten within a few days. Store it in an airtight container.
Get the Book
The following are affiliate links. If you click through and purchase something I receive a small commission used for keeping the blog up and running smoothly (there is no charge to you for this). Thank you for supporting Sarah's Cucina Bella.
"The Look of Love" by Sarah Jio
"The Violets of March" by Sarah Jio
Blood Orange Olive Oil Cake
Ingredients
½ cup olive oil
1 cup granulated sugar
2 large eggs
2 cups all purpose flour
1 tbsp baking powder
½ tsp kosher salt
1 tbsp blood orange zest
1/4 cup freshly squeezed blood orange juice
2 tbsp milk
Blood Orange Frosting
1/4 cup freshly squeezed blood orange juice
1/2 cup unsalted butter, , softened to room temperature
2 cups powdered sugar
1 tsp blood orange zest
Instructions
Preheat the oven to 350 degrees. Grease an 8-inch round baking pan. Flour the pan (to do this, put a little flour into the pan and tilt it while tapping it gentle so the flour covers the surface all around).
In the bowl of a stand mixer fitted with the paddle attachment, beat together the olive oil and sugar on medium speed until well combined. Add the eggs and beat for 1 minute.
Add the flour, baking powder, salt and blood orange zest to the bowl. Run the mixer on low until just moistened. Add the blood orange juice and milk to the bowl, and beat for 1-2 minutes, until smooth.
Pour the batter into the prepared pan. Bake for 45-55 minutes, or until a cake tester comes out cleanly.
Let the cake cool in the pan on top of a cooling rack for at least 30 minutes before using a knife to gently loosen the edges and remove from the pan.
While the cake is cooling, add the blood orange juice to a small saucepan and bring to a boil. Cook, stirring occasionally, until thickened. It's done when the mixture coats the back of a spoon. Remove from heat and cool slightly.
In the bowl of a stand mixer fitted with the whisk attachment, add the butter and powdered sugar and beat on the lowest speed until mostly combined. It will be crumbly. Drizzle in the reduced blood orange juice and add the blood orange zest. Whisk until smooth. If the frosting is very soft, chill for 20 minutes before frosting the fully cooled cake.