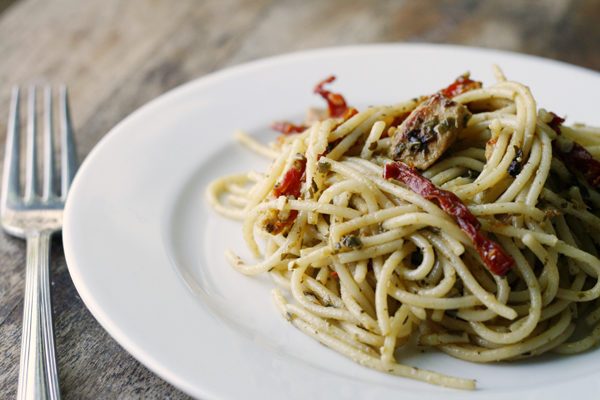 When the pot arrived in the mail, I didn't expect anyone to be excited about it other than me. It was to make my life easier, giving me the space I needed to cook pasta comfortably — even for a crowd. It came with a pasta insert and a steamer insert, both of which I looked forward to putting to good use.
Maybe it would even mean more steamed veggies with our pasta. That was part of the allure — it could make cooking easier since things could cook together, but not together.
But it was, after all, just a pot. A pot I wanted very much.
So you can imagine my surprise when my daughter grasped the unopened box, holding it tight to her chest and called it Patricia. She was thrilled by the new cooking instrument. It was shiny and fun, and perfect for cooking one of her favorite things: pasta. It wasn't a pot, it was Patricia. And Paige, who's 8, loved (well, loves) Patricia.
My son and I couldn't help but get sucked into Paige's enthusiasm about the pot. Maybe it really wasn't just a pot after all.
Somehow the name stuck, and now whenever I want to make pasta, steam some corn or make something else that the giant pot and steamer is appropriate for, I reach for Patricia. And Patricia is very good to us. She helps create some universally loved dinners for my family.
This recipe for Easy Pesto Spaghetti with Chicken and Sundried Tomatoes is one of those recipes. It's hearty, filling and flavorful, with aromatic layers of ingredients. If you like the bright, garlicky flavor of basil pesto, you'll love how the pesto sauce coats the pasta, sweet sundried tomatoes and meaty bits of chicken.
This is a dish to make when you arrive home late in the evening after a nonstop soccer practice. Or it's something to whip up when meetings run late. Or maybe when you have to attend a school event that pushes dinner to a later time. Ready in about 25 minutes, it's delicious for dinner and the leftovers are awesome for lunch the next day — hot or cold.
When planning meals for the week, I always consider our schedule. Busy nights call for dinners like this, quick, easy, filling and universally enjoyable by my whole family. Pasta — whether it's penne, spaghetti or some other variety — is a versatile dinner staple that can be so easy for busy nights. As we enter back to school season, dinners like this are essential to easy evenings when school, work, homework, sports and other activities are done.
HINT: When cooking pasta, it's important to have ample space (and water). Otherwise it can stick together and/or cook unevenly — both of which are less than ideal circumstances.
That's why I love my new pot — Patricia affords plenty of space for cooking some of our favorite pastas, like Barilla Organic Spaghetti Pasta, which is available in a combination pack with penne at BJ's Wholesale Club, where I shop. They also have a two pack of Barilla Traditional Pesto Sauce — another versatile ingredient for quick dinners.
The Barilla pesto is made from simple, high-quality ingredients like sweet basil and extra virgin olive oil. Delicious hot or cold, it's great in this pasta but can also be lovely as a spread or on chicken breasts. As for the Barilla Organic Pasta, it's certified USDA organic and contains no GMO ingredients, so it's a pasta I can trust when I serve to my kids. And I love how perfectly it cooks every time — al dente, just how I like it.
What's your favorite quick dinner for busy nights?
Easy Pesto Spaghetti with Chicken and Sundried Tomatoes
Ingredients
1 tbsp olive oil
1 spring onion or shallot, quartered and thinly sliced
1 chicken breast, cubed (about 1/3 lb)
1/2 tsp salt
1/2 tsp pepper
1/2 tsp garlic powder
1 cup thinly sliced sundried tomatoes, (not packed in oil)
1 lb Barilla Organic Spaghetti Pasta
1 jar Barilla Traditional Pesto Sauce
Instructions
Fill your pasta pot with water and set over high heat. Bring to a boil.
At the same time, heat the olive oil in a large skillet set over medium heat. Add the spring onion or shallot and cook, stirring frequently, until golden brown.
Meanwhile, toss the chicken with the salt, pepper and garlic powder. Add to the pan and cook, stirring frequently, until browned. Transfer to a large mixing bowl. Add the sundried tomatoes.
The water should be boiling now. Cook the pasta according to package directions. Once cooked, thoroughly drain the pasta and add to the mixing bowl. Toss well.
Pour the pesto over the pasta and toss well.
Serve immediately.
BONUS! Barilla asked me to share a second recipe, so I had to go with a favorite of my kids. This easy recipe is something I whip up in the mornings for lunches sometimes. It's super easy, filling and nutritious too!
Easy Pesto Penne with Peas (serves 2): Bring a pot of water to boiling on the stove. Add 2 oz dried Barilla Organic Penne Pasta (about 1/4 box). Set the timer, per package directions. When the pasta is half-way to cooked, add 1/2 cup frozen peas to the pot and continue cooking. Drain well. Toss with a few tablespoons Barilla Traditional Pesto Sauce (adjust amount to your taste preferences). Enjoy immediately, or pack into thermoses for lunch later.
Love Barilla Pasta and Traditional Pesto Sauce too? Find more recipes at www.Barilla.com/recipes. And share your love online with hashtags #BarillaOrganic, #BarillaPesto, and #BJsWholesale and tag @BarillaUS.
This is a sponsored conversation written by me on behalf of Barilla®. The opinions and text are all mine.