Soft, tender Blueberry Streusel Muffins are easy to bake and perfect for breakfast. The crunchy streusel topping, made with brown sugar, butter and more, makes them extra special.
This recipe first appeared on Sarah's Cucina Bella in August 2007. Just saying that makes me take a little pause.
A little context: When I first published this recipe, I was pregnant with Paige. She's now 10. This site was not-quite-two-years-old then. It's about 12 1/3 years old now. When I wrote about this recipe, I worked for the Weekly Reader division of Reader's Digest on the most lovely campus in New York. Now, my day job is for a newspaper in Maine. At the time, George W. Bush still had a year-plus left on the second term of his presidency. We're on our second president since then. The housing market hadn't imploded yet. Justin Timberlake was singing about bringing sexy back and Kelly Clarkson was declaring never again in verse. And in the movie theatre, The Bourne Ultimatum was playing but The Nanny Diaries was still a few weeks away from premiering.
All of those things make it feel like lifetimes ago. And yet, it also feels like just yesterday.
Fortunately, this Blueberry Streusel Muffins recipe ages well. Gracefully, even. What I mean to say is that this muffin recipe was good then, and it's good now.
Now that we've gotten that out of the way …
If you have about 40 minutes and some ingredients you probably already have, you could be enjoying these soon. Or tomorrow morning. Or whenever.
And with 12 muffins, they are good for sharing too. If you want.
But I totally won't blame you if you want to keep them all for yourself. I'll even tell you how to store them for later. You're welcome.
How to Store Blueberry Streusel Muffins
Storage Method 1: Store them in an airtight container with a slice of bread. This will keep them fresh longer so you can take a few more days to enjoy them before they get stale.
Storage Method 2: Freeze these Blueberry Streusel Muffins. Place them, without touching, on a small baking sheet or pan, and let freeze completely before transferring to a resealable bag or container for freezer storage. Muffins make a great grab and go breakfast.
What You Should Know About Blueberries
Blueberries are loaded with antioxidants. But, in fact, antioxidants in blueberries vary. Wild blueberries contain more about 50 percent more antioxidants than cultivated blueberries, but both are tops among antioxidant sources. Wild blueberries, which are smaller, are plentiful here in Maine at farmers' markets in the summertime and in the freezer section of grocery stores all year. Some blueberry growers also sell them at winter farmers' markets frozen, which is where I typically buy them. For this recipe, either will work though I prefer wild blueberries.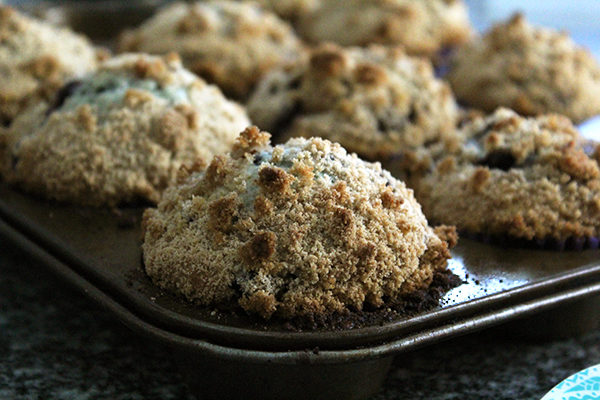 Blueberry Streusel Muffins
Soft, sweet blueberry muffin are topped with a crumbly streusel topping. Easy and tasty.
Ingredients
Streusel
1/4 cup all-purpose flour
1/3 cup packed brown sugar
1/2 tsp ground cinnamon
2 tbsp butter, , firm
Muffin
3/4 cup milk
1/4 cup vegetable oil
1 large egg
2 cups all-purpose flour
1/2 cup sugar
2 tsp baking powder
1/2 tsp salt
1 1/4 cup blueberries
Instructions
Preheat oven to 400 degrees and line 12 muffin cups with paper liners.
In a small bowl, prepare the streusel topping. Sift in the flour, brown sugar and cinnamon and then stir to combine well. Next, use a pastry blender or two knives crisscrossing to cut the butter into the dry mixture. Continue cutting the butter in until mixture is crumbly. Set bowl aside.
In a large bowl, prepare the muffin batter. Whisk together the milk, oil and egg. Stir in flour, sugar, baking powder and salt. Batter should be moistened and will still be lumpy, but it's supposed to be.
Stir in blueberries.
Use a large cookie scoop or a tablespoon to drop batter into the 12 lined muffin cups, dividing equally. Top with about 1 tbsp of the streusel topping each.
Place the pan into the preheated oven and cook for 20-25 minutes, until a toothpick inserted in the center comes out clean. Remove from oven and transfer to a wire cooling rack immediately.
More blueberry recipes: