Crispy on the outside, bursting with chocolate, soft on the inside. These really are the most perfect Chocolate Chip Cookies ever.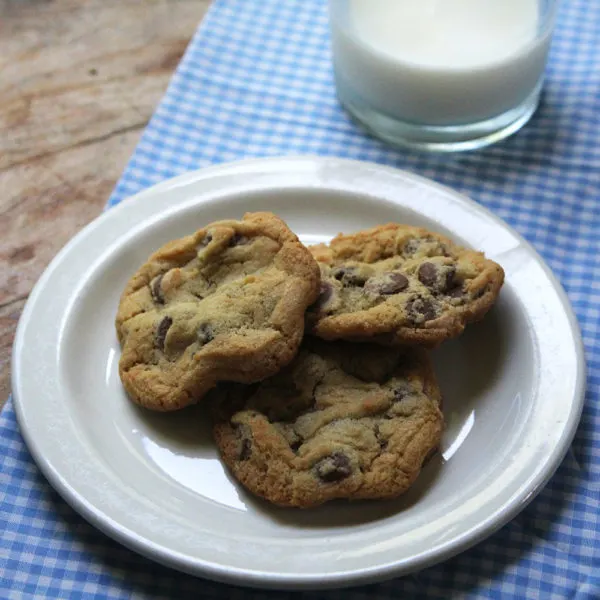 I came across the recipe in a moment of need. My daughter had set her sights on making chocolate chip cookies for the entire cast and crew of her production of Les Miserables. But after making dozens and dozens of cookies, we were still short several – and there wasn't any left for the cookie jar either.
So I rose early the next morning and set about to make a second batch with what little ingredients we had left. We'd used nearly all the flour, butter and chocolate chips the night before.
On the Williams-Sonoma site, I found a recipe that might work. They call it The Perfect Chocolate Chip Cookies. After making these a few times, I agree.
Filled with plump chocolate chips, these cookies bake up to perfection every time on a parchment-lined baking sheet. They are plump, with a crispy outside and soft inside, and just perfect for dunking in milk.
They are also fantastic for filling our cookie jar, a birthday present to myself this year.
I don't usually share recipes from other sources, but with a few minor changes to the ingredients and directions, these have become my go-to cookies – the Most Perfect Chocolate Chip Cookies Ever.
These are must-make cookies.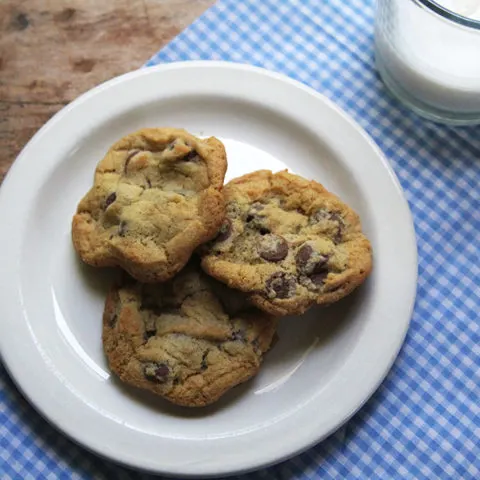 The Most Perfect Chocolate Chip Cookies Ever
Adapted from Williams-Sonoma's The Perfect Chocolate Chip Cookies recipe, these really are the Most Perfect Chocolate Chip Cookies Ever.
Ingredients
1 1/4 cups unbleached all-purpose flour
1 tsp baking soda
1/2 tsp Kosher salt
1/2 cup unsalted butter, softened to room temperature
1/2 cup firmly packed light brown sugar
1/2 cup granulated sugar
1 large egg
1 tsp vanilla extract
2 cups milk chocolate chips, (recommended Ghirardelli Milk Chocolate Chips)
Instructions
Preheat the oven to 350 degrees Fahrenheit. Line a baking sheet with parchment paper.
In a large mixing bowl, add the flour, baking soda and salt. Use a whisk to sift together. In the bowl of a stand mixer fitted with the paddle attachment, combine the butter, brown sugar and granulated sugar. Beat on medium speed until smooth, about 2 minutes. With the mixer running on its lowest speed, add the egg and vanilla extract to the mixer. Then, slowly add the flour mixture, one spoonful at a time until fully blended. Add the chocolate chips to the mixer. Beat until just combined.
Use a medium cookie scoop to drop the dough into even rounds on the prepared baking sheet, leaving about 2-inches between the mounds.
Slide the baking sheet into the oven to bake for 10-13 minutes or until the cookies are lightly browned. Allow to cool for 5 minutes before transferring to a cooling rack to cool completely.
Store in an airtight container for up to a week.