Rubbed with a compound butter made with garlic, basil and salt, this tender roasted salmon recipe is a delightful, flavorful, comforting dinner.
When she opened her mouth to sing for the first time, I smiled. When she danced and sang and danced some more, my smile broadened. Then came the solos, a happy surprise.
My 10-year-old daughter, Paige, was in a kids' production of Les Miserables recently with the education arm of a local professional theatre company. The story, based on Victor Hugo's historical novel of the same name, is one of love, conviction and redemption. Entirely sung from start to finish, it's a challenging musical filled with difficult topics and requiring much from its actors. The young actors in this production rose to the occasion.
Paige has discovered the magic and allure of the stage, something I can relate to. Over the last several years, she has immersed herself in musicals and plays, learned ballet and made plans for what she'd like to do next.
But this past year, taking on a challenging ballet class and preparing for a musical audition more than she ever has before, has been a turning point. She's developed a grace and stage presence that makes her look as at home on the stage as she feels.
I can't wait to see her perform again.
Being on stage is a demanding thing. Under the hot lights, the hours of rehearsals are demanding on the body, the voice and the mind. Fueling the body is essential. She has to eat well every day and drink enough water and other liquids.
Dishes like this one — Roasted Salmon with Garlic Basil Butter — are good food for the body. Salmon is rich with heart-healthy omega-3 fatty acids, which have been linked to a decrease in inflammation as well as a decrease in risk for certain chronic diseases, according to BBC Good Food.
Salmon is also a good source of protein, which the body needs for healing and good bone health, according to Healthline. And it's high in B vitamins, which help with energy production, heart and brain health and also reducing inflammation. Plus there's antioxidants and potassium and more.
Yes, salmon is definitely good for you. Heck, that's why I listed it in my post about the healthy foods you should be eating in 2018.
It's also one of Paige's very favorite foods –a great meal during production to give her the energy and nourishment she needs to be the family star.
This basil salmon recipe produces a rich, buttery main dish that's excellent served with a big green salad and some crusty bread.
Start by making the compound butter, which evenly distributes the buttery, garlicky, basily flavor over the salmon as it cooks. To do so, mash the softened butter with garlic, basil and salt until well combined.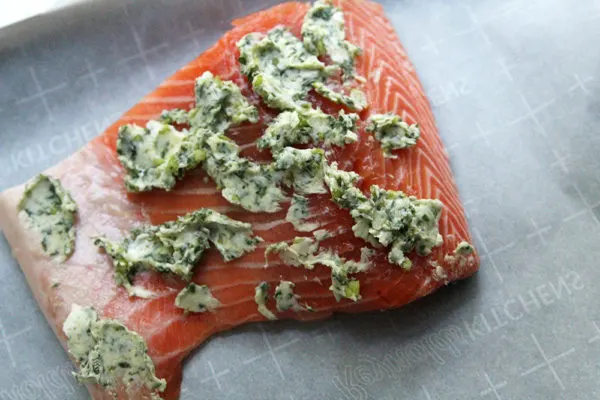 The salmon, laid on a parchment-lined baking sheet, is then spread all over with the garlic basil butter. It can be a little challenging to get a solid, even coat, but that's okay. Even dolloped all over, the melting butter will help the flavors enrich all the fish as it bakes.
Then it roasts in the oven. Ready in less than 20 minutes, this moist, flavorful garlic basil salmon is delightful. The warm, buttery, garlicky aroma is a lovely compliment to the rich salmon.
Beyond a salad and bread, this Roasted Salmon with Garlic Basil Butter is also lovely served with roasted potatoes, rice or other grain-based side dishes. Green beans also are a lovely accompaniment.
Salmon with Garlic Basil Butter
Ingredients
2 tbsp unsalted butter, , softened
1 clove garlic, , minced
1 tbsp finely chopped fresh basil
1/2 tsp kosher salt
1-1 1/4 lb salmon
Instructions
Preheat oven to 400 degrees Fahrenheit. Line a baking sheet with aluminum foil.
In a small bowl, cream together the butter, garlic, basil and salt until well combined. The mix-ins should be evenly distributed in the butter.
Lay the salmon on the prepared baking sheet. Spread all over with the butter mixture.
Slide the baking sheet into the oven and roast for 12-16 minutes, until the salmon is fork tender. Divide into four portions (I usually cut it into strips) and serve.