Sweet, creamy, earthy and comforting, Roasted Brussels Sprouts Polenta with Sundried Tomatoes and Gorgonzola is a lovely warm dish to enjoy on a cold day.
My dining room is in disarray. Leftover Christmas decorations, the ones we haven't had time to put away yet, are mingling with the research and notes for my next book. The Nutcrackers are overseeing my work, a sturdy guard to what? Make sure I don't miss my deadline? Perhaps.
Our food tree remains standing, adorned with glass popcorn boxes and squishy avocados and soft, sequined bananas. Sometimes I gaze at the tree when I am trying to find the right word while writing. Sometimes that even helps. Other times my cat hides little treasures he finds beneath its plastic boughs. I wonder what he'll do when the tree isn't there anymore?
Meanwhile, our giant gingerbread girl watches over the living room, judging us with her omnipresent smirk.
It's office supplies meets holidays, and the leftover holidays seem to be winning.
The transitions between seasons, holidays and times in our lives can feel like a messy intersection of time and commitments. But it's not permanent. In fact, with a little effort, I think my kids and I could pack away Christmas for another year in about an hour. We'll need to this weekend, for peace of mind. And still, the deadline looms.
And still, we have to eat.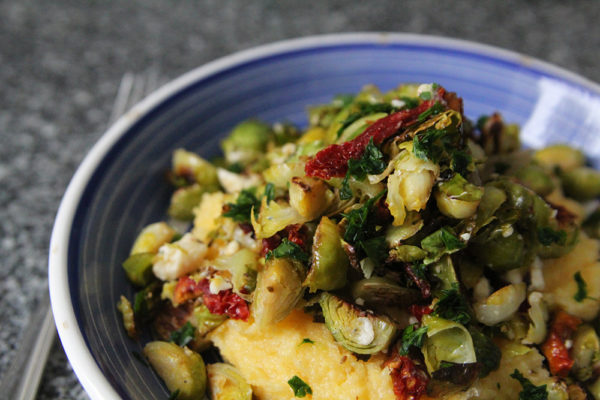 At this messy intersection, all I want is comfort food. Like a heaping bowl of polenta topped with a roasty, flavorful, gorgonzola-infused Brussels sprouts mixture. Yes, that will do. And like so many of my recipes, Roasted Brussels Sprouts Polenta with Sundried Tomatoes and Gorgonzola is pretty quick and easy to make.
This dish combines lovely Brussels sprouts with a sweet shallot, sweet sundried tomatoes, earthy parsley, creamy gorgonzola and creamy polenta.
Brussels sprouts are quartered and then toss with shallots (cut into eighths), olive oil, salt and pepper. And then it's roasted until the sprouts are golden.


That's then mixed with sundried tomatoes and then that lovely gorgonzola cheese. Toss it quickly while it's still hot so the cheese really incorporates with the Brussels sprouts.
You'll need to make a batch of polenta. Do it however you wish for a nice, creamy polenta. I like to add butter to mine. (If you need to learn how to make it, The Kitchn has a great how to make polenta tutorial.)
And then serve. That creamy polenta is topped with the Brussels sprouts mixture and parsley. Serve this piping hot. And enjoy.
Now, excuse me. That research is beckoning. I think it wants me to write another 5,000 words.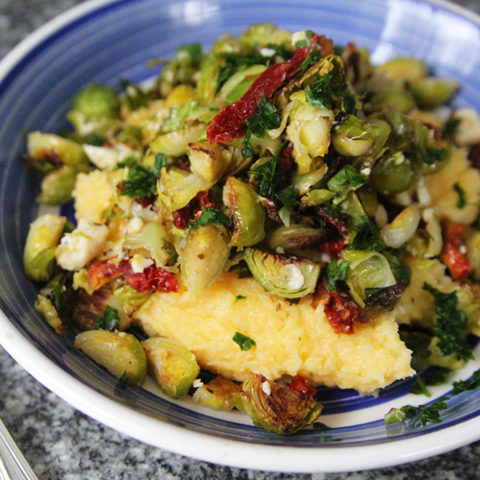 Roasted Brussels Sprouts Polenta with Sundried Tomatoes and Gorgonzola
Creamy polenta is topped with a mixture of roasted Brussels sprouts, shallots, sundried tomatoes and gorgonzola cheese in this comfort food dish.
Ingredients
4 cup Brussels sprouts, quartered
1 shallot, quartered and quarters halved
1 tbsp olive oil
salt and pepper, to taste
2/3 cup sliced sundried tomatoes
1/2 cup crumbled gorgonzola
1 cup polenta, prepared (yields about 3 cups cooked)
1/4 cup finely chopped parsley
Instructions
Preheat the oven to 400 degrees Fahrenheit.
Spread the Brussels sprouts and shallot on a baking sheet. Drizzle with olive oil and season with salt and pepper. Toss well to combine. Roast for 15 minutes. Stir and return to the oven to roast for an additional 10-15 minutes or until golden brown.
Remove the Brussels sprouts and shallots to a mixing bowl. Add the sundried tomatoes and gorgonzola and stir well. Taste and adjust seasonings as desired.
Divide the cooked polenta evenly among four plates. Top with the Brussels sprouts mixture. Sprinkle with parsley. Serve.