Quick, easy and low-mess, these Blueberry Pecan Scones have a one-bowl preparation and bake for only 20 minutes. Why not try these for breakfast soon?
Like much of the country, Maine has been in a heatwave for days. It's meant I haven't felt much like cooking and have avoided the kitchen. But when I stumbled on this recipe, one that I first shared in my column Maine Course for The Bangor Daily News, I decided this would be a good time to share it.
But first, the heat. When we moved to Maine — a place where it snows from October to sometimes May — I gave up air conditioning in the house. Window fans are sufficient for keeping things cool nearly all summer. There's always a few days that are oppressive, but even that we muddle through. I just don't like air conditioning — or how it stops us from spending time outdoors.
While I haven't felt much like cooking this week, summer is a great time for creating good food. Farmers markets are bursting with fresh produce, fields are teeming with berries, our garden is robust and overflowing. There's so much that's fresh, local and picked at the prime of its ripeness. Divine.
Making Wild Blueberry Pecan Scones
These scones, made with blueberries and pecans, are perfect for making as blueberries come into season. I prefer them with flavorful wild blueberries, widely available here fresh and frozen (many berries are flash frozen right after picking), but if you can only get your hands on high-bush blueberries, they will work too.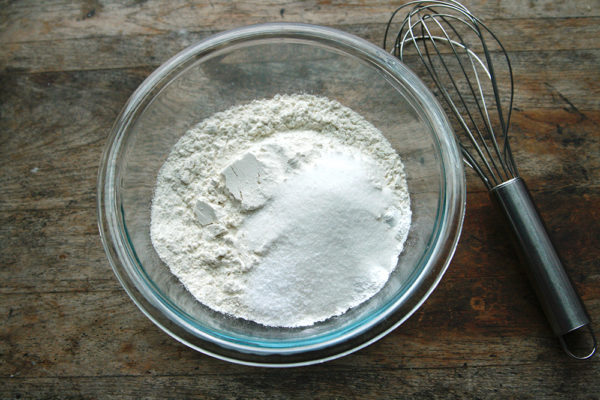 Making these begins with the basics — flour, sugar, baking powder, etc. Sift that all together and then cut in cold, unsalted butter. For the sifting, I almost always use a whisk as it mixes and aerates the ingredients easily.
Next comes the stars of these scones. Stir in the blueberries and pecans. Then add the liquid ingredients.
The batter for this tends to be a little juicier than other scones I make. Thank the blueberries for that. The ones pictured were made with frozen berries. Fresh berries will release fewer juices.
Now, time to cook! Bake them until they are golden at the edges. Then let cool for a few minutes before serving. These are amazing served with coffee or tea.
Now, who's ready to dig in?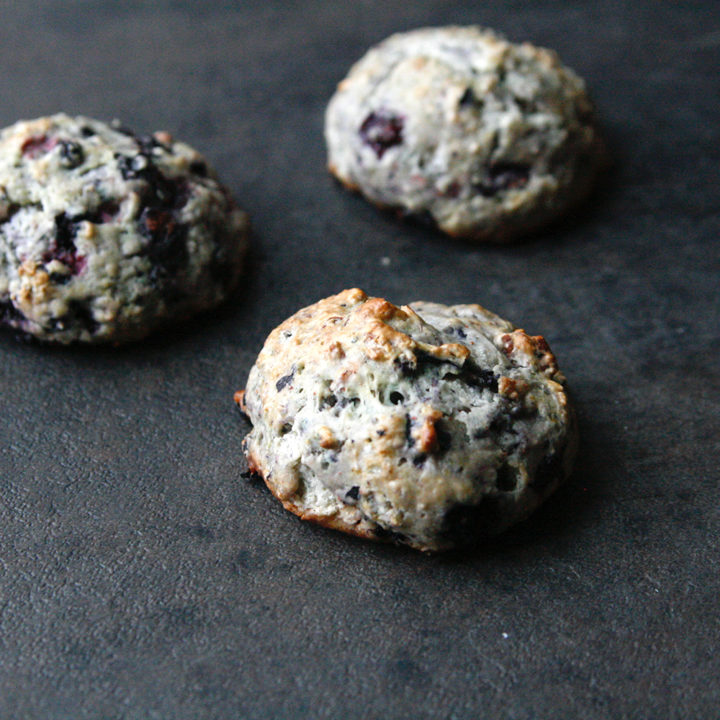 Blueberry Pecan Scones
Additional Time:
5 minutes
One-bowl preparation and about 20 minutes baking time! These Blueberry Pecan Scones are easy to whip up for breakfast time.
Ingredients
1¾ cup all-purpose flour
1¼ tsp baking powder
2 tbsp sugar
½ tsp Kosher salt
¼ cup cold unsalted butter
1 cup frozen or fresh wild blueberries
¼ cup chopped pecans
2 large eggs
¼ cup plus 1 tbsp milk
Instructions
Preheat the oven to 350 degrees Fahrenheit. Line a baking sheet with parchment pape. Set aside.
In a large bowl, sift together the flour, baking powder, sugar and salt (a wire whisk is great for this). Using a pastry cutter or two knives, cut the ¼ cup of cold butter into the flour mixture until it looks like coarse crumbs. Fold in the blueberries and pecans.
In a small bowl, whisk together the eggs and milk until well-combined. Make a well in the center of the dry ingredients and pour in the egg mixture. Fold together until fully incorporated.
Using a large cookie scoop (3 tablespoon size), drop the dough in rounds on the prepared cookie sheet. This should yield 12 scones.
Bake for 18-20 minutes, until just beginning to turn golden brown on top. Remove from the oven and cool for 5 minutes on the baking sheet before serving. These should be consumed within a day or two. Store in an airtight container.