Sweet, creamy and flaky, Raspberry Baked Brie En Croute is a delightful dish perfect for sharing with good friends. And it's easy!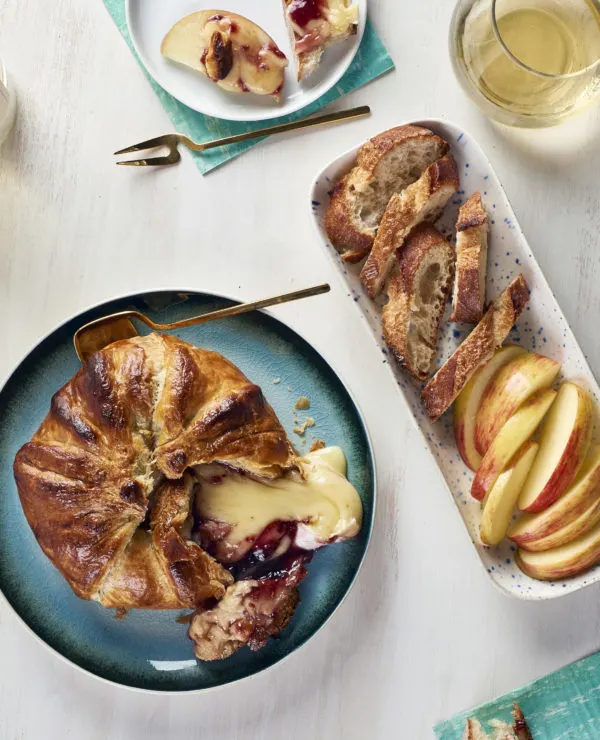 Nine years ago this weekend, my kids and I were on Cape Cod for my best friend's wedding. Three years ago last weekend, we'd just moved into this house and I was hosting a dinner party for my department, flanked by boxes.
In the ensuing years between these memories so much happened — friends came and went. We moved three times. I got divorced and built a new, happier life. And I got comfortable with who I am: A deeply flawed person who is trying her best.
As we approach the publication of my fourth cookbook, I am struck by how my life has come together — and how it hasn't. In some areas — like publishing — I have achieved more than I ever imagined I would. I never expected to author four cookbooks, nor did I expect that to be just the beginning (more coming in 2020!).
Meanwhile, I also didn't expect that I would ever live in Maine — let alone stay here for more than five years. I fancy myself a big city girl … and yet here I am, in a small city in a rural state. And I like it.
But other things just haven't happened. We don't travel as much as I'd like to. I haven't bought a house here, though I want to. I haven't found that balance between work and life that feels quite right either.
I'm trying. On all fronts, I keep trying.
Another surprise is to find myself comfortable with imperfection — something I could never say before. That I held a dinner party days after moving in is telling. There was a time when I would have waited, and waited, and waited for the house to be perfect. And without perfection, I wouldn't have invited people over. That's changed.
Now I see that none of us are perfect. Sure, some people have homes that look like showrooms — but even they have a junk drawer or a closet where all the odds and ends are stuffed.
My point is that waiting for perfection is how you miss out. It's how you waste years, waiting for everything to be just right, instead of accepting that just-right is perfect in its imperfection. So don't wait. Invite people over. Have a wonderful time. Laugh and giggle and create memories you'll cherish.
And while you're at it, make a great appetizer to share.
Raspberry Baked Brie En Croute is a great appetizer.
Baked brie always feels so fancy, even though it's one of the simplest appetizers you can make. This one — brie baked in puff pastry with a sweet layer of raspberry jam — has only four ingredients and is ready in less than 30 minutes. Easy!
I love this with a good baguette, but it's also absolutely delightful on slices of apple. The hot cheese and cool appetizer is just a treat of a combination. You could also serve it with crackers, veggies or breadsticks.
You can find this and more quick and easy appetizer recipes in my upcoming cookbook, The Easy Appetizer Cookbook. It's available for preorder wherever books are sold (please preorder! I can't tell you how much it helps authors when you do!).
I'd love it if you'd order it from an indie bookstore (my preferred one is The Briar Patch in Bangor, Maine, which will have signed copies). You can also find an indie near you or order from your preferred online bookstore (more order links can be found here).
Raspberry Baked Brie En Croute
If my kids could choose one appetizer to have every week, this would probably be it. Creamy brie becomes gooey and melty inside a puff pastry package with sweet raspberry jam in this fun, fancy (but oh-so-easy) dish.
Ingredients
1 sheet frozen puff pastry, thawed
1 8-oz wheel brie cheese
½ cup raspberry jam
1 egg, beaten
Instructions
1. Preheat the oven to 375 degrees. Line a small baking sheet with parchment
paper.
2. Lay the puff pastry in the center of the baking sheet. Top with the brie
wheel, placed in the center of the puff pastry. Spoon the jam on top.
3. Fold up the sides of the puff pastry diagonally, pressing to seal.
Continue until the brie and jam is completely concealed.
4. Brush all over (even beneath the folds!) with egg.
5. Slide the baking sheet into the oven and back for 20-25 minutes, until
golden brown. Remove from the oven and serve immediately with a knife for
cutting into and spreading the melty cheese.
Notes
Serving tip: This is excellent served with slices of baguette, crackers and even fruit like apple slices.