Bright and tender, Parmesan Baked Haddock with Lemon and Garlic is an easy seafood recipe that's delightful for dinner.
For a while, it felt like I'd lost balance in my life. The balance between work and life outside of work was off — I was overworked and tired. The balance in my eating was off — I wasn't eating food that energized me and fueled busy days. And it was a vicious cycle.
Fortunately, I finally made some good choices this summer that helped me regain control and balance. Part of that was shedding some of my reliance on carbs for meals.
These days, meals like this are the norm — just healthy, flavorful food waiting to be devoured. Yum.
Fresh haddock is a lovely fish to have for lunch or dinner. It cooks easily, is inexpensive and is pretty good for you (hey there Omega-3s!).
Popular in New England, haddock belongs to the same family as cod (also quite popular). It's a saltwater fish that lives in the Atlantic. And it's a good, low-calorie source of several nutrients including B6 and B12.
When cooked, haddock is rendered firm but tender. It's popularly used in fish and chips, but is also delightful baked as in Parmesan Baked Haddock with Lemon and Garlic. The flavor of haddock is mild with a slight sweetness that lends itself well to seasoning, as in this dish.
Making This Dish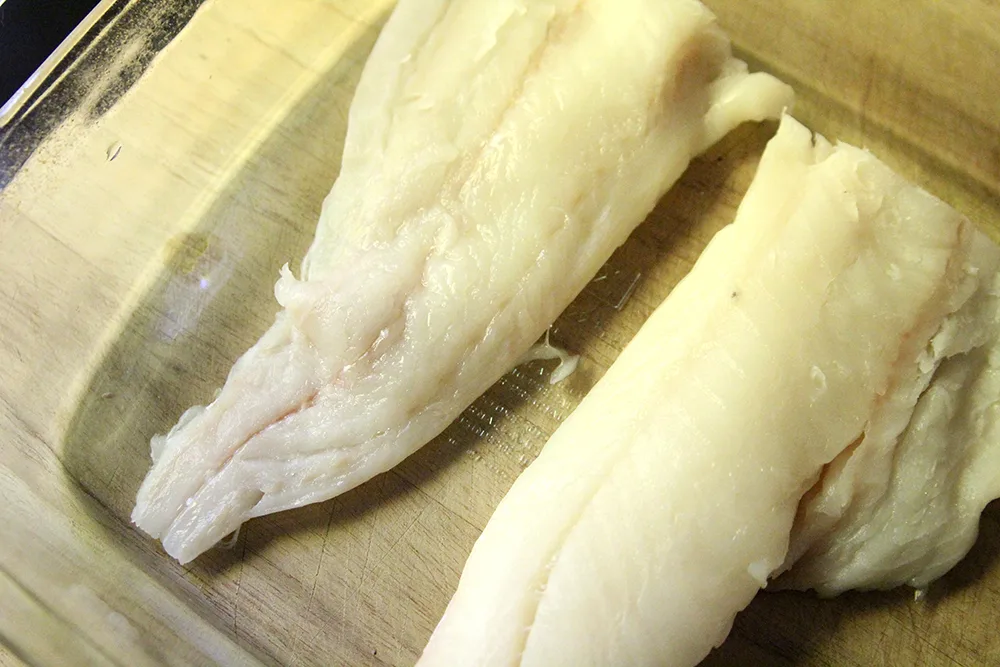 Parmesan Baked Haddock with Lemon and Garlic begins with fresh haddock. One pound will serve four people.
Spray the haddock with olive oil spray (alternatively, you can brush it with just a little olive oil). And then sprinkle with salt, pepper and parmesan cheese.
Bake it for a bit and then it's ready to enjoy.
I had this with sauteed Brussels sprouts, but it would also be delightful with roasted asparagus, a tossed salad or green beans.
Parmesan Baked Haddock with Lemon and Garlic
Ingredients
1 lb haddock fillets, cut into four pieces, if necessary
Olive oil spray
1/2 tsp garlic powder
1/4 tsp kosher salt
1/8 tsp ground black pepper
2 tbsp grated fresh parmesan
1 lemon, cut into 8 wedges
Instructions
Preheat oven to 400 degrees Fahrenheit.
Arrange the haddock fillets in a 9x13-inch glass baking dish. Spray with olive oil spray.
Sprinkle with garlic powder, salt and pepper. Divide the parmesan evenly among the fillets, sprinkling on top.
Bake for 13-16 minutes, until cooked through. The fish should be opaque and flake easily at the touch of a fork.
Sprinkle each fillet with an additional pinch of salt.
Serve each fillet with lemon wedges for squeezing. And yes, the lemon is required to finish this off.