Little desserts make awesome dessert trays for parties and holiday celebrations. Add these Mini Apple Pies with Crumb Topping to your to-make list!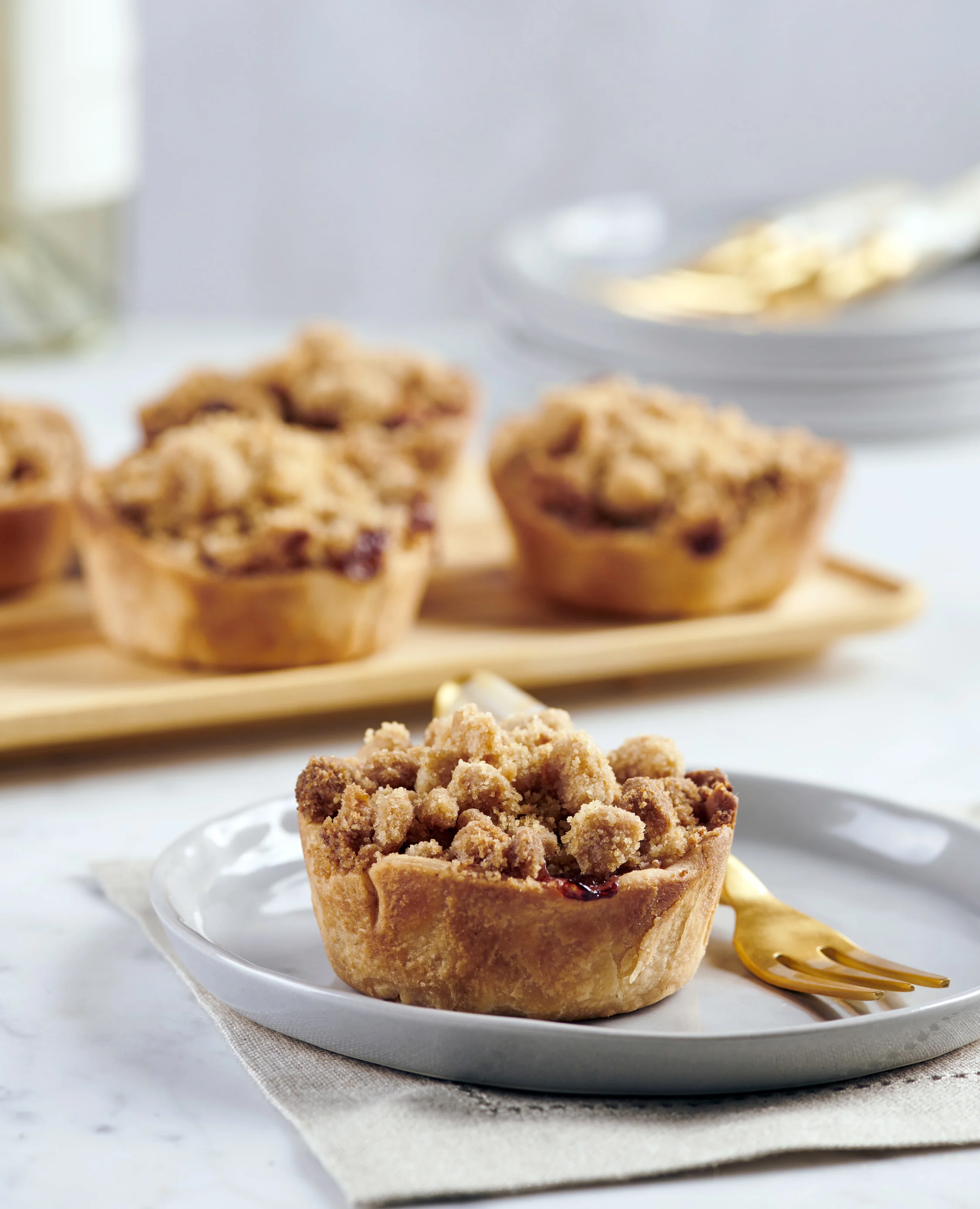 As the holidays approach, the things I need to do and the things I want to do diverge. I need to clean my house, drop off donations, take the bags of cans and bottles to the redemption center, clean the fridge, make sure I have enough plates and wash the blankets we use on the living room couch.
But what I want to do is to write menus, grocery shop for just the right ingredients, take photos as we decorate for Thanksgiving and then for Christmas, cook, feed people and, importantly, bake. Oh, how I love to bake.
And while the wants do need to happen, they fall behind the needs in terms of priorities.
I miss the days when I wasn't the responsible adult making sure all the "need" things got done.
On the other hand, I do really like a clean kitchen. It inspires me to cook more. Moreover, I love when the house is cleaned and sits as a fresh slate for decorating. So I guess this responsibility thing isn't all bad.
As we approach the holidays and all the parties and gatherings it brings, desserts in miniature like these Mini Apple Pies with Crumb Topping can be an excellent dish to bring and share — or a great part of a dessert buffet.
Making them is easy. Premade pie crust is cut into rounds and fitted into the cavities of a muffin tin. Then they are filled with an apple mixture and topped with a buttery crumb topping. Then they are baked to perfection.
These can be made ahead (a day in advance) but they are really best the day they are made. If you are looking for other desserts in miniature to have with these, try Carrot Mini Cupcakes, Mini Chocolate Pudding Pies or Pecan Toffee Wedding Cookies. All are delicious and good for sharing.
---
You can find this and more quick and easy appetizer recipes in my newest cookbook, The Easy Appetizer Cookbook. It's available for wherever books are sold.
I'd love it if you'd order it from an indie bookstore (my preferred one is The Briar Patch in Bangor, Maine, which will have signed copies). You can also find an indie near you or order from your preferred online bookstore (more order links can be found here).
Mini Apple Pies with Crumb Topping
Bite-sized desserts are a fun way to enjoy favorites. In this case, apple pie gets a mini makeover with a sweet, buttery crumb topping. This recipe is excellent for dessert tables, tailgating and more.
Ingredients
1 refrigerated pie crust (from a package of two)
Apple Mixture
2 apples, cored and diced
2 tablespoon sugar
1 tablespoon all-purpose flour
1 teaspoon cinnamon
Crumb Topping
¼ cup all-purpose flour
¼ cup light brown sugar
2 tablespoon unsalted butter, melted
Instructions
1. Preheat the oven to 425 degrees Fahrenheit.

2. Using a 4-inch round cookie or biscuit cutter, cut the dough into rounds and press into the cavities of a muffin pan. Continue until all the dough has been used. You may need to gather the scraps and roll them out again to finish using the dough. You should have 12 mini pie doughs.
3. In a mixing bowl, stir together the apples, sugar, flour and cinnamon until fully combined. Spoon into the dough rounds, dividing evenly among the 12.
4. In a small mixing bowl, stir together the flour and light brown sugar. Drizzle with butter and mix well to combine. Spoon over the top of the pies, dividing evenly among them.
5. Slide the muffin tin into the oven and bake for 18-20 minutes, until golden atop. Let cool for 30 minutes in the pan before loosening with a knife and removing to a wire rack to complete cooling.
Notes
Serving tip: A dollop of vanilla ice cream on topor a bit of whipped cream is delightful with these.