Spicy with notes of sweetness and tang, this side dish is bold and rich. Try Spicy Roasted Cauliflower with Gochujang with your favorite rice.
In what feels like a different lifetime (but really was just a few weeks ago), this was among the things I would pack for lunch. Sometimes I would take it with Nishiki short grain rice, Garlic Ginger Collard Greens and Pickled French Breakfast Radishes. Sometimes I would heat this up and spoon it over salad greens. Sometimes I would have it with rice and chicken.
I'm someone who loves spicy flavors and this side dish delivers.
The spicy sauce is rich and bold with hints of sweetness and tang. I love the complexity of it, especially set against the backdrop of slightly sweet roasted cauliflower.
As many good side dishes do, this begins with a whole head of cauliflower and a couple of other ingredients.
Always read a recipe in full — from instructions to ingredients — before beginning to cook. And gather your ingredients too. It's so much easier to cook when you have your mise in place (in other words, all your ingredients readily at hand).
Start by roasting the cauliflower with some olive oil and a little salt and pepper. Seriously, be sparing with the salt and pepper. The sauce will add all the flavor this dish needs.
When the cauliflower is just about done, whisk together the sauce. Then pour it over the cauliflower, mix it up and cook it some more.
Then it's ready to serve.
But again, I have to reiterate: this is a spicy dish. It might just make your toes curl. It's not for folks who don't like spicy things. I wouldn't want you to make this and expect anything different than what it is.
If you like spicy things like me though, try this. It's delightful. I highly recommend adding it to your next rice bowl — perhaps with sauteed greens, caramelized onions and a poached egg. Yum.
I don't know when I will be in a position again to go to my office, bringing homemade lunches along. But when I do, you can bet that this Spicy Roasted Cauliflower with Gochujang will be on the menu.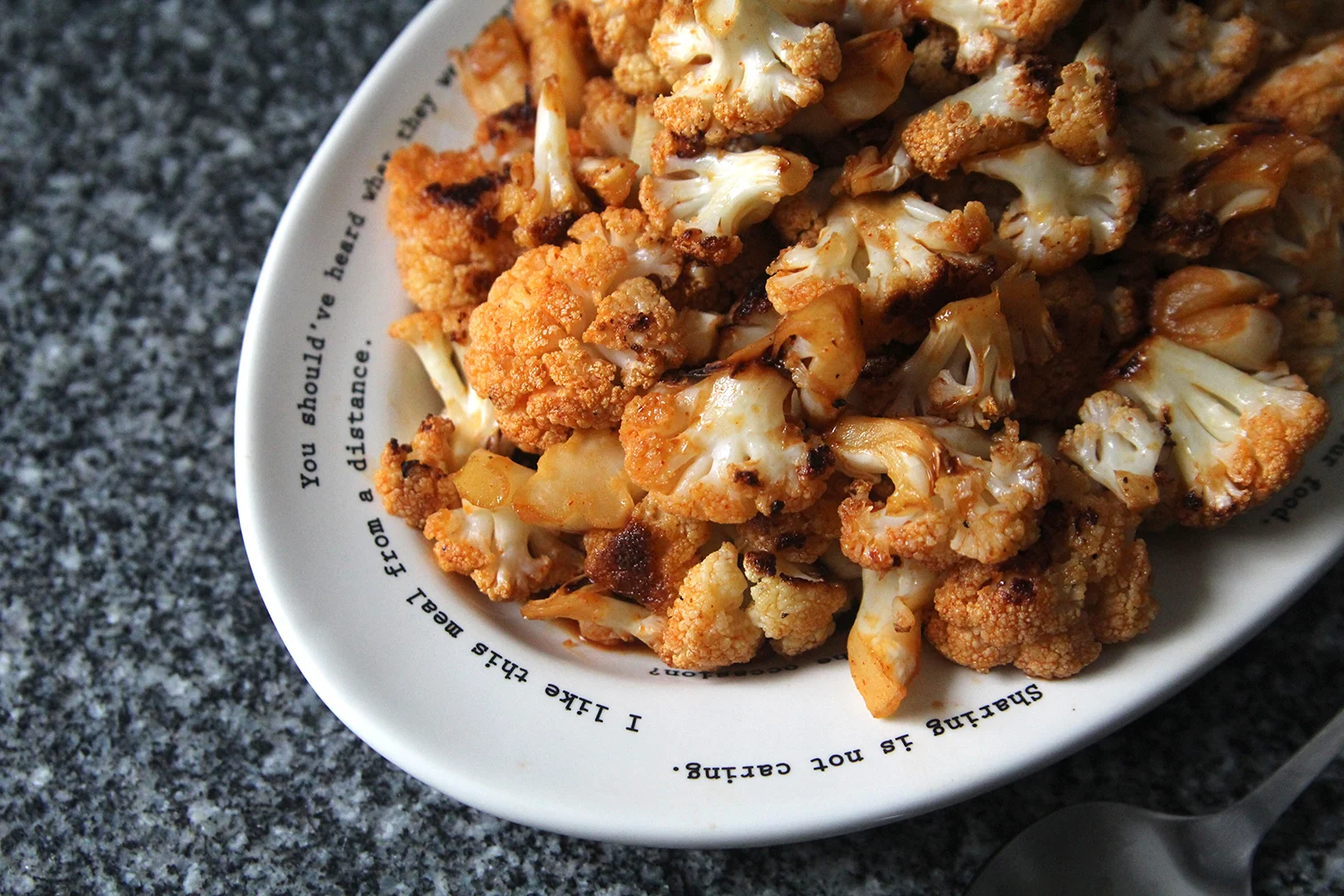 Spicy Roasted Cauliflower with Gochujang
Spicy with notes of sweetness and tang, this side dish is bold and rich. Try Spicy Roasted Cauliflower with Gochujang with your favorite rice.
Ingredients
1 large head cauliflower, cut into florets
2 tbsp olive oil
2 tbsp gochujang sauce
1 tbsp soy sauce
1 tbsp rice vinegar
1 tbsp honey
1 tsp sesame oil
Instructions
Preheat the oven to 425 degrees Fahrenheit. Line a baking sheet with parchment paper.
Toss the cauliflower with oil. Spread out onto the baking sheet and season lightly with salt and pepper.
Slide into the oven and bake for 25-30 minutes, stirring once or twice, until the cauliflower is beginning to brown.
In a small mixing bowl, whisk together the gochujang sauce, soy sauce, rice vinegar, honey and sesame oil. Pour over the cauliflower and toss to combine.
Slide the baking sheet back into the oven and cook for an additional 10 minutes or so, stirring once. The cauliflower is done when it is tender and the sauce has reduced in volume.