This quick and easy recipe for Broiled Teriyaki Salmon with Spring Onion Rice pairs marinated salmon with a lightly flavored rice that disappears quickly.
On summer weekend days as a child, my family would drive downtown to a little fish market precariously perched above a waterfall. There we'd select the fish for the evening meal. Cod, swordfish, halibut, mahi mahi, clams, mussels — they all made appearances.
But none made quite so many appearances as salmon. It was reliable and certain, a fish that everyone loved — until I didn't. We ate so much salmon in those years that it eventually became my least favorite fish.
And then I stopped eating it.
It wasn't until my daughter, Paige, fell in love with salmon that my taste for it began to thaw. And, eventually, miso-marinated salmon and delightful salmon bowls became a favorite for me too.
These days, salmon is the most common fish to be made in my kitchen (followed closely by shrimp). But it's never far from my mind that a favorite like this can become a least favorite if eaten too often.
Mixing it up helps, for sure.
Even changing up how we eat things helps.
For instance, teriyaki glazed salmon is a favorite of mine. The sweet, salty glaze is a lovely complement to juicy salmon. But this Broiled Teriyaki Salmon recipe is different. The salmon is marinated in teriyaki sauce so the flavor permeates the fish, creating a luxurious richness throughout the salmon.
It's a different experience, though still a juicy and flavorful one.
And served with the lightly flavored Spring Onion Rice — sauteed spring onions and garlic are mixed with rice, salt and pepper. Delightful.
Plus, as far as timing goes, if you remember to marinate the salmon (at least an hour, though it can be all day if you like) and have rice ready to go, then this takes less than 25 minutes to make. Easy peasy.
Broiled Teriyaki Salmon with Spring Onion Rice? It's a delightful way to enjoy a love of seafood and of salmon.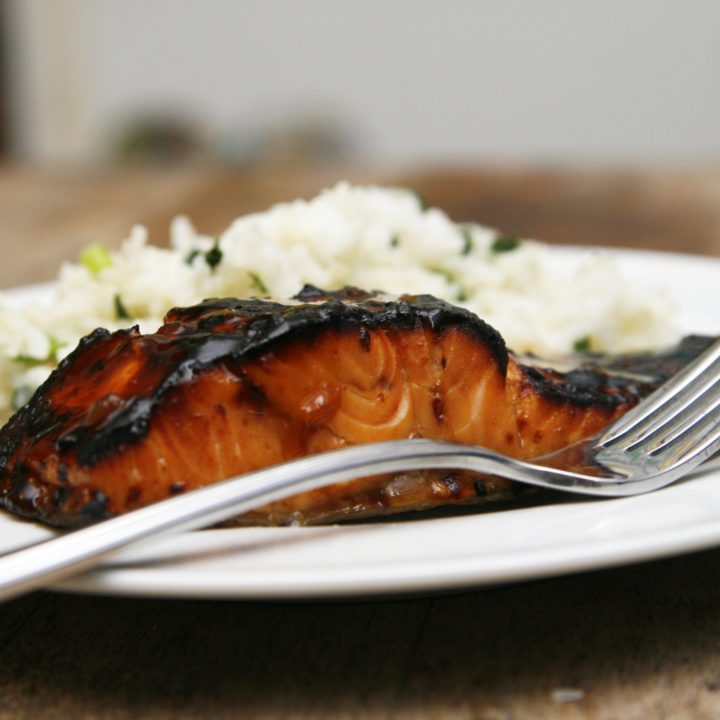 Broiled Teriyaki Salmon with Spring Onion Rice
Total Time:
1 hour
25 minutes
This quick and easy recipe pairs marinated salmon with a lightly flavored rice that disappears quickly.
Ingredients
1 lb salmon filets (about 4)
1½ cups teriyaki marinade
1 tbsp olive oil
1 bunch spring onions, thinly sliced
1-2 cloves garlic, minced
1 cup dry rice, prepared
salt and pepper, to taste
Instructions
In a resealable bag, combine the salmon and marinade. Allow to marinate for at least 1 hour.
Line a rimmed baking sheet with aluminum foil and set the salmon filets skin side down on it, discarding any leftover marinade. Heat the broiler on high. Broil the salmon for 6-8 minutes, until it flakes easily with a fork. Watch carefully though: it will burn.
Meanwhile, in a saute pan heat the olive oil over medium heat. Add the spring onions and garlic and cook, stirring frequently, for 3-5 minutes until softened. Stir in the cooked rice and season, to taste, with salt and pepper.
Divide the rice and salmon evenly among four plates and enjoy.