With a rich marinade, these Thai-inspired Shrimp Satay with Peanut Dipping Sauce are easy to serve, easy for guests to grab and enjoy and easy to love.
We're not supposed to pick favorites. Not for our human kids, perhaps not for our fur kids and definitely not for books or recipes. But for the latter two, at least, I think it's natural to have favorites even if you don't share them.
I'm going to share one today though even though I shouldn't. I mean I like all the recipes in my cookbooks, but this one is special.
Shrimp Satay with Peanut Dipping Sauce is my favorite appetizer recipe in all my books.
There. I said it.
I love chicken satay, and sometimes make it to use in our lunches — alone, in salads or wraps, etc. So when I started working on The Easy Appetizer Cookbook, I knew I wanted to include a version of satay perfect for serving at parties and to guests. And that's how I came to make Shrimp Satay with Peanut Dipping Sauce, an easy dish that combines marinated shrimp with a savory peanut dipping sauce — and one that has lots of room for fun serving methods (like the one in the image from the book shown here).
Making it is easy but does require marinating time. Fortunately, since these are delicious hot or cold, you could totally make these ahead for any gathering you're planning — either the morning of or night before. Simply wait until closer to serving time to plate them.
Rich and flavorful, the marinade gives the shrimp a sweet-savory flavor and the peanut-y dipping sauce is a wonderful complement to the shrimp. A delightful combination!
Maybe we aren't supposed to have favorites — or at least we aren't supposed to talk to about them — but when something is this good, how can it be wrong to let everyone know?
---
You can find this and more quick and easy appetizer recipes in my upcoming cookbook, The Easy Appetizer Cookbook. It's available for preorder wherever books are sold (please preorder! I can't tell you how much it helps authors when you do!).
I'd love it if you'd order it from an indie bookstore (my preferred one is The Briar Patch in Bangor, Maine, which will have signed copies). You can also find an indie near you or order from your preferred online bookstore (more order links can be found here).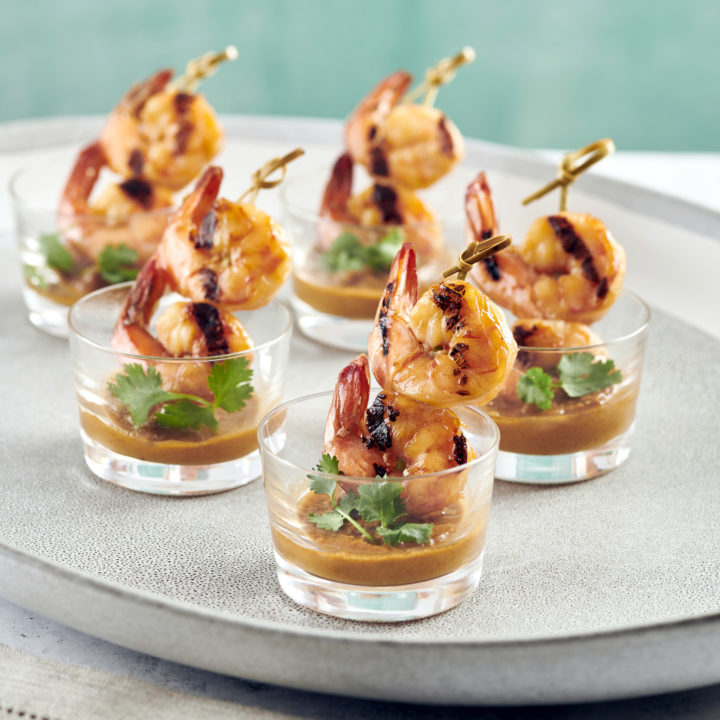 Shrimp Satay with Peanut Dipping Sauce
Put foods on a stick and they become something delightful, don't they? These shrimp skewers are no exception. With a rich marinade, these Thai-inspired shrimp are easy to serve, easy for guests to grab and enjoy and easy to love. The dipping sauce adds extra depth to the flavor. These can be enjoyed hot or cold.
Ingredients
For the shrimp:
2 cloves garlic, crushed
2 teaspoon Thai fish sauce
2 tablespoon soy sauce
1 tablespoon brown sugar
1 lb large shrimp, peeled and deveined, tails on
For the sauce:
¼ cup peanut butter
2 tablespoon soy sauce
1 tablespoon sesame oil
1 tablespoon seasoned rice vinegar
1 tablespoon grated ginger
Instructions
To make the shrimp:
In a large bowl, stir together the garlic, Thai fish sauce, soy sauce and brown sugar until well-combined. Add the shrimp and stir well to combine. Cover and chill for at least 30 minutes to marinate, stirring a couple times.
Once marinated, thread two shrimp onto skewers. Shorter — 6-inch ones — work best, but any length will work.
Heat a grill pan (or skillet) over medium heat on the stove. Place a single layer of skewers on the grill pan (you may need to cook these in batches). Cook for about 10 minutes, flipping once, until cooked through.
Continue until all the skewers have been cooked.
Serve the skewers on a platter with the dipping sauce in a bowl. Include a spoon so guests can put a little on the skewers — or their plates — as they serve themselves.
To make the sauce:
Whisk together the peanut butter, soy sauce, sesame oil, seasoned rice vinegar and ginger until smooth.
Notes
These skewers can also be roasted. Preheat the oven to 400 degrees Fahrenheit. Arrange the skewers in a single layer on a baking sheet and roast for 5 minutes. Flip and cook for an additional 3-5 minutes, until cooked through.
Sarah Walker Caron is a cookbook author, freelance writer and founder of Sarah's Cucina Bella. She is the author of four cookbooks including The Super Easy 5-Ingredient Cookbook and One-Pot Pasta, both from Rockridge Press. A single mother to a tween and a teen, Sarah loves nightly family dinners, juicy tomatoes plucked fresh from the vine and lazy days on the beach. She also adores reading and traveling.