Fresh tomatoes bake on puff pastry with garlic in this easy recipe for Tomato Basil Tart. It's a delightful dish for enjoying seasonal tomatoes.
It's been an unusually hot summer here in Maine. That has meant our tomatoes have been slow to ripen, slow to ready themselves for eating. But they are finally hitting their stride now.
We planted an unreal number of plants this year — 20, maybe? But our most successful ones have been the rogue-growers, sprouting from forgotten tomatoes that fell from the vine in the boxes last year. As the tomatoes break down, the seeds naturally go through the fermenting process needed to make them successful the next year. Go figure.
Although I didn't intend to let the rogue plants grow — they were in the middle of my pea patch — my son Will convinced me to leave them. And now, as they stand brimming with blushing tomatoes, I am glad I did.
As I've watched the tomatoes coming in over the last few months, I've thought about the many things we'd do with them.
Fresh caprese salads with homemade mozzarella. Tomatoes dressed with a little olive oil and balsamic and a dusting of salt and pepper. Roasted cherry tomatoes for saving. Tomato marinara.
So much tomato goodness.
But then I started thinking about the puff pastry in the freezer, the fresh garlic in my garlic container and slices of juicy, ripe tomatoes. A tomato tart! Top it off with fresh basil and it's near perfection.
A homemade Tomato Basil Tart had to be on this fall's menu.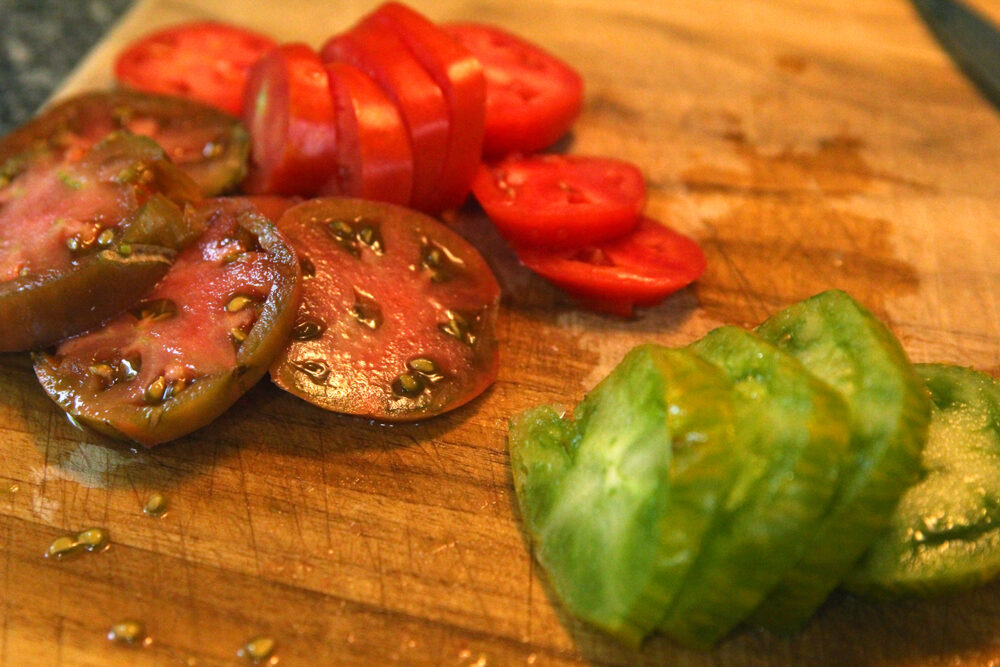 The bright, brilliant tomatoes bring a sweetness to the tart that's offset with the earthy garlic and punch of basil. The flaky puff pastry crust adds a lovely texture to the dish as well.
Crispy, soft, warm and flavorful: this tart has it all.
Now that you're sold on making it, let's talk a little about it.
This tart takes a little advanced planning. You need fresh tomatoes, good garlic, fresh basil and some olive oil. You might even have those ingredients already. But you also need a puff pastry and it needs to be defrosted and ready to use.
I am a big fan of Pepperidge Farms Puff Pastry, sold in the freezer section. It's been my go-to for years and years. I recommend defrosting your puff pastry overnight in the fridge. It will have a better texture.
The payoff for remembering to defrost your puff pastry is exquisite.
Once you have all your ingredients and your puff pastry is ready to use, this tart is a breeze to make.
Spread out the dough and then roll it into a slightly larger rectangle on the parchment. Prick it all over with a fork. Then transfer the whole thing — parchment and all — to a baking sheet.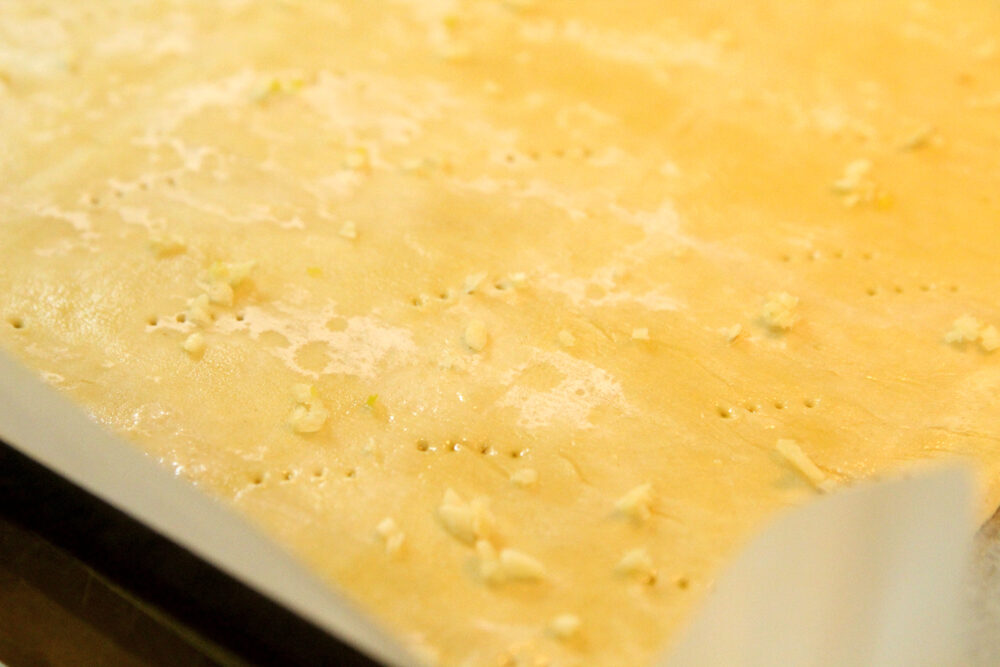 Brush that dough all over with olive oil. It only needs a light coating. Sprinkle minced garlic and a touch of salt and pepper all over the puff pastry.
Then layer those lovely tomato slices all over. Sprinkle with a little more salt and pepper.
Then bake it.
When it's just about ready to serve, sprinkle with fresh basil. Then devour every fresh, lovely, bright bite.
This tart is perfect for late summer — right now. What a wonderful celebration of nature's bounty.
Tomato Basil Tart
Ingredients
1 sheet puff pastry, defrosted
1-2 tsp olive oil
Salt and pepper, to taste
2 cloves garlic, minced
About 4 tomatoes (3/4 lb), sliced into 1/4-inch thick slices
1/4 cup sliced fresh basil
Instructions
Preheat the oven to 400 degrees Fahrenheit.
Cut a sheet of parchment to cover a 9x13-inch baking sheet. Lay it on a cutting board and top with the puff pastry. Using a rolling pin, roll the puff pastry out to about 9x9-inches. Prick all over with a fork.
Transfer the puff pastry to the baking sheet on the parchment paper. Brush all over with olive oil. Sprinkle the garlic on top and season lightly with salt and pepper.
Lay the tomato slices on the puff pastry, close together but avoiding overlap. Leave a small rim around the outside.
Season with salt and pepper.
Slide the baking sheet into the oven and bake for 25-30 minutes, until the edges are golden and puffed.
Remove from the oven. Sprinkle all over with basil.
Slice into a 3x3 grid and serve.