This is a celebration of simple, natural flavors — perfect for when produce is at its peak. Roasted Cherry Tomatoes with Garlic and Basil is a delight.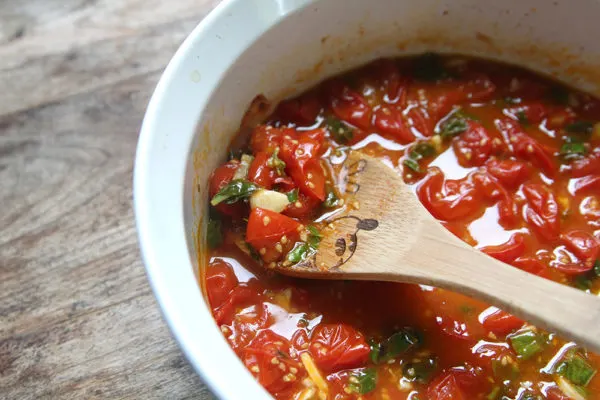 Sometimes, simplicity is the best thing for food.
At home, I often rely on simple flavors — especially during the growing and harvest season. Tomatoes with a sprinkling of good salt, slices of fresh peppers and cucumbers, potatoes roasted with just a touch of olive oil, salt and pepper.
When food is at its peak flavor, it can be exquisite.
That's not to say that it can't also be divine in more complicated dishes. It certainly can be. In fact, food at its peak flavor is exquisite in any dish — complicated or not.
But simple is doable. Simple makes meals easy. Simple celebrates natural flavors.
This dish is simple. Fresh cherry tomatoes are combined with olive oil, garlic, salt and pepper and roasted. They breakdown into a delightful sauce that's swirled with fresh basil.
You could simply eat this with a spoon. It's that tasty. But I like to pour it over grilled chicken breasts or a roasted white fish like halibut, cod or flounder.
Roasted Cherry Tomatoes with Garlic and Basil can also be tossed with pasta or spooned onto bread (with a little fresh mozzarella, perhaps?).
How to Make Roasted Cherry Tomatoes with Garlic and Basil
Start with fresh cherry tomatoes. These came from our garden, but you could find ones at the farmers market or your local farm stand. They don't have to be red. That's just what we happened to grow this year.
Cut them in half.
Add to a casserole dish with olive oil, salt, pepper and crushed, sliced garlic. It's just a few simple ingredients that come together to make something extraordinary.
Cover that and slide it into the oven to roast. These roasted cherry tomatoes slow-roast, breaking them down and rendering them wonderfully garlicky.
When it comes out, all hot and bubbly, you swirl fresh basil into it. This basil also came from our garden, but you can find excellent fresh basil at farmers markets and farm stands.
Then enjoy this. You could eat it with a spoon, but I like it piled on lightly seasoned chicken breast, mild fish (think cod, halibut or flounder), shrimp or pork chops. You could even toss this with pasta.
The Bottom Line
Truffling this and foaming that doesn't guarantee a better meal. But a few simple ingredients, along with a simple process and yield a simply delicious result.
Roasted Cherry Tomatoes with Garlic and Basil
Total Time:
1 hour
10 minutes
Ingredients
3 cups cherry tomatoes, halved

3 large cloves garlic, crushed and sliced

1 tbsp extra virgin olive oil

1/2 tsp kosher salt

1/4 cup finely chopped basil
Instructions
Preheat the oven to 425 degrees Fahrenheit.
In a round oven-safe casserole, stir together the cherry tomatoes, sliced garlic, olive oil and salt. Mix well. Cover with an oven-safe lid.
Slide the casserole into the oven and roast for 40 minutes without disturbing.
Remove from the oven. Uncover, add the basil and stir well. Let sit for 5 minutes before serving.