Give your favorite comfort food a sweet twist with this Apple Butter Grilled Cheese Sandwich recipe. It's the lunch you've been looking for.
When my children were very little, we had so much fun in the kitchen. They often pulled stools up to the counter to "help" me cook. They'd add ingredients, stir and observe. Sometimes they'd even help direct what we were making (case in point: Will's fruity salsa).
After we moved to Maine, they still loved to cook. They joined cooking classes at their afterschool care and even went to cooking camp.
They are both teenagers now and in high school. And while they aren't pulling up chairs to the counter, they both still enjoy the art of cooking. For Will, the older of my kids, it's utilitarian. He's nearing the end of high school and will need to know how to feed himself in college. For Paige, it's all about the flavors and enjoying what she eats. She is a magician with lunches, creating amazing combinations every day.
As for me, everything has changed.
Two years ago, my office closed and I began working at home. That meant no more bagged lunches for me. For a long while, my kids were home too so we ate lunches together (sometimes cooking together). But now that they've returned to in-person school, it's just me everyday. Lunch is always for one. And I have space and time to prepare it.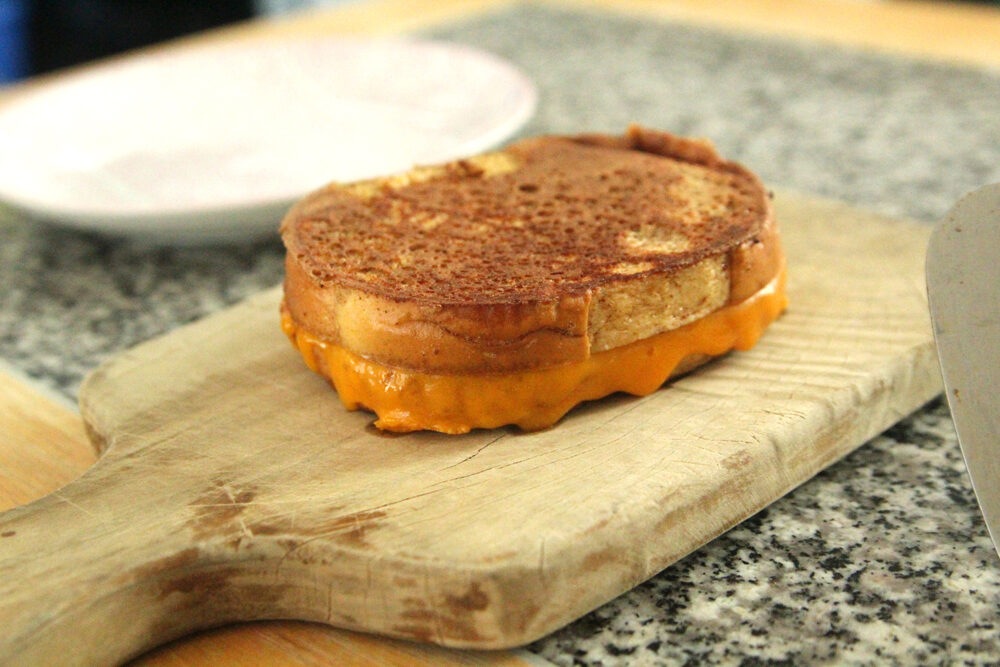 The cool thing is that it's meant I can make creative lunches often — like this Apple Butter Grilled Cheese.
This sandwich isn't your typical grilled cheese.
For starters, it combines sharp cheddar with sweet apple butter. But that's not all. Instead of buttering the outside, you dip it in seasoned egg, so it's like a grilled cheese built on French toast.
The result is a softer sandwich that's filled with sweet-savory flavor from the outside in. Pure delight.
And, perhaps best of all, it takes minutes to make. This isn't something I could have made back when I was an office dweller. But I can spare 15 minutes at home for a hot lunch — especially one this good.
Do you make yourself lunch at home? What are you whipping up these days?
Apple Butter Grilled Cheese
Give your favorite comfort food a sweet twist with this Apple Butter Grilled Cheese Sandwich recipe. It's the lunch you've been looking for.
Ingredients
2 slices bread
1 tablespoon apple butter
2 slices sharp cheddar cheese
1 large egg, beaten
1/4 teaspoon light brown sugar
1/4 teaspoon cinnamon
pinch salt
Instructions
Lay out the bread slices and spread the apple butter on one side of each slice.
In a small mixing bowl, whisk together the egg, brown sugar, cinnamon and salt.
Heat a small skillet over medium-low heat. Spray with cooking oil spray.
Dip the bread into the egg mixture (the side without the apple butter), making sure it covers the whole surface. Place egg side down in the pan. Top with two slices of cheddar. Then repeat the dipping process with the other slice of bread, placing it egg side up on the sandwich.
Cook, flipping once, until golden brown on both sides. Cool for a few minutes before slicing and serving.