With a mix of seasonings — including cinnamon — and a fool-proof method for tender, perfect oven fries, this Oven Baked Sweet Potato Fries recipe is so good, it could turn a sweet potato hater into a lover.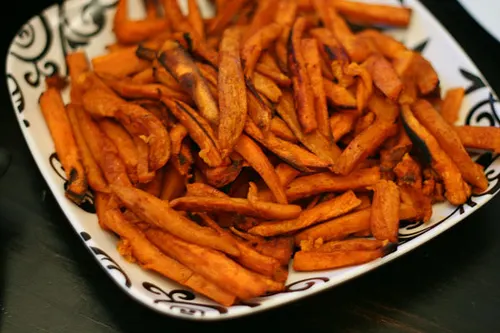 My husband doesn't like sweet potatoes. He won't eat them. He turns his nose up when I mention them. It's one of many veggies that he just doesn't like. So the other night, I whipped up a batch of Super Easy Low-Fat Oven Fries and made a batch of Oven Baked Sweet Potato Fries for Will and I. Yum! Two kinds of low-fat fries with dinner . . . perfect.
Did I mention that my husband hates sweet potatoes? Okay, just checking. That's important. See, you can imagine my surprise when Shawn saw me plating the food and asked for some of the sweet potato fries too. He asked to eat them. Of course, I couldn't say no (even though I wanted to eat them all myself. Mine! All mine!). How can you say no to that?
Perhaps better than his requesting some, he ate the whole handful I plopped on his plate and declared them "not bad." High praise, ladies and gentlemen. High praise.
Will and I, of course, ate a bunch of these Oven Baked Sweet Potato Fries. These were really yummy. I've tried to make sweet potato fries before, but they never came out as tasty as these (definitely finding the right seasoning combination helped). I hand cut mine, but I recommend using a mandolin to ease the prep time. I am just glutton for punishment. Seriously. Who hand cuts fries when they OWN several devices that will do it for them? Geez.
In any case, if you are looking for easy direction on how to make sweet potato fries, look no further. These Oven Baked Sweet Potato Fries are perfect.
Now, a bit about sweet potatoes before I fork over the recipe. According to World's Healthiest Foods, sweet potatoes are rich in vitamin A and vitamin C – both powerful antioxidants. It also is considered an antidiabetic food, which means that it can stabilize blood sugar and lower insulin resistance.
Serve these babies with some Homemade Ketchup.
Like this post? Become a fan of Sarah's Cucina Bella on Facebook.
Oven Baked Sweet Potato Fries
Ingredients
1 - 1 1/2 lb sweet potatoes
1/4 cup olive oil
1/2 tsp kosher salt
1/2 tsp paprika
1/4 tsp cinnamon
Instructions
Preheat oven to 425 degrees. Line a baking sheet with aluminum foil (preferably the easy release kind).
Peal the sweet potatoes. Cut into strips that are about 1/2 inch wide on each side.
Place the sweet potatoes into a resealable plastic bag. Add oil, salt, paprika and cinnamon. Seal the bag and shake well to thoroughly coat the fries. Spread the potatoes out onto the baking sheet in a single layer.
Cook for 30 minutes, turning every 10 minutes, until slightly browned. Transfer immediately to a paper towel lined plate and serve warm.
Notes
Please note that cooking times are an estimation. Different ovens cook differently so you may need to increase the time to reach desired doneness. Ovens should also be regularly calibrated to ensure that the temperature inside the oven is the temperature on the dial.
© Sarah W. Caron and Sarah's Cucina Bella, 2005-2012.
---
Love these sweet potato fries? You might also like: