This is my very favorite sweet potato fries recipe. Parmesan Rosemary Sweet Potato Fries are sweet, savory and absolutely craveworthy.
He said it would never happen. Ever.
He said that I should just accept that his tastes are what they are and they aren't changing.
He. Was. Wrong.
You know. It was hard enough to believe in January when Shawn asked — yes, asked — to try some sweet potato fries that I'd whipped up. Sweet potatoes. One of the many, many vegetables that he turns his nose up to. It was even more of a surprise when he liked those sweet potato fries. Yes, and the moral of that story is that if you treat a picky man like a two-year-old and don't offer him any, he'll want to try whatever it is. I jest. I jest. That's really not the moral.
The moral is that when it comes to food, never say never. Anyway, back to the story, it was absolutely unbelievable when he started whipping up batches himself.
See, unlike his old standby corn, sweet potatoes for these fries don't come in a can. And unlike his occasional concession of a salad, these sweet potatoes don't come double washed, sliced and ready to go. No sir, he actually has to peel them and slice them into fry shapes by hand . . . and he does. Willingly.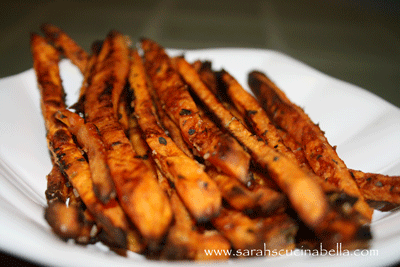 Hallelujah, there is some hope. Now, to get him to try more.
In the meantime, we've been having these babies weekly. So delicious. The savory aspects of rosemary and Parmesan offset the natural sweetness of the potato. They also crisp up nicely if you don't overload the baking sheet and leave no room for flipping (sorry, Yoko! Learned that the hard way!).
I like to sprinkle a little extra salt just before serving . . .
Parmesan Rosemary Sweet Potato Fries
Earthy rosemary and robust parmesan cheese coat these sweet-savory sweet potato fries. These make a lovely side dish with chicken, burgers, hot dogs and more.
Ingredients
1 1/2 lb sweet potatoes
1/4 cup olive oil
sea salt
2 tbsp chopped fresh rosemary
1/2 cup freshly grated Parmesan
Instructions
Preheat oven to 400 degrees. Line a baking sheet with aluminum foil (preferably the easy release kind).
Peel the sweet potatoes. Cut into strips that are about 1/4 inch wide on each side.
Place the sweet potatoes into a large bowl. Add oil, salt, and rosemary. Stir well to thoroughly coat the fries. Stir in 2/3 of the Parmesan. Spread out onto the baking sheet in a single layer. Sprinkle with remaining Parmesan.
Cook for 20-25 minutes, turning about halfway through. Fries are done when they are browned around the edges. Transfer immediately to a paper towel lined plate and serve warm.
Nutrition Information:
Yield:

4
Serving Size:

1
Amount Per Serving:
Calories:

302
Total Fat:

17g
Saturated Fat:

4g
Trans Fat:

0g
Unsaturated Fat:

12g
Cholesterol:

11mg
Sodium:

417mg
Carbohydrates:

32g
Fiber:

4g
Sugar:

10g
Protein:

6g
————————————————————–
More Sweet Potato Recipes: