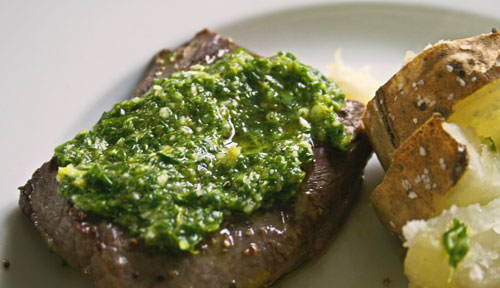 I've been staring at this screen for way too long. Of course, I want to tell you how much I love simple but flavorful sauces like this.
I want to describe how the tangy lemon is so well complimented with the mellow parsley and zesty garlic. Really, I do.
I really want to you to know that you need to make this and eat it over steak or potatoes … or both (but then you should make a double batch for four people).
It's kind of like chimichurri … without the spice.
Just try it.
Lemon Parsley Sauce
Ingredients
1 cup parsley
1/4 cup extra virgin olive oil
zest of 1 lemon
1/2 tbsp fresh lemon juice
3 large cloves garlic
salt and pepper
Instructions
Combine all ingredients in a food processor and pulse until combined.
Sarah Walker Caron is a cookbook author, freelance writer and founder of Sarah's Cucina Bella. She is the author of four cookbooks including The Super Easy 5-Ingredient Cookbook and One-Pot Pasta, both from Rockridge Press. A single mother to a tween and a teen, Sarah loves nightly family dinners, juicy tomatoes plucked fresh from the vine and lazy days on the beach. She also adores reading and traveling.