Tender, baked pesto turkey meatballs are served with flavorful homemade pesto pasta in this easy recipe perfect for pesto lovers.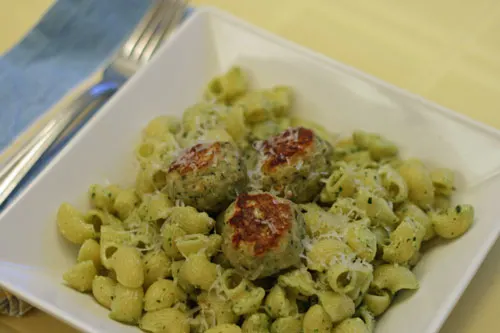 As much as my kids love helping in the kitchen, I always stop short of letting them help with meat preparation. The thought of food-borne illness just makes me steer clear entirely. I mean, yes, they can wash their hands like I do, but should I really take the risk?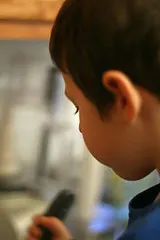 Well, this weekend, I decided to let Will help making pesto turkey meatballs. With sleeves rolled up, he mixed and squished ground turkey with a mix of whole wheat breadcrumbs and a special pesto made just for the dish (instead of added oil, it uses an egg). Did it freak me out a little to have him touch raw meat? Absolutely. But like any other kitchen task, we talked about safety before we started and I made sure he understood why it's important to be extra careful about washing up after touching raw meat. He did.
As nervous as I am about it, I do want my kids to be comfortable handling meat.
When I told Shawn, he wrinkled his nose and remarked about how gross it is to handle it. I agree, but I also think that if you are going to eat meat, you need to be willing to touch it and prepare it. That includes getting wrist-deep in ground meat mixtures.
After mixing, I didn't have to ask Will to go wash his hands — he asked first and headed off to the bathroom for some quality time with soap and water. As for Paige? I let her stir the mixture a big, but held off on letting her touch the meat itself … As I told her, when she's Will's age, it will be different story.
If you aren't ready for letting your young child touch meat, that's okay. In any task involving your own kids, you need to make decisions that work for you and your family — just because let Will do this doesn't mean that your child is ready for it too. Only you know whether they are or aren't.
In any case, this recipe is great for cooking with kids since it affords much opportunity for them to help. Beyond the meat mixing, kids can measure ingredients for both the meatballs and the pesto, pulse the mixtures with the food processor, do the initial stir of the meatballs and also toss the pasta with the pesto sauce.
Do you let your kids touch raw meat? When will you?
Pesto Turkey Meatballs with Pesto Pasta
Why add milk to meatballs? Well, turkey meatballs can get dry but the addition of a little milk will offset the dryness. Add it if you are worried about that.
Ingredients
Meatballs
2 slices whole grain bread
2 tbsp low-fat milk, (optional)
2 cloves garlic
1/2 cup packed basil
2 tbsp pine nuts
1/4 cup parmesan cheese
1 large egg
1/2 tsp salt
1/4 tsp pepper
1 1/4 lb ground turkey
Pasta
1 lb pasta
1/2 cup packed basil leaves
1/4 cup grated parmesan cheese
1/4 cup pine nuts
2 cloves garlic
1/4-1/2 cup olive oil
salt and pepper
Instructions
Meatballs
Preheat oven to 375 degrees.
In the bowl of a food processor, process the slices of bread to crumbs. Add milk, if using, and pulse a few times to combine. Transfer mixture to a large mixing bowl and set aside. Rinse out the food processor and set back up.
KID STEP: Measure and add the garlic, basil, pine nuts, parmesan, egg and salt and pepper to the food processor, taking care to keep hands far away from the blade. Cover and pulse until well combined. Transfer mixture to the mixing bowl.
Add the ground turkey to the mixing bowl. Use a sturdy spoon or rubber spatula to mix the ingredients lightly. Then use hands to knead the ingredients until well combined.
Line a baking sheet with aluminum foil and spray with cooking oil spray. Using your hands, form 1-inch meatballs and place on the prepared baking sheet. Don't worry about crowding -- it's okay if they are close together.
Cook the meatballs for 25-30 minutes, flipping once. The meatballs are done with there is no pink on the inside and the outside is lightly browned. Do not overcook.
Pasta
Heat a large pot of water on the stove to boiling. Add the pasta and cook according to package directions.
KID STEP: In the bowl of a food processor, combine the basil, cheese, pine nuts, garlic, 1/4 cup of the oil, salt and pepper. Process until desired consistency, adding additional oil if necessary. (Allow kids to hit the button to pulse the mixture, but be careful when adding items of the sharp blade.)
Pour the pesto into a large mixing bowl. Top with cooked and drained pasta.
KID STEP: Toss the pasta and the pesto together until well combined.
Serve immediately with meatballs, with additional parmesan for sprinkling, if desired.