If you like autumn flavors, you will love this recipe for Roasted Butternut Squash and Sage Gnocchi. It's pillow-y, flavorful deliciousness!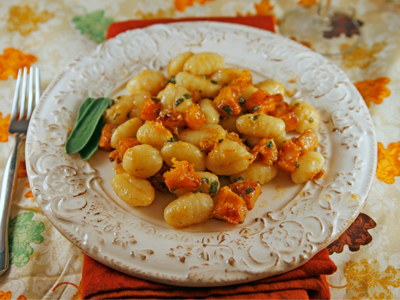 Pillow-y gnocchi. Sweet roasted butternut squash. A buttery creamy sage sauce. We've been eating variations of this dish for weeks now, but tonight … tonight it was beyond perfect.
It was blissful.
The thing that made all the difference? Adding a ladle-full of gnocchi water to the sauce, something that I discovered after reading Aviva Goldfarb's recipe for Gnocchi with Butternut Squash, Sage and Walnuts.
I love the way roasting the seasoned butternut squash brings out its inherent sweetness. It's a nice contrast to the buttery sauce that turns downright creamy when you add a little of the starchy gnocchi water to it.
Well, Paige and I thought so at least … Will wasn't a fan. I am not sure that he liked sage, which is fine since the boy eats just about everything. It's okay if he doesn't like one herb. Right?
In any case, if you like sage and you like butternut squash, you will love this dish. It's quintessential fall.
Of course, we are hurtling towards winter now. As my kids and I were walking through Target the other day, I tsk tsk'd at the Christmas decorations infringing on the Halloween candy and costume space. I mean we are still a week away from Halloween. Then comes Thanksgiving. And only after that does Christmas arrive. Come on, people!
Except, in some ways, you kind of have to at least put a little thought into the holidays now … budgeting, for instance, is something I do at the end of October. Though I likely won't shop until after Thanksgiving, I need to know what I am spending so that I save specifically for that. And yes, I know it's crazy that I wait to shop. But it's my tradition.
And then there is the whole Christmas cards thing (or holiday cards — whatever you send). Personally, if I don't order them early, then I won't send them. I need time to write, address and stamp (the stamps are the biggest part for me) my cards to get them out in time. That's why I always try to order them in around the end of October or early November. It gives me that time.
Shutterfly recently contacted me, asking me to share their 2011 card collections with my readers … and how could I resist? This whole project means two things for me: I actually have my cards already created and ordered AND I get to help you do the same.
So, I've spent the past few days looking through the many styles of cards available. There are all varieties of cards: whimsical, religious, classic … and I found myself drawn to the simple classic ones with sweet sentiments like "Joy" or "Rejoice." But with so many choices, it was so hard to choose one (thank goodness for the compare feature — I marked the ones that I liked and went back to decide which one was best). Finally, I decided to go ultra-simple "We Believe" design that I just loved. It reminds me of our favorite holiday movie, The Polar Express.
Now that I've ordered, all I need to do is get them addressed, stamped and mailed. With any luck, they will be on time this year.
Special thanks to a special lady for helping me conceptualize this recipe, which was created with a little help from Aviva Goldfarb.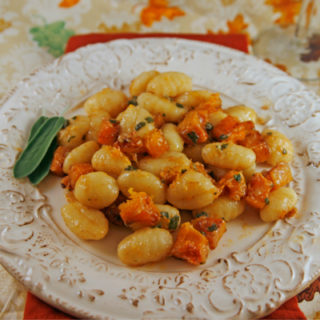 Roasted Butternut Squash and Sage Gnocchi
If you like autumn flavors, you will love this recipe for Roasted Butternut Squash and Sage Gnocchi. It's pillow-y, flavorful deliciousness!
Ingredients
2 cups cubed butternut squash, 1/2-inch dice
olive oil cooking spray
1/2 tsp ground cinnamon
1/2 tsp ground ginger
1/2 tsp Hungarian paprika
kosher salt, to taste
1 17.5- oz package gnocchi
2 tbsp unsalted butter
1 tbsp olive oil
1 shallot, finely chopped
2 tbsp finely chopped fresh sage
freshly grated Romano
Instructions
Preheat oven to 400 degrees. Line a baking sheet with nonstick aluminum foil. Spread the butternut squash on the baking sheet. Spray with olive oil cooking spray. Then sprinkle with cinnamon, ginger, paprika and salt. Stir well to combine. Bake for 25 minutes. Stir and toss. Then cook for another 10 minutes or so, until tender and golden brown.
While the butternut squash is cooking, boil water for the gnocchi and cook as directed on the package.
Also, while the squash is cooking, heat the butter and olive oil in a medium saucepan. Once the butter is completely melted and bubbling in the oil, add the shallot and sage. Stir well. Cook, stirring occasionally, until the shallot begins to brown -- about 5 minutes. Add a ladle-full of water from the gnocchi. Stir well and remove from heat.
Add the cooked squash and gnocchi to the pan with the butter mixture. Toss well to combine. Serve with freshly grated Romano cheese.
Nutrition Information:
Yield:

4
Serving Size:

1
Amount Per Serving:
Calories:

453
Total Fat:

16g
Saturated Fat:

6g
Trans Fat:

0g
Unsaturated Fat:

9g
Cholesterol:

61mg
Sodium:

272mg
Carbohydrates:

67g
Fiber:

7g
Sugar:

4g
Protein:

12g
---
Disclosure: Shutterfly provided me with a coupon code for myself and three readers in exchange for this post. That didn't influence the content at all. In fact, I have been ordering cards and photos from Shutterfly independently for years. NOTE: Giveaway closed. Thanks!
Also, I was asked to include this line: Are you a blogger? Want a chance at 25 free cards this holiday season? Register here: http://goo.gl/DDw7Q