One of the keys to planning a stress-free Thanksgiving lies in the planning aspect. Good planning doesn't just center around dishes that complement each other — the dishes also should make sense in terms of timing.
For instance, if you have one oven (which clearly needs to cook the turkey) and only four burners to cook on, you can't have three dishes that need to be baked at the same time as the turkey. That just doesn't make sense.
However, you could roast a turkey and reheat or cook an oven dish or two while the turkey is resting as long as the cooking time is less than about 30-35 minutes.
That little timing lesson was an important one I learned early on in hosting Thanksgiving for my family. Before I planned this way, I was a wreck on Thanksgiving running to get everything ready and cooked at the same time.
Stressed out much? Yes. Totally.
It was awful and I had no fun with it. Once the cooking was done and everyone seated, I would kind of collapse in a chair and not even feel like eating. Cringe.
Then things changed. I got into a flow about holidays, learning how to cook them without being reduced to a puddle of stress. Now, I aim to cook most of Thanksgiving in the day or two beforehand. There is such relief in knowing there's little to do to be ready on Thanksgiving — that most of the dinner is already done. It makes Thanksgiving so much more peaceful too … and I can even watch the parade without feeling guilty.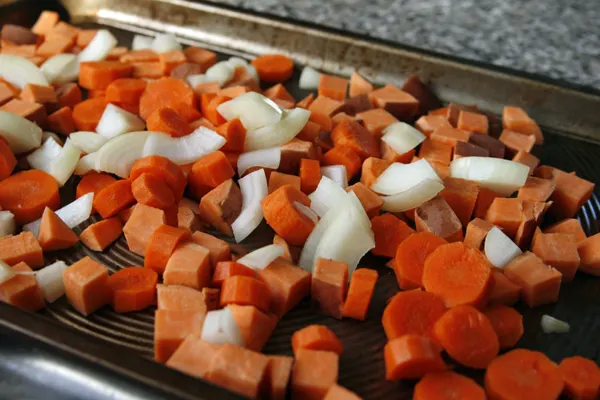 This new recipe? It's perfect for a make-ahead side dish. Hearty, with a sweet-tangy flavoring, this is high on my life of potential dishes for Thanksgiving this year. And in the meantime, it makes a really fabulous lunch.
Sweet potatoes, carrots and onions are roasted to a nice caramelization with garlic, oil and salt and pepper. Then they are mixed with cooked pearl barley.
Then you whisk together a tangy lemon vinaigrette and toss it with the vegetable/barley mixture. Heaven!
Though you could totally serve this cold, this salad is best served warm. Just heat it up a little before serving (if you make ahead, that is). Also, be warned that it takes a good hour to make (hint: make the vegetables and the barley at the same time to save on prep time). Of course, you can make this a day or two in advance — and it requires little prep, so really the long cook time is almost totally hands off.
Roasted Vegetable Barley Salad with Lemon Vinaigrette
Ingredients
1 sweet potato, washed and cut into 1/2-inch cubes
2 carrots, peeled and sliced into 1/4-inch rings
1 small yellow onion, quartered and sliced into 1/4-inch pieces
2 cloves garlic, peeled and crushed
2 tbsp olive oil
salt and pepper, to taste
1 cup barley, cooked according to package directions
1/4 cup olive oil
juice of 1 lemon juice
Instructions
Preheat the oven to 400 degrees. Combine the sweet potato, carrots, onion and garlic on a nonstick baking sheet. Toss with olive oil, salt and pepper. Roast for 30-40 minutes, stirring once or twice, until vegetables are tender and lightly golden.
Remove the garlic and chop finely. Whisk together with the olive oil and lemon juice.
Toss vegetables with barley. Drizzle with lemon vinaigrette and toss again. Adjust seasoning with additional salt and pepper, to taste.
This can be served hot or at room temperature.