Change up your salad routine with this quick and easy recipe for Raspberry Vinaigrette Slaw with Garbanzo Beans and Red Peppers. This recipe was created for my client, Kraft, but all opinions are my own.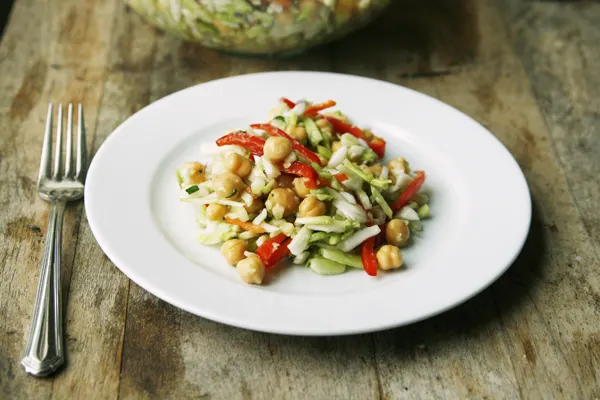 When I first started blogging about food nearly nine years ago, it was so that I could move from my career as a newspaper reporter into something new.
Food writing sounded interesting, so I went for it.
Word by word, recipe by recipe, I learned that writing about food is so very different than anything I'd done before. The art of it is inspiring others to want to eat what you are eating. You have to find the right words to reach others, and make them hungry to a point of action.
After all this time writing about food, I am still learning. That's the way it should be, I think. The landscape of food writing and blogging is constantly changing. So, I read and eat to keep my skills fresh. I hope it's working.
And though I love decadent dishes, sometimes a cool, crisp and fresh salad is just right. The bright flavors in this satisfying slaw make it perfect for days like that (you know the ones: when your pants feel a little snugger than they should and your belly begs for something healthful). I mean, you don't have to be a food writer to love salads, right?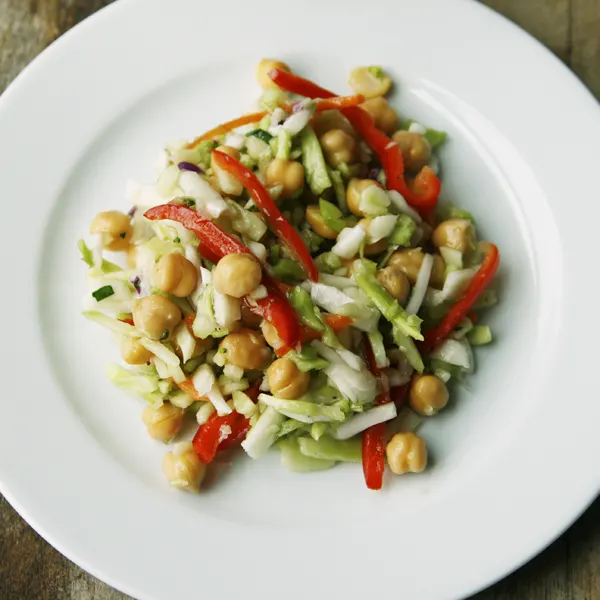 This Raspberry Vinaigrette Slaw with Garbanzo Beans and Red Peppers isn't like a crisp, fresh salad — it's also hearty with the addition of garbanzo beans. The sweet, tangy raspberry vinaigrette brings it all together.
As the last tendrils of summer-like weather fade away here in Maine, this is exactly what I feel like eating. It won't be long before warm soups, stews and chilies will be hitting stoves everywhere as the 60-degree days turn to much colder temperatures that we mustn't speak of yet.

As for this salad: Making this takes mere minutes. That's the ease and simplicity of it. But linger over this, enjoying each bite. It's a salad to be savored for lunch or dinner. This is perfect for packing for your lunch at work — or sharing with the family for dinner.
Raspberry Vinaigrette Slaw with Garbanzo Beans, Red Peppers and Golden Raisins
Ingredients
4 cups bagged coleslaw mix
1/2 cup julienne cut red bell peppers
1 15.5- oz can garbanzo beans, , drained and rinsed
1/2 cup Kraft Raspberry Vinaigrette
Instructions
Combine all ingredients in a large mixing bowl. Stir well. Chill until ready to serve.
Be sure to check out Kraft's website for more nutritious ways to use their dressings.
Change up your dinner routine with Kraft. Visit KraftRecipes.com for great recipes and meal ideas, featuring Kraft. Because food deserves delicious.
---
This is a sponsored conversation written by me on behalf of Kraft. The opinions and text are all mine.