Quick and easy veggie burrito bowls are a delicious way to get dinner on the table fast. This recipe was created for my client, Green Giant, but all opinions are my own.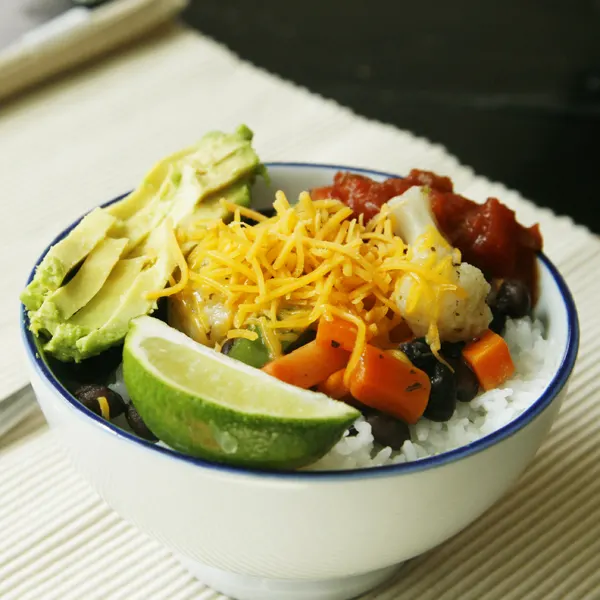 This school year has brought so many changes to our household. Beyond new schools and an out-of-the-house job for me, the curriculum here (which I love) is vastly different than what either of my kids have ever experienced before. That's meant some adjustment. So has the fact that fourth-grade homework is simply much different (and more plentiful) than third-grade homework …
When I picked the kids up from their after-school program yesterday, I asked them the same thing I do every day: How much homework do you have? They both do some of their homework at after-school, but the pull of the brightly colored playground and the laughter of their friends is a strong draw.
Often, they wanted to enjoy the crisp autumn afternoon running around the playground with their friends. Considering how short our days are becoming here in Maine, I can hardly blame them. But that means there is more homework to do when we get home … and that means less time for anything else.
Our evenings have to be collapsed into one neat package of homework, dinner, books, bedtime — because those are the most important elements. That's fine. It allows just enough time for talking about our days over dinner and cuddling with good books.
But 'fine' isn't 'great' or 'awesome' or even 'pretty good.'
So whenever the must-dos are done early, I try to whisk the kids off to the pool for a little splashing around. An evening swim is such a fun way to end the day. Sometimes we play monkey in the middle. Sometimes I watch them dance around the pool — or swim mini laps with them. And in the end, we arrive home just this side of exhausted and ready for a good night's sleep.
It's the laughter that makes it all worthwhile for me — every busy, changing, challenging moment. Because the laughter of children? It's glorious.
Then again, so is seeing your son try to perfect the breaststroke — something he's never learned but has seen you do countless times. That's special too. In the best possible way. As I watched him in the pool last night, his arms imitating what he's seen me do, and his head bobbing up for a breath with each stroke, I swelled with pride. He's still so little, but he's so big too.
For busy nights — or nights when you want to get dinner on the table super fast — recipes like this one for Quick and Easy Veggie Black Bean Burrito Bowls help a ton. Ready in about 10 minutes, this nutritious bowl of lean protein, veggies and rice is both filling and simple. For the kids, it's a great opportunity to customize their dinner with their favorite parts (for instance, Paige likes to skip the lime).
Also making this extra easy is the Green Giant Valley Fresh Steamers used to create the recipe. In a few quick minutes, these veggie mixes (often with a light sauce) can be heated up and ready to use. To make this even easier, be sure to use frozen or instant rice — which is ready in no time as well.
Then, once you've made this ridiculously easy dinner and enjoyed it together, head outside — whether you go to the basketball court, the pool or something else, that together time is priceless.
Quick and Easy Veggie Black Bean Rice Bowls
Ingredients
4 cups cooked white rice
1 cup canned black beans, , drained and rinsed
1 pouch Green Giant Basil Vegetable Medley
1/2 cup fresh diced tomato, , or 1/2 cup salsa
1 avocado, , pitted, peeled and sliced
1/2 cup shredded cheddar cheese
1 lime, , cut into four wedges
Instructions
Divide the rice evenly among four bowls. Top each one with 1/4 of the black beans.
Cook the Green Giant Basil Vegetable Medley, per package directions.
Top each bowl with tomatoes or salsa, avocado and cheese. Serve each with a lime wedge. Enjoy immediately.