This tender, sweet Pecan Banana Quick Bread recipe is quick and easy to make, and a delicious treat for breakfast.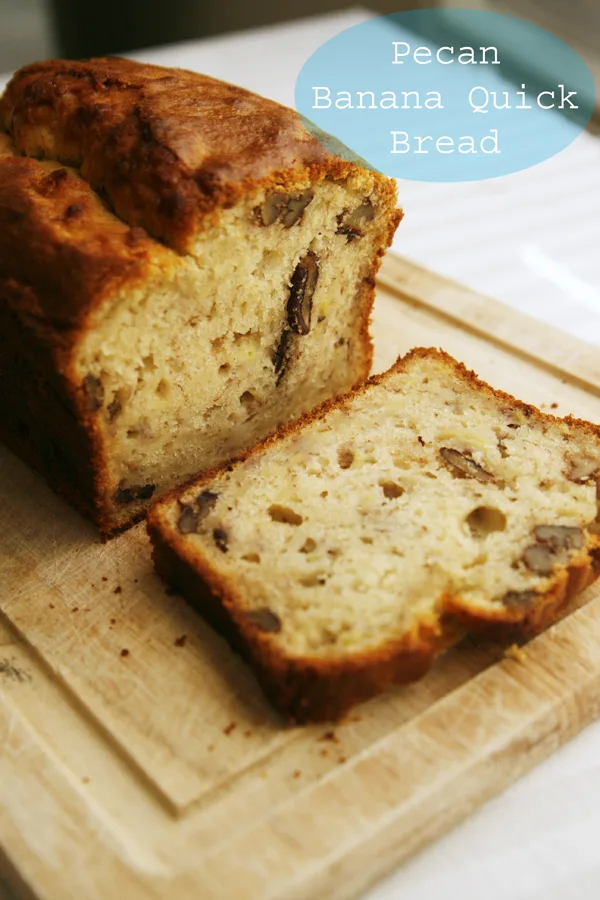 Some weeks, the kids and I eat so many bananas that I can barely keep them stocked in the kitchen. But other weeks? They just sit there, waiting. And on those weeks, when the bananas turn shades of brown, they just beg to be baked into muffins or a tender loaf of bread.
This was one of those weeks where the sad, uneaten bananas stared at me from their basket on the counter until I decided to do something with them. So bread it was, dotted with pecans and ready for toasting, buttering and enjoying all week.
Of course, this wasn't an easy sell with the kids. It just seemed too … basic, I guess. Or something like that.
When the kids arrived home to find this golden loaf freshly made Sunday, they weren't that jazzed. I mean … banana bread, right? But after munching on slices at breakfast one day and taking slices as part of their lunches another, they love it — and can't wait to eat more. Sure, it didn't have the eye-popping wow factor when they first saw it, but after enjoying it a few times, they are thoroughly in love. I'll take it.
And that's the thing: banana bread is pretty basic.
There are so many recipes for it out there — everyone has one — and how much can you alter it? But there's just something about this loaf, with it's moist but not crumbly crumb and the pecans running through it. It's sweet, but lightly so. And it is firm enough to go right in the toaster. All in all, it's really wonderful.
Fortunately, the kids think so too.
As far as recipes go, this one is a cinch. Just grab one big bowl, mix your ingredients, pour into a greased baking pan and bake. It's that simple, and then you have breakfast covered for you and your kids for the whole week — just add fresh fruit. That's an awesome help on busy weekday mornings.
Gotta love a one-bowl quick bread recipe, right?
So whip up a loaf. Slice it. Toast. Enjoy.
Psst! This bread is fantastic toasted and spread with bacon jam like these:
Pecan Banana Quick Bread Recipe
Total Time:
1 hour
10 minutes
Ingredients
1 large egg
1 cup milk
1/2 cup canola oil
2 cups self-rising flour
1/3 cup granulated sugar
1/2 tsp kosher salt
3 overripe bananas, , mashed
2 tsp vanilla extract
1/2 cup chopped pecans
Instructions
Preheat the oven to 375 degrees. Grease an 8.5-inch loaf pan. Set aside.
In a large bowl, whisk together the egg, milk and oil until well combined. Add the flour, sugar and salt and stir well to combine. Fold in the mashed bananas, vanilla and pecans.
Pour the batter into the prepared loaf pan.
Bake for 50-60 minutes, or until a knife inserted in the middle of the loaf comes out clean.