Sundried tomatoes, fresh basil, garlic and walnuts combine with parmesan cheese and olive oil in this quick and easy recipe for Sundried Tomato Pesto — perfect for spreading on sandwiches, tossing with pasta and so much more!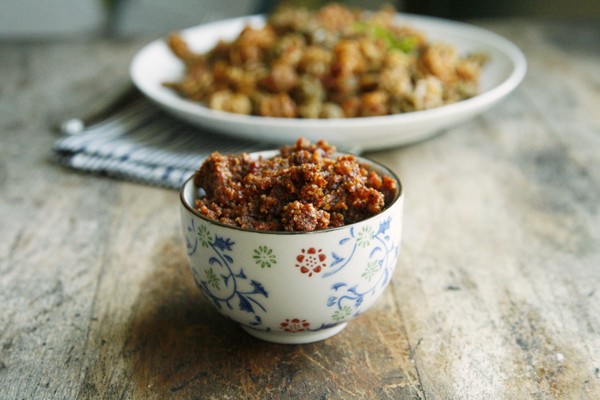 My life in New York feels alternately like a lifetime ago, or just a few months ago, though in reality I haven't lived there in nearly 15 years.
Growing up just north of the city, my family would make the short drive in often to see Broadway shows or musicians perform at Carnegie Hall. That was part of the tapestry of my childhood. And when I got a little older, and moved to New York for college, I sampled plays and performances at different venues throughout the city and ventured to other music venues for concerts and jam sessions. I loved everything from the underground jazz at Small's, back when Small's was a BYBO venue, to the grand productions that appeared at theaters like the St. James.
But that life, the one filled with so much culture, sometimes feels more like a movie I saw a long, long time ago than my real life.
When I moved to Connecticut, things changed. I was busy building a career as a journalist and then raising a family. Time was at a premium — and frankly, so was money — so I rarely saw plays and Broadway shows anymore. There was less live music in my life. In its place, I eventually got to sample restaurants thanks to my job and also went to more museums and visited more beaches. But life, especially as a young mother, was more about playgrounds and utilitarian pursuits, then about the cultural endeavors that had filled my soul for so long.
Moving to Maine, I wasn't expecting to rekindle that part of me that relishes sitting in darkened auditoriums and being transported by acting or music or the intersection of both. But slowly over the last year, it has.
Last weekend, I had the opportunity to attend the season opener for the Collins Center for the Arts on the University of Maine at Orono campus. The performance brought together the Bangor Symphony Orchestra and a bass guitarist, guitarist, drummer and pianist as they played the music of Elton John and Billy Joel.
When I was a child listening to classical music in Carnegie Hall, I always wondered why the strings and woodwind instruments couldn't trade Bach and Mozart for something more modern. Why couldn't that orchestra play something a little more like "Rocket Man," or "New York State of Mind?"
More than 25 years later, that's what the BSO and the musical group they performed with did for me on Saturday night. It was what I had dreamed of hearing when I was a little girl — the soulful saxophone and edgy bass guitar playing with the classic violins in modern melodies. And in many ways, as I sat in that auditorium, seven hours north of what will always be my city, I felt closer to New York than I have in a long time.
I miss New York, and though I might never live there again, that city will always be home. It's my proverbial due north.
Oddly enough, in its own way this recipe reminds me of New York too. It was while living in New York that I discovered sundried tomatoes — and sundried tomato pesto — and fell in love with the flavor.
In college, and after, I often kept giant containers of sundried tomato pesto in my fridge. I loved the sweet, but slightly acidic, flavor of it, and adored it mixed with pasta. But when Costco stopped carrying my favored brand, I stopped using it so often.
When I spied sundried tomatoes at the grocery store recently, something was reawakened in me, and an idea for this recipe began percolating in my head.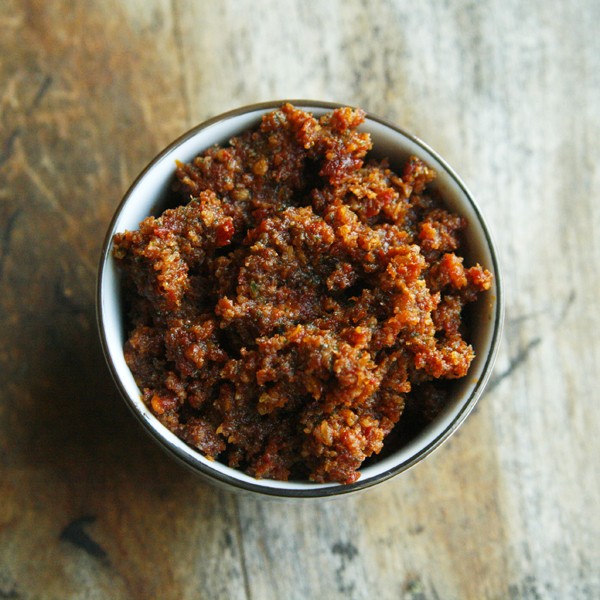 Sundried tomatoes. Basil. Walnuts. Parmesan. Garlic. Olive oil. Simple ingredients combine in this pesto to form a sweet but savory spread and sauce that is just as good on bread as it is mixed with pasta. I make it on the thicker side because I love spreading it on sandwiches, but if you prefer it thinner, add some more oil to the mix.
As for the flavor? The sundried tomatoes are dominant with their inherent sweetness from the roasting process. The bright basil, meaty walnuts and zesty garlic add nuances to the flavor. Ultimately, it's fresh and just right for those of us who cannot get enough sundried tomatoes.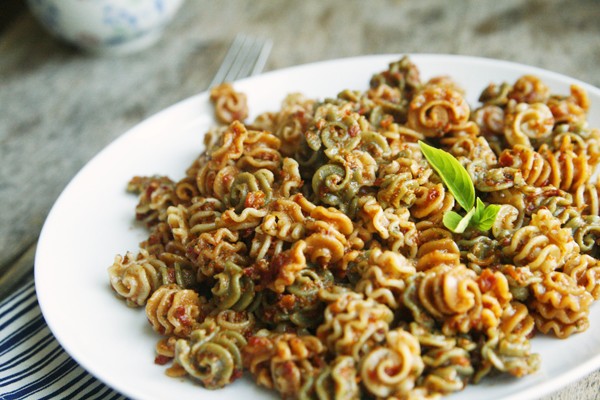 Sundried Tomato Pesto
Sweet but zesty, this Sundried Tomato Pesto is delicious on pasta, as a spread for sandwiches and more.
Ingredients
1 cup sundried tomatoes (dried, not oil-packed)
1 cup fresh basil leaves
1/2 cup walnuts
1/2 cup freshly grated parmesan cheese
1 clove garlic
3/4 cup extra virgin olive oil (or more)
salt and pepper, to taste
Instructions
In the bowl of a food processor, combined the sundried tomatoes, basil, walnuts, parmesan cheese and garlic. Process until finely chopped.

With the food processor running on low, drizzle the olive oil in a little at a time. If desired, additional olive oil can be added for a looser consistency.

Taste, and season with salt and pepper as needed.

Enjoy with pasta, spread on sandwiches or crackers or slathered on roasted chicken breasts — or however you like sundried tomato pesto to be served