Gingery Pickled Red Onions, Radishes and Carrots are quick and easy to make and add a nice tang to dishes. This is a condiment.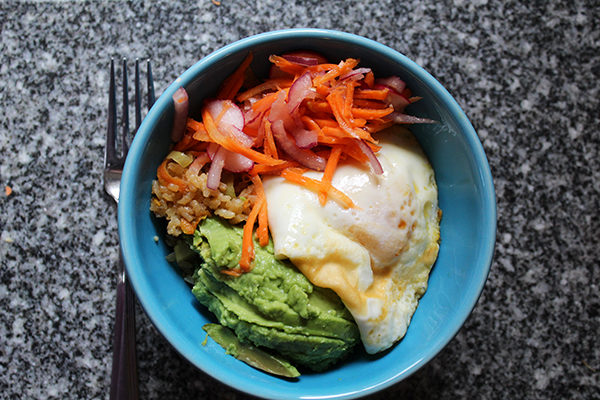 Maine is stubbornly hanging onto winter this year. I mean, that happens every year. But this year seems a little more stubborn than usual. Just when the temperatures started to warm up recently, things dropped again. Snow flurries happened. Ice coated the stairs and railing outside.
I am so ready for the warmer days of summer. In the meantime, dishes like this with bright flavors help remind me that those days are coming. And soon, we'll be in the garden again, smelling of soil and greenery as we grow whatever it is that gets planted this year.
Don't tell my kids, but radishes are on that list again. I just love them.
Tangy, light and fresh, Gingery Pickled Red Onions, Radishes and Carrots are a condiment. I use this and variations of this often to add more flavor to whatever I am eating.
Making them is a quick process that can be done in less than 30 minutes.
Start by cutting and mixing up the veggies. Carrots are julienne cut (short on time? Use a large holed grater instead). Red onions and radishes are thinly sliced. Then add the ginger, seasoned rice vinegar and salt. Mix that well and then transfer to a jar.
Then just let the mixture sit for at least 20 minutes. The flavors will develop during this time. Then they are ready to use.
See? Easy.
Here this condiment is served on leftover fried rice with avocado and a fried egg. Mmm. I love how the cool, tangy Gingery Pickled Red Onions, Radishes and Carrots are a crunchy contrast to the creamy avocado, warm egg and flavorful rice.
Try this with on a rice bowl. It's lovely, also, with roasted potatoes, fish dishes, rice noodle dishes and so much more. Ready in less than 30 minutes, you can't go wrong.
Gingery Pickled Red Onions, Radishes and Carrots
Additional Time:
20 minutes
This quick and easy mixed vegetable condiment is gingery, as the name suggests, and is lovely served on rice bowls, with fish or anything else that could use a little zesty infusion.
Ingredients
1 cup julienne cut carrots
1/2 cup thinly sliced red onions
1/4 cup thinly sliced radishes
1 tbsp seasoned rice vinegar
1 tsp freshly grated ginger
salt, to taste
Instructions
In a small mixing bowl, stir together the carrots, onions and radishes.
Add the ginger and rice vinegar to the bowl and stir well to combine. Season with a few pinches of salt. Stir again.
Transfer the mixture to a jar or other container. Let sit, shaking once or twice, for at least 20 minutes before eating. Taste, and season with additional salt as desired.