With a lightly sweetened crumb, this Cranberry Bread with Buttermilk yields a tender loaf dotted with tart cranberries. It's perfect sliced for breakfast or snacks.
Halloween is gone. Election day has passed. Now we're well into November and … it's cranberry season!
But cranberry sauce isn't the only way to enjoy fresh cranberries. Tart, firm cranberries are excellent in cranberry salsa, sauces and even baked goods … like this Cranberry Bread with Buttermilk. It's a moist, tender loaf that's firm and hearty. The slices are wonderful to enjoy as breakfast or a snack.
But it's the cranberries that star here. As they bake, the tart cranberries burst, leaving little pockets of tartness that are a delightful contrast to the sweet (but not too sweet) crumb.
When I make this bread, it goes so quickly. Seriously. My family and I adore this loaf.
I love how quickly this bread comes together so easily.
How easily? Let me show you.
How to Make Cranberry Bread


Beat an egg in the bowl of a stand mixer. I let it beat at a high speed for several minutes until it turns pale yellow and frothy. Then add buttermilk and bowl and beat gently to mix. Next you need to sift together the dry ingredients. I put them in a large bowl and use a whisk to sift. The dry ingredients are added little by little to the wet ingredients until just combined.


Remove the bowl from the stand mixer and add the cranberries and vanilla extract. Stir to combine, taking care to scrape down the sides of the bowl.
Pour the batter into a greased loaf pan. Tap gently, if needed, to even it out.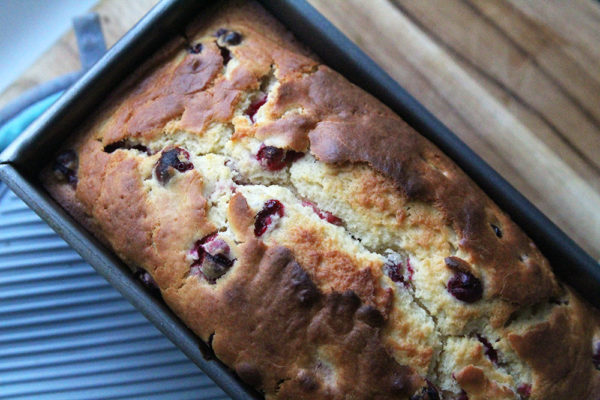 And then bake. Cranberry bread bakes for about an hour (give or take about 10 minutes). It's done when a tester (such as a butter knife) inserted in the center comes out cleanly. Let the bread cool fully before slicing.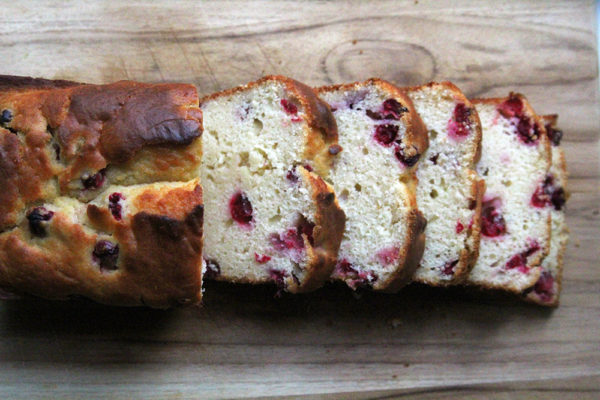 Cranberry Bread with Buttermilk
Yield:
8 servings (yields 1 loaf)
Total Time:
1 hour
10 minutes
This tender sweetened loaf is dotted with fresh, tart cranberries. It's delightful sliced for breakfast or snacks.
Ingredients
1 large egg
1⅓ cup buttermilk
½ cup oil
2 cups all-purpose flour
½ cup granulated sugar
1 tbsp baking powder
1 tsp kosher salt
2 tsp vanilla extract
1 cup fresh cranberries, , rinsed and well-drained
Instructions
Preheat the oven to 375 degrees Fahrenheit. Spray an 8.5-inch loaf pan with cooking oil spray, or grease with butter. Set aside.
In the bowl of a stand mixer fitted with the paddle attachment, beat the egg for about 1 minute until frothy. Add the buttermilk and oil, one at a time, mixing well after each addition.
In a large mixing bowl, sift together the flour, sugar, baking powder and salt. With the stand mixer running on low, add the flour mixture to the wet ingredients a little at a time until just incorporated.
Remove the mixing bowl from the stand mixer and scrape down the sides of the bowl with a rubber spatula. Add the vanilla extract and cranberries and stir to combine.
Pour the batter into the prepared loaf pan.
Bake for 50-60 minutes, until golden brown. The bread is done when a butter knife inserted into the center of the pan should come out cleanly.
Place the pan on a cooling rack and allow the loaf to cool in the pan for 20 minutes before inverting to release (you may want to run a knife around the edges first to ensure an easy release). Cool completely before slicing.