Crispy on the outside, filled with vegetables and soft on the inside. These savory Vegetable Pancakes are delightful with fried or poached eggs. Dip forkfuls in the creamy, rich runny yolks.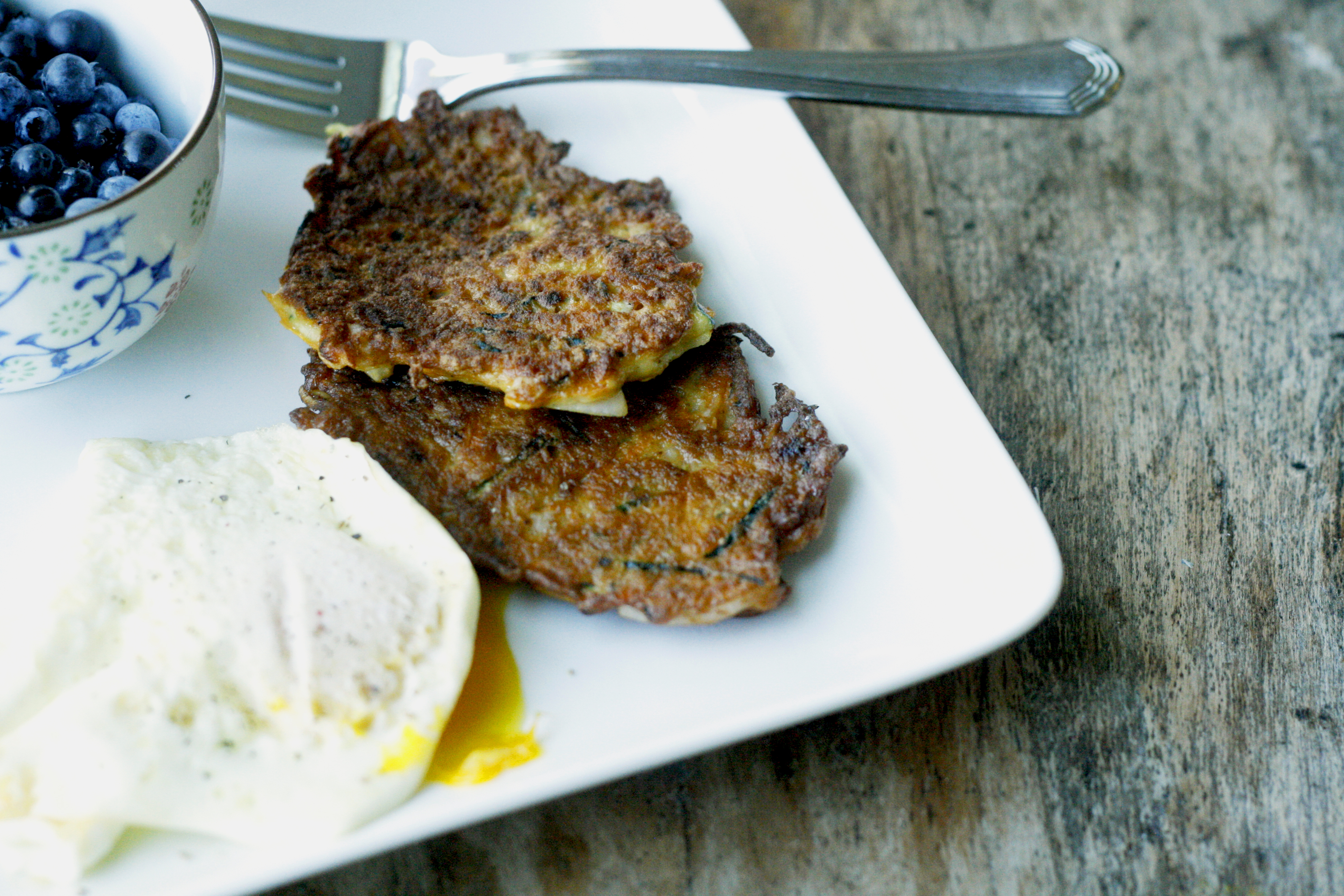 A few days before school started, I suggested to my son, Will, that he might need a planner to keep track of his 9th grade homework. He scoffed. "I'll just use scrap paper," he told me. That's what he did in the past — despite having a planner.
By the end of the first week of school, we were out looking for a planner at his request. That's when I discovered how many planners were covered in pastels and flowers — and how few were bold or dark colors, solids or otherwise unadorned. The woman at the register assured me that there were other patterns before they sold out during back to school, but I am not convinced. Did the office supply industry decide that only folks who favor softer, paler designs use planners or something?
Fortunately, we found one — the only one in stock — in navy. So far, it's proven valuable to him, as homework is plentiful and specific (every third problem on pages 24-whatever?). Freshman year is a lot different from 8th grade.
He's adjusting. We both are. So far, so good.
Every stage of schooling has brought adjustment. In Will's preschool days, breakfast was leisurely and epic. Pancakes, eggs, whatever. When elementary school started, quicker breakfasts became the norm. Oatmeal, cereal, toast, fruit. Now, with Will needing to be out of the house before he was even up last year, breakfast is grab and go during the week.
But on weekends, there's time for more — special meals, leisurely, lingering ones. There's time to slow down and enjoy some moments together.
Vegetable Pancakes with Zucchini, Carrot and Onion are good for times like that.
Vegetable Pancakes with Zucchini, Carrot and Onion are something you make on a Saturday morning, warm and comforting. Eat them together with your kids, digging in and enjoying the food and company.
Or perhaps, if your weekend mornings are busy, this is something you make for a savory breakfast for dinner. Fresh veggies, fresh eggs, fresh flavors.
Whenever you make it, do start with fresh veggies. They are essential. Fresh zucchini is shredded, salted, drained. This removes some of the water content, allowing these pancakes not to be mushy.
I call for spring onions in these, but if you can't get the immature onions with decent sized bulbs, substitute shallots.
Then make the batter —zucchini, onions, carrots, flour, egg, seasonings.
Finally, the savory Vegetable Pancakes with Zucchini, Carrot and Onion are fried. The outsides get crispy. The insides are moist. And you make some eggs to accompany them. Yum.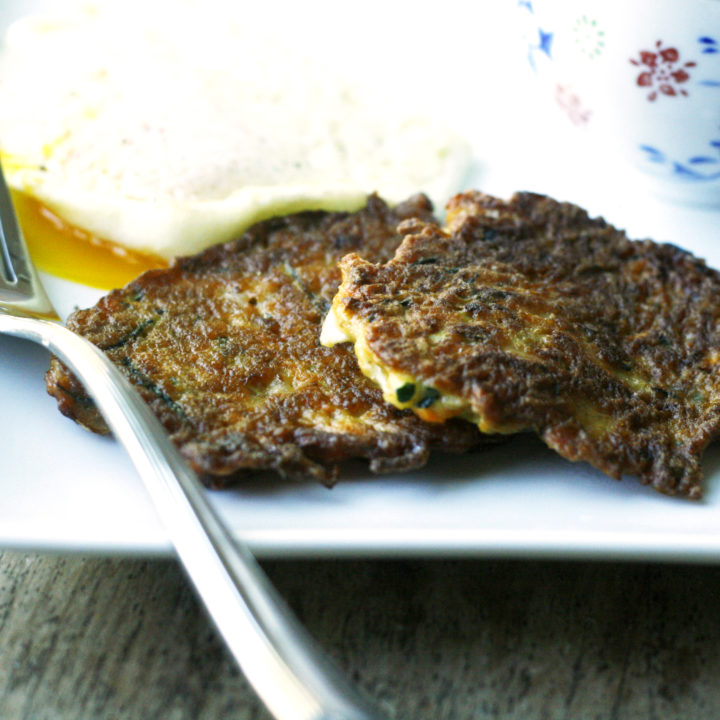 Vegetable Pancakes with Zucchini, Carrot and Onion
These savory Vegetable Pancakes with Zucchini, Carrot and Onion are easy to prepare and to enjoy as well. And they're especially delightful with eggs.
Ingredients
2 cups shredded fresh zucchini
1 tsp salt, divided
1 carrot, peeled and shredded (about 1 cup)
1 spring onion or shallot, quartered and thinly sliced
⅓ cup all-purpose flour
1 large egg
¼ tsp fresh ground black pepper
2 tbsp olive oil
Instructions
Set the shredded zucchini in a fine-mesh strainer over a bowl. Sprinkle with ½ tsp salt and mix together. Let sit for 10 minutes. Use a paper towel to push the liquid out of the zucchini. You want to drain as much as you can.
Transfer the zucchini to a large mixing bowl and stir together with shredded carrot and spring onion or shallot. Add the flour, remaining ½ teaspoon of salt, egg and pepper. Stir well to combine into a batter.
Heat the olive oil in a large nonstick skillet set over medium heat. Drop the vegetable batter in rounds (about 2 tablespoons worth) in the heated oil. Spread gently into a circle. Cook for about 3 minutes per side or until golden brown, flipping once.
Transfer cooked vegetable pancakes into a paper towel-lined plate until ready to serve.