Easy but impressive, this recipe for Rosemary Garlic Whipped Ricotta Crostini with Prosciutto can be mostly made ahead, freeing you up to enjoy your guests.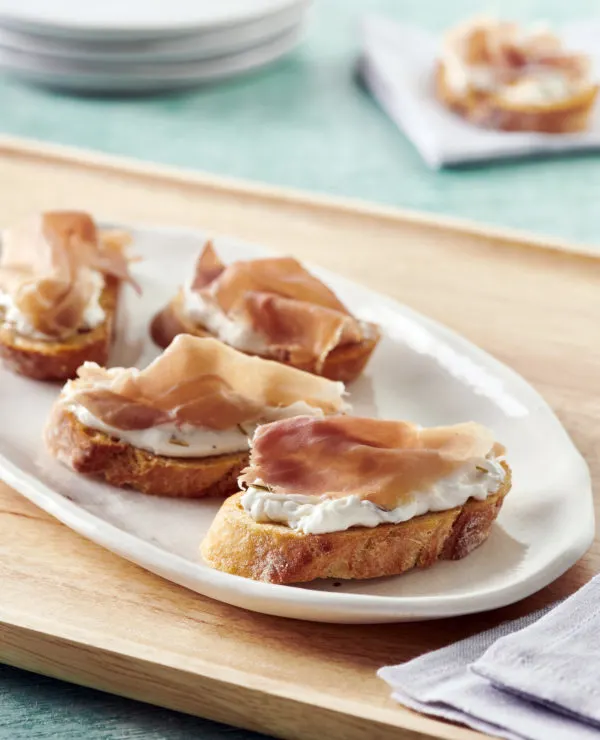 When I started working on The Easy Appetizer Cookbook, I spent time thinking about what dishes I would want to serve to guests. What kinds of food make guests go "oooh!" and how much prep is doable for a busy person?
Many of the recipes in the cookbook can be made ahead — at least in part. That's because make-ahead recipes make for less stress for hosts. Less stress equals more fun hosting parties. And really, that makes for better parties.
Honestly, it took me decades to learn that. But now that I have, I am never going back.
I love to cook, but I love enjoying my time with people more. And honestly, you can be an excellent cook, whipping up craveworthy dishes without making dishes that are unnecessarily complicated.
That's the philosophy behind my last several cookbooks.
Anyway, about this easy appetizer recipe. It's perfect for autumn and the holidays — and lovely for anyone who enjoys the tantalizing combination of soft, creamy cheese and salty, savory prosciutto.
Rosemary Garlic Whipped Ricotta Crostini with Prosciutto is so
Whipped ricotta is a revelation. It's creamy with none of the grittiness that ricotta can have. It's also easily seasoned — a blank canvas for creating wonderful flavor combinations.
In this easy appetizer, whipped ricotta is flavored with earthy rosemary and vibrant garlic. And then it's topped with salty, tender prosciutto. Always buy good prosciutto — life is too short for gnawing on the cheap stuff.
This is an appetizer that's easily made ahead. Whip and season the ricotta and store it in a container until it's ready to use. Assemble the crostinis at the last minute. Then enjoy them with your guests.
You can find this and more quick and easy appetizer recipes in my upcoming cookbook, The Easy Appetizer Cookbook. It's available for preorder wherever books are sold (please preorder! I can't tell you how much it helps authors when you do!).
I'd love it if you'd order it from an indie bookstore (my preferred one is The Briar Patch in Bangor, Maine, which will have signed copies). You can also find an indie near you or order from your preferred online bookstore (more order links can be found here).
And put this recipe on the menu for your next gathering. You won't regret it.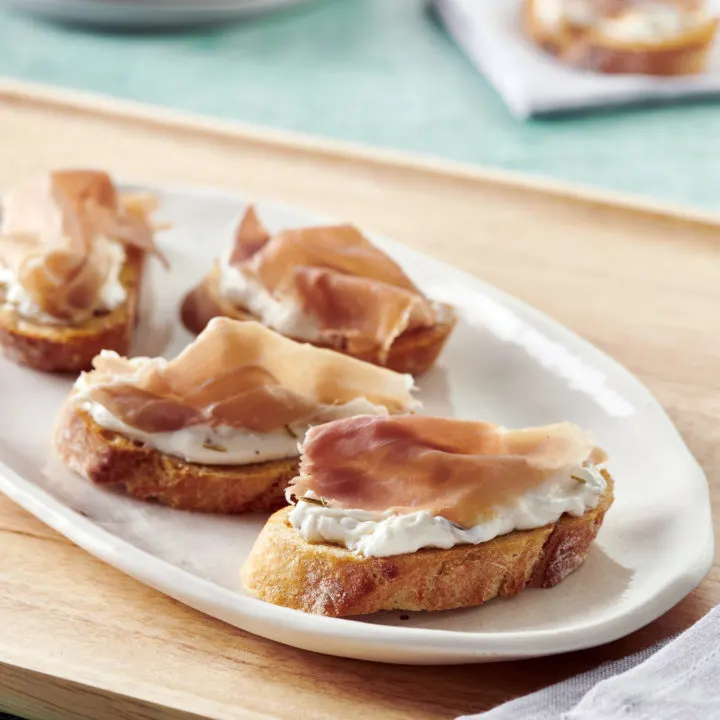 Rosemary Garlic Whipped Ricotta Crostini with Prosciutto
Ricotta cheese is transformed into a creamy spread flavored
with earthy rosemary and fragrant garlic in this crostini recipe. Spread on
little slices of bread and served with a bit of good prosciutto, this is a
decadent and impressive appetizer.
Ingredients
¾ cup ricotta cheese
1 clove garlic, chopped
1 teaspoon dried rosemary
Salt and pepper, to taste
1 loaf French bread
¼ lb thinly sliced prosciutto (4 oz)
Instructions
In the bowl of a food processor, combine the ricotta, garlic, rosemary, salt and pepper. Process until smooth — about 3-4 minutes.
Preheat the oven to 350 degrees. Place the French bread directly on the rack and heat for 10 minutes.
Remove from the oven and slice into ¼-inch-thick pieces. If desired, brush with olive oil and return to the oven for about 5 minutes.
Arrange the bread pieces on a serving platter. Top each with a dollop of ricotta. Tear the prosciutto into small pieces and drape one on each bread piece.
Serve.