If you like chicken satay, the traditional Thai dish, you'll love this recipe for Satay-Style Chicken with Peanut Sauce. It has all the flavor! Plus, it's great to make ahead for lunches.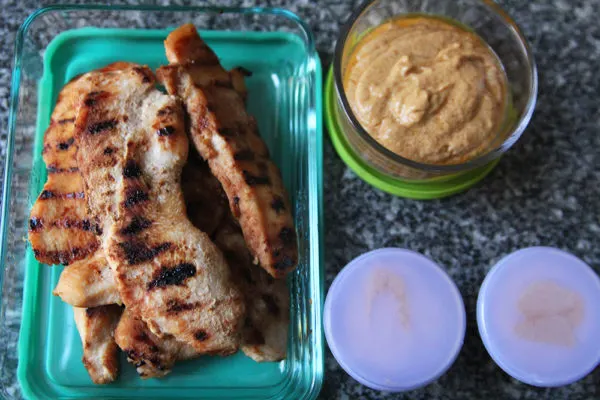 A few of my colleagues have recently joined a local wellness program that comes with an extensive meal plan, exercise regime and weekly meetings. This is the same plan that inspired another colleague several years ago to vastly improve his eating habits, losing lots of weight in the process. It's pretty inspiring to watch people transform their health like that.
While I won't be joining the wellness program too, it did get me thinking more about prepping lunches for work. I try to bring my lunch often. It's even something I mentioned in my goals for 2019. The trick is remembering those lunches and wanting to eat them. As I noticed my colleges enjoying a variety of creative meals, I wanted to up my lunch from home game too. After all, the more alluring my bring-from-home lunches are, the more likely I am to eat them happily, right?
Meal prep is essential to having good lunches on hand to bring to work. And this recipe for Satay-Style Chicken with Peanut Sauce is excellent for meal prep.
Good served both hot and cold, I love to have this chicken and sauce in a grain bowl with quinoa and roasted veggies. So tasty!
With a rich flavor, the marinated chicken pairs wonderfully with the peanut-based sauce. And the sauce, which has a hint of bite, is delightful on its own too.
This recipe is inspired by traditional chicken satay, which is served on sticks (really, skewers). This makes it wonderful as street food and an appetizer. And it's wonderfully sharable too. It's also fantastic to make-ahead, something I discovered as a teen when my friend's family enlisted all of us kids to help make pounds and pounds of it for a bridal shower.
When packing this for lunches though, the skewers are unnecessary (wasteful even). So in this version, I marinate the chicken using the satay marinade but don't thread it onto skewers. I love strips of chicken breast or chicken tenders for this, since they cook easily and are easy to pack. Of course, if you were grilling this, having the chicken on skewers would make cooking it easier.
I, however, cook it indoors on my stove using in my favorite grill pan. It cooks easily and quickly this way. If you don't have a grill pan, don't worry. This can also be cooked in a skillet. You just won't get the pretty grill lines.
And then I make the peanut sauce, which I will drizzle over the bowl just before eating. It's a combination of peanut butter, soy sauce, lime juice, coconut milk and chili garlic sauce. It stores well in airtight containers. I stuck some in my condiment containers for easy grabbing and stored the rest in a slightly larger container. Be sure to stir it before serving if it separates.
Want to eat this right now? You can. While this is a make-ahead recipe for me, it could be an eat-right-now recipe too. Serve it with rice or another grain (perfectly fluffy quinoa, farro, etc) and vegetable side dishes like Garlic Ginger Carrot and Cucumber Quick Pickles, Garlic Ginger Roasted Butternut Squash or Roasted Brussels Sprouts. Those same grains and side dishes are excellent if you are making it ahead too.
Satay-Style Chicken with Peanut Sauce
Additional Time:
30 minutes
If you like chicken satay, the traditional Thai dish, you'll love this recipe for Satay-Style Chicken with Peanut Sauce. It has all the flavor! Plus, it's great to make ahead for lunches.
Ingredients
2 cloves garlic, , crushed
1 tbsp freshly grated ginger
2 tsp Thai fish sauce
2 tbsp soy sauce
1 tbsp honey
1 lb boneless chicken breasts, , chicken breast pieces or tenders
Peanut sauce
6 tbsp crunchy peanut butter
4 tbsp coconut milk
1 tbsp soy sauce
1 lime, , juiced
1/2 tsp Chili Garlic Sauce
Instructions
In a food processor, combine the garlic, ginger, Thai fish sauce, soy sauce and honey. Whirl until smooth. Add the chicken to a shallow pan. Pour this marinade over, mixing so that it touches all of the chicken. Cover and chill for at least 30 minutes to marinate.
Once you are ready to cook, heat a grill pan (or a skillet) over medium heat on the stove. Add the chicken in a single layer, taking care to shake off excess marinade. Cook, flipping once, until chicken is no longer pink in the center. Cooking time will vary based on the cute of meat you use. For chicken breast strips or tenders, it's about 4-5 minutes per side.
Remove from the heat.
Combine the peanut sauce ingredients in a food processor or blender and process until smooth.
Serve the chicken with the peanut sauce for drizzling or dipping.
Notes
This recipe is adapted from Thai: The Essence of Asian Cooking by Judy Bastyra, with recipes by Becky Johnson, published by Hermes House in 2003.