These Flaky Spinach Garlic Rounds look impressive but are so easy to toss together. You might even have all the ingredients on hand. Why not make some soon?
We're entering spring now. In Maine, that really means mud season — a still chilly time of year when the ground thaws and the snow melts, creating mud everywhere. Except this isn't a particularly muddy mud season, which is nice.
Usually, this is the time of year where everyone heads outdoors, eagerly soaking up the beauty of Maine from vistas and peaks before the tourists arrive. Usually, this is also when the track teams converge and the meets begin — each one a little more pleasantly weathered than the past.
That's not happening this year. Nothing is.
And that's okay. It's hard, but okay.
So we're having to forge different paths through this spring. We have a little over a month before we can plant our kitchen garden, so we'll see what we can do with our flower beds in the meantime. We'll get out for walks and runs and bike rides.
And we'll take solace in the kitchen, where the steps of a recipe still yield the expected results. Cooking is a little bit of normalcy in this challenging time.
If you're heading to the kitchen for a touch of normal too, I highly recommend adding these Flaky Spinach Garlic Rounds to your culinary adventures. These flavorful puff pastry-based appetizers are bold and fragrant, filled with fresh spinach, garlic, shallots and more.
The ingredients are simple. You might even already have them all — if you keep your kitchen pretty well stocked. Starting with puff pastry, a magical ingredient, if there ever was one, this recipe builds flavor with each layer.
Spread softened butter all over one side of that gloriously magical puff pastry and then season it with salt and pepper. Sprinkle on minced garlic, shallots, parsley and chopped fresh baby spinach.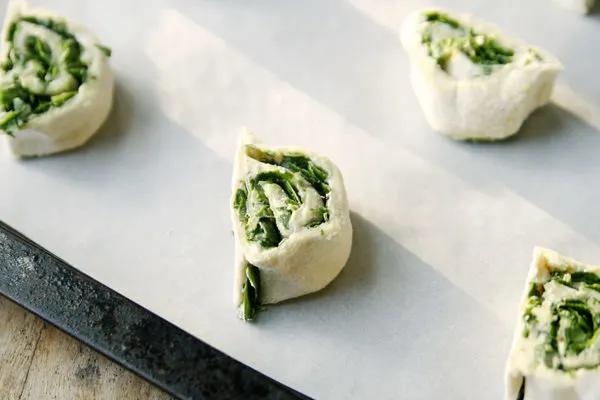 All those flavors together are what make these divine.
Next you roll them into a log. Working from the long end, roll it up. Then slice the log into 3/4-inch slices. Lay them on a parchment-lined baking sheet and bake. When they are golden brown and puffy, remove them from the oven. They're ready to delight.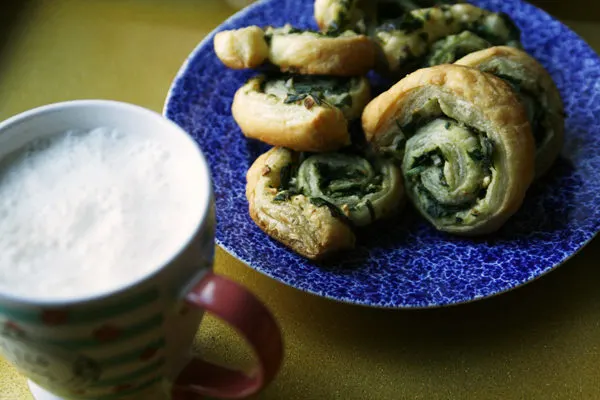 These can be made ahead of time and served cooled. Or you can serve them hot from the oven. Either way, they are a treat — and a little slice of normalcy too.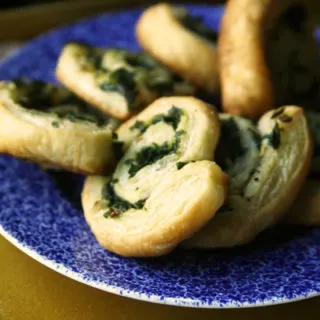 Spinach Garlic Rounds
Ingredients
1 sheet puff pastry, , defrosted according to package directions
1/4 cup unsalted butter
1/2 tsp kosher salt
1/4 tsp ground black pepper
1 clove garlic, , minced
1 shallot, , minced
2 tbsp minced fresh parsley
1 cup baby spinach, , chopped
Instructions
Preheat oven to 350 degrees Fahrenheit. Line a baking sheet with parchment paper.
Dust a wooden cutting board with flour. Place puff pastry on the cutting board and spread from edge to edge with butter. Sprinkle with salt and black pepper.
In a small mixing bowl, stir together the garlic, shallot, parsley and spinach. Spread the mixture all over the puff pastry. Roll up (not too tightly) and cut into 3/4-inch rounds. Place on the baking sheet.
Bake for 10-12 minutes until golden and cooked through.
Serve, hot or cold.