This easy recipe for Sesame Soba Noodles with Brussels Sprouts features a sweet-savory sauce that brings the dish deliciously together.
Back in the days when I left the house for work, I didn't pack lunch often enough. I'd go for weeks on end, practicing good lunch meal prep and packing flavorful lunches. But then something would get in the way and … I'd stop for a while.
Now that I've worked from home for nearly 11 months, I am enamored with the idea of how much better I will do when my office finally welcomes us back. I can't wait to choose a new lunch box (my old one doesn't really close) and fill it with flavorful foods.
This dish — Sesame Soba Noodles with Brussels Sprouts — is a great dinner. You could absolutely make it for that. But I keep picturing it inside containers for lunch at work.
You know, the lunch that I will eat in the park (or, at least in the break room with a book).
The desk lunch is so over when I get back!
Anyway, if you've never had soba noodles, you are missing out and ought to try them soon. With a light but nutty flavor, these noodles add a lovely flavor to whatever dish they are in — including this Sesame Soba Noodles with Brussels Sprouts recipe.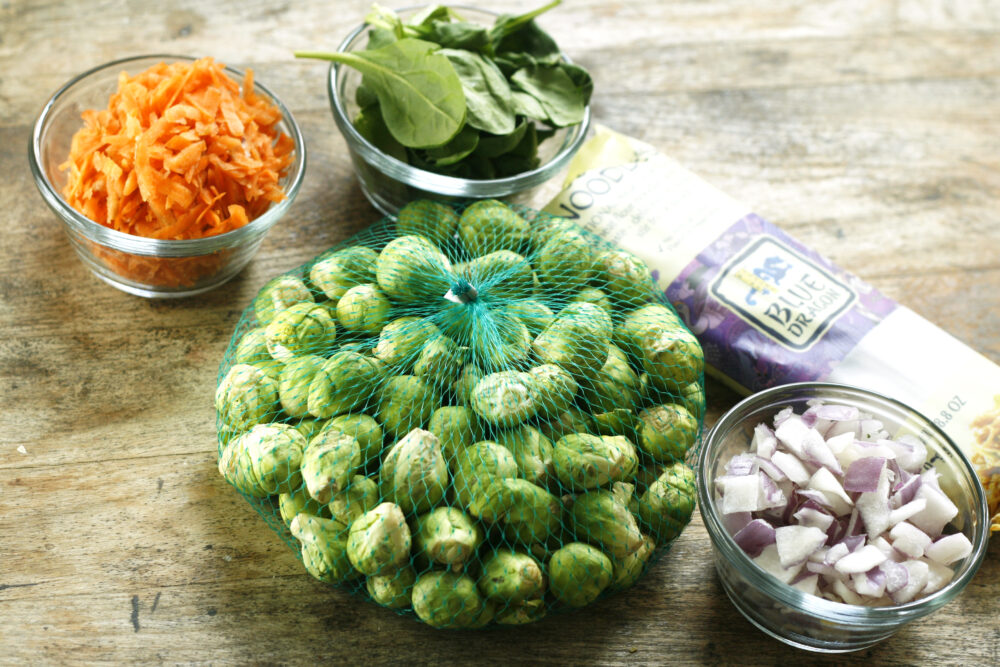 This dish starts with simple ingredients — carrots, red onions, Brussels sprouts, spinach, soba noodles.
The noodles are cooked. The Brussels sprouts are sauteed with red onions and carrots.
Then you mix it together with the raw baby spinach.
Finally, whisk together the sauce. It's a lovely sweet-savory concoction that you drizzle onto the noodle mixture.
Toss it together with sesame seeds and voila! Sesame Soba Noodles with Brussels Sprouts is ready to be enjoyed.
The result is light and flavorful. And it's also delightful. Why not try some tonight?
Sesame Soba Noodles with Brussels Sprouts
Ingredients
2 tbsp olive oil
4 cups Brussels sprouts, trimmed and halved
1 cup diced red onions
1 cup shredded carrots
1 cup spinach
1 pkg soba noodles (about 8 oz)
¼ cup vegetable stock
2 tbsp soy sauce
2 tbsp honey
2 tbsp rice vinegar
1 tsp dark sesame oil
1 tsp grated ginger
1 tsp sesame seeds
Instructions
Heat the olive oil in a large skillet over medium heat. Add the brussels sprouts and onions, and season lightly with salt and pepper. Once softened -- about 7-8 minutes -- add the carrots and continue to cook for 5-6 minutes, until golden brown in places.
Meanwhile add the spinach and cooked soba noodles to a large mixing bowl. Pour the sauteed veggies on top and toss well to combine.
Whisk together the vegetable stock, soy sauce, honey, rice vinegar, dark sesame oil and ginger. pour over the soba noodle mixture and toss well to combine. Sprinkle with sesame seeds and toss again. Taste, and adjust seasoning as desired.
Enjoy.