Your baking will be extra special when you make homemade vanilla extract with vodka. Here's how to make it.
It might feel like too soon to be thinking about holiday baking and gifting, but if you want something extra special this year then now is a perfect time. Why? That's because vanilla extract needs to steep for months to attain maximum potency. Starting it now, in June or July, gives it ample time.
But here's the good news: it's super easy to make.
Homemade vanilla extract elevates homemade baked goods like cookies, cupcakes and cakes to an even more special level. And making it is fun — it develops slowly over time, allowing you to really see the transformation process.
Plus, a lovely bottle of homemade vanilla extract with vodka is a perfect holiday gift for the bakers in your life.
To get started, you'll need to gather your ingredients. Those include a cheap bottle of vodka; vanilla beans; bottles. You could totally steep the vanilla extract in the alcohol bottle, of course, but I prefer to divide it into containers for steeping.
I know what you're thinking: Did she say to use cheap liquor to make vanilla extract?!? Yes, I did. The best alcohol to make vanilla extract with is the most inexpensive. It's a vehicle for the vanilla flavor, not the star, after all. I typically use vodka for my vanilla extract, and this recipe focuses on that version. However, it's possible to make vanilla extract with other alcohols too like bourbon.
Also, it's important to note that this won't be as simple as heading to a store. Although you can sometimes find a small vanilla bean or two in a jar at the grocery store, your best bet is to order them online to get the quantity you need at a good price.
Where to Buy Vanilla Beans
What's homemade vanilla extract without vanilla beans? (Not vanilla extract, obviously.)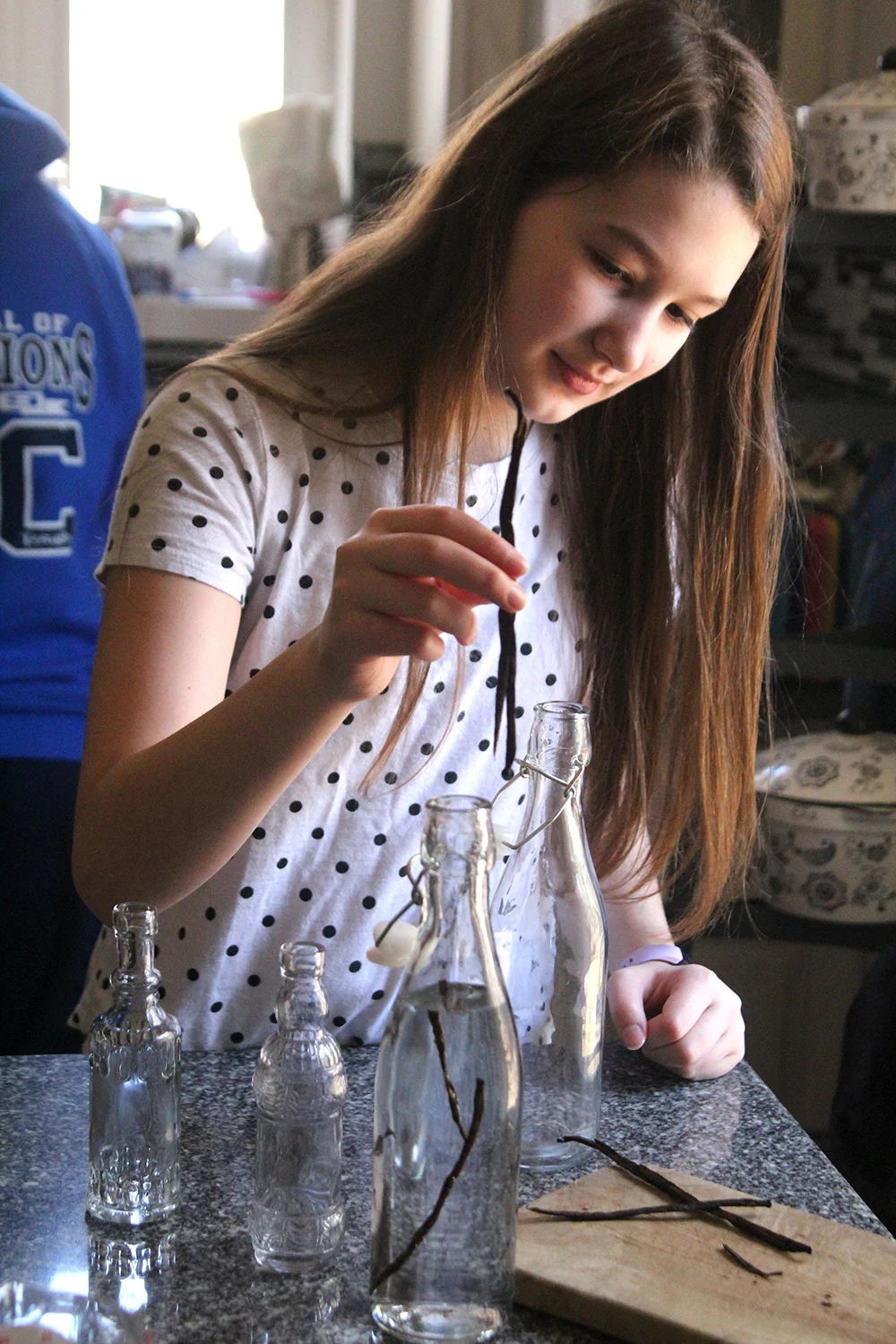 Although vanilla beans are sometimes available in the grocery store, you will pay top dollar there for just a few beans. Instead, head online where you can find more reasonable prices for the number of beans you need. In the past, I have purchased vanilla beans from eBay. But more recently, I have been ordering from Etsy.
When you are looking at listings, you'll see beans labeled at Grade A or Grade B. Grade A is the highest quality — long beans that are flexible and fragrant. Grade B beans will be less pliable and can be challenging to cut open, but they will still make a good extract. Grade C beans are the stiffest of the beans and may be cracked or split. I don't recommend Grade C beans for this recipe.
You'll also see that there are different types of origins, like Madagascar, Tahitian or Indonesian. Each one has its own unique flavor profile. Slofoodgroup has an excellent vanilla bean primer that will help you decide which ones are preferable to your tastes.
When ordering, take care not to order too much. You'll want as much as you'll use in the vanilla extract (and perhaps a few extra for recipes you'll make soon). Vanilla beans will become progressively less fresh over a few months.
Making homemade vanilla extract
Once you have your ingredients, the process to make homemade vanilla extract with vodka is simple.
Add the vodka to the bottles you are using.
Cut the vanilla beans in half lengthwise. Divide the beans into the bottles. Close the bottle. Give it a shake.
Then put it in a dark, cool place (like a cabinet) for 4-6 months. Give that bottle a shake every few weeks to mix things up.
And then, voila! Your extract will be ready to use or gift just in time for the holidays.
Homemade Vanilla Extract with Vodka
Additional Time:
6 months
4 seconds
Total Time:
6 months
5 minutes
4 seconds
This easy homemade vanilla extract with vodka recipe will elevate your baking and make an excellent food gift.
Ingredients
2 cups vodka, divided
8-10 vanilla beans
equipment
4 clean glass bottles (to hold 1/2 cup/4oz each)
Instructions
Using a sharp knife, split the vanilla beans down the center.
Pour 1/2 cup vodka into each bottle.
Place 4-5 vanilla beans into each glass bottle. Seal. Give it a little shake.
Now, place the bottled in a dark, cool place. Leave them there, steeping, for 5-6 months. Give them a shake every few weeks.
After 5-6 months, they are ready to use. The liquid should be a dark brown.
Notes
Fun labels make these extra special. I ordered mine from a creator on Etsy.