Smoky, creamy and comforting, this Smoked Cheddar Mac and Cheese with Bacon recipe is baked to perfection with a cheesy, cracker crust.
There was a time when I couldn't imagine my cooking habits changing. I had time and space to cook, so meals that take 30 minutes were doable all the time. We ate pancakes frequently and mac and cheese was my go-to easy dinner.
What I didn't know then was that when you are pulled in many directions, sometimes the mental toll of making even a 30-minute meal is too much. I also didn't know that when you are truly short on time, it's not just the time it takes to cook to consider — it's the dishes, the cleanup and even eating time.
Back then, I also could scarcely imagine a time when I wouldn't work at home. Or when my kids would be semi-independent teenagers with lots of homework, lots of responsibilities and lots of personal interests.
But life changed.
We moved to Maine. I took a full-time day job. I started teaching too. And I began writing cookbooks. Meanwhile, my son stopped playing soccer and basketball and became a three-sport distance runner. I coached my daughter's soccer time for a bit, but she too eventually gave up soccer and basketball for dance. And they both got older, wiser and busier.
To older parents, it's probably not a shock that my cooking habits had to change. I no longer have time to make pancakes most mornings anymore. And though mac and cheese remains an easy meal, I opt for even simpler meals with less cleanup.
What didn't change was my children's affinity for those foods I made often when they were younger.
Smoked Cheddar Mac and Cheese with Bacon isn't a recipe for busy nights. No, it's one to make when you have time — time to cook and time to linger while eating it.
Homemade mac and cheese is still a big hit with my children. When I mentioned that I intended this for lunch on a recent day when we were all home and not too busy, they made sure I did it. After all, my mac and cheese is still their favorite.
The key to this recipe is using good, well-crafted ingredients. It's the flavors of the cheese and the bacon that will really elevate this from your standard mac and cheese to something special.
So spring for the good, smoky bacon (applewood or maplewood smoked bacon is my favorite). And go for the best smoked cheddar you can find within your budget. The better the ingredients, the better the dish.
Once you have your ingredients, you'll want to create your mise en place. Gather everything you need to cook with. Chop the bacon. Shred the cheese. Measure the milk. And so on. That will make the cooking process go smoother.
A note on cooking time
When people talk about the expectations of recipe developers, one thing that often comes up is the unrealistic expectations of those who are experienced in the kitchen. Years ago, when Rachael Ray was super popular and newish to the culinary scene, I felt that way about her. Sure, her 30-minute meal recipes worked — but only if you could simultaneously do multiple things. You had to be a whiz in the kitchen to make them that fast.
Knowing this, I tentatively tell you that making this recipe can be done in about 30 minutes — as long as you are pretty organized and skilled in the kitchen. It's a constant flow of motion to make it this quickly though. The key is to manage several elements of it at the same time.
It also doesn't have to be made that fast. It's totally fine to take your time. Budget an hour for prep and cooking if you plan to do so.
To make this in 30 minutes, you have to multitask through the recipe. Start the water for pasta and also heat the pan for the bacon. Cook the bacon and also shred the cheese. Remove the bacon to a paper towel-lined plate and also drain the pasta. Make the sauce and also crumble the crackers and make the topping. Then bake it. In about 10 minutes, it's ready to eat.
Or take your time. Prepare your mise en place. Heat the pasta water. Cook the bacon. Finish both of those items before making the sauce. Then make the topping. Mix together the pasta, sauce and bacon. Prepare it for baking. Take your time through each step. The end result will be delicious no matter how fast you make it.
Work at the pace at which you are most comfortable.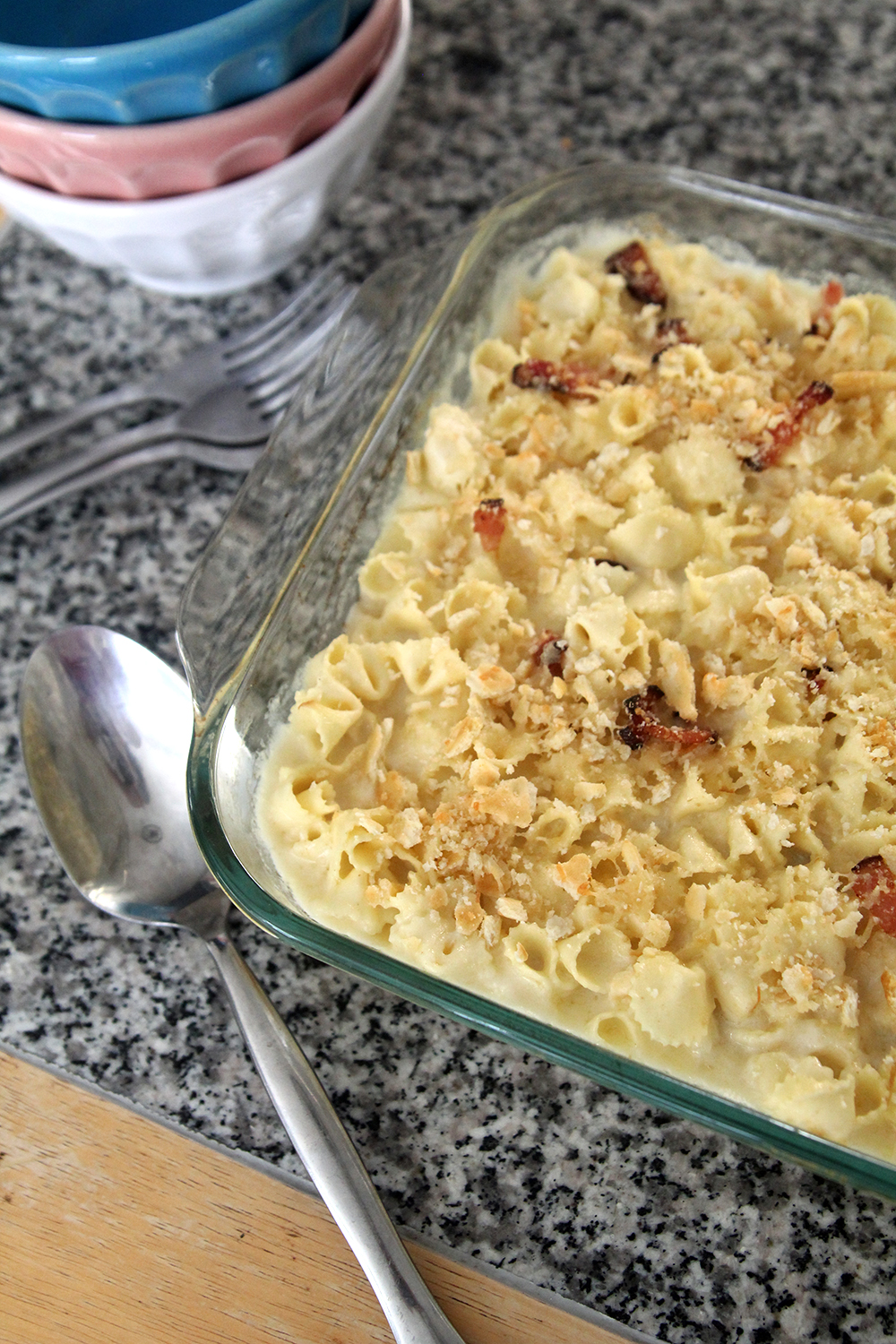 Now, who's ready to dig in?
Smoked Cheddar Mac and Cheese with Bacon
Creamy, smoky and comforting, this Smoked Cheddar Mac and Cheese with Bacon recipe is not to be missed.
Ingredients
12 oz dry pasta such as macaroni or bonnetti
4 slices thick cut smoked bacon, chopped such as applewood smoked
1/4 cup unsalted butter
1/3 cup all purpose flour
4 cups milk
1 teaspoon ground mustard
8 oz smoked cheddar, shredded
1/2 teaspoon kosher salt, plus more to taste
1/2 cup crushed crackers such as Ritz or Club
Instructions
Heat oven to 400 degrees Fahrenheit.
Cook the pasta according to package directions. Drain well.
Meanwhile, in a large skillet set over medium heat, cook the bacon to crisp. Remove to a paper towel-lined plate with a slotted spoon.
In a large saucepan, melt the butter over medium heat. Whisk in the flour, cooking for a minute or two until it's all mixed together and bubbly throughout.
Add the milk a little at a time, whisking continuously until all the milk has been added. Season with ground mustard and whisk to combine. Continue heating the milk over medium heat until it's very hot but not bubbling, about 3-5 minutes. There should be steam rising from the surface.
Add the smoked cheddar to the saucepan, reserving 1/2 cup for the topping. Whisk well to combine the cheese with the milk mixture. Continue cooking and whisking until smooth, about 2-3 minutes. Season with salt, adding more as needed to season the sauce. The sauce is done when it thickens slightly. Remove from heat.
To a small bowl, add the reserved 1/2 cup of grated smoked cheddar, the crackers and 1 tablespoon of the cooked bacon. Set aside.
In a large bowl (or the pot you cooked the pasta in), stir together the pasta, cheese sauce and remaining bacon until well combined. Pour the mixture into a 9x13-inch glass baking dish. Smooth gently to even out.
Sprinkle the cracker mixture evenly over the prepared mac and cheese.
Slide the pan into the oven and bake for 10-15 minutes, until bubbling at the sides and lightly browned on top.
Remove from the oven and let cool for a few minutes before serving. The sauce will thicken further as it sits.
Dig in and enjoy.