Flavored with a bold marinade, grilled bourbon chicken thighs are juicy, rich and delightful. Serve on salad, in a wrap or over rice.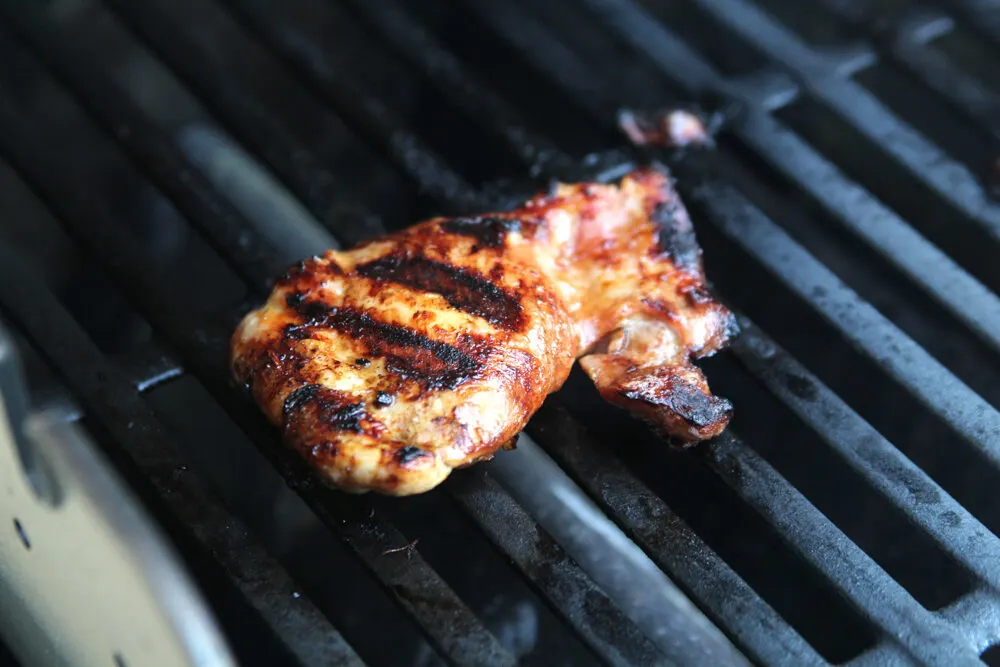 A funny thing happens when you've worked in food for 17 years, developing recipes for websites, blogs and cookbooks: you don't remember every single recipe you've worked on. That certainly was the case with the Grilled Bourbon Chicken recipe using chicken breasts that I created for Betty Crocker in 2011. When it came up in a recent search, it was a pleasant surprise.
It was also the perfect inspiration for the dish I was envisioning: Bold chicken with a rich marinade, perfect for slicing and eating throughout the week. Although this makes a fabulous dinner, it's also a great make-ahead dish.
This version of my Grilled Bourbon Chicken changes up the marinade slightly and uses chicken thighs instead of breasts. Chicken thighs, which are naturally thinner, tend to be more flavorful and faster cooking. They also are less likely to dry out in the cooking process.
Once cooked, this chicken recipe can be eaten immediately while it's hot. But if you want to use this as a make-ahead recipe, slice up the chicken thighs and transfer to an airtight container. Then store the chicken in the fridge for up to five days. The sliced chicken thighs can be eaten cool or warm in wraps, sandwiches, salads or grain bowls.
Whether served hot off the grill or cold for lunch, this chicken thigh recipe is divine.
Ready to get cooking? The recipe below will guide you through the process and my notes here give a little additional insight.
This recipe starts with boneless, skinless chicken thighs. You'll want to trim as much of the fat off them as you can. Chicken thighs are pretty fatty, so make sure you take the time to do this — the chicken will be better for it. Once trimmed, marinate the chicken for at least an hour using my fabulous bourbon marinade.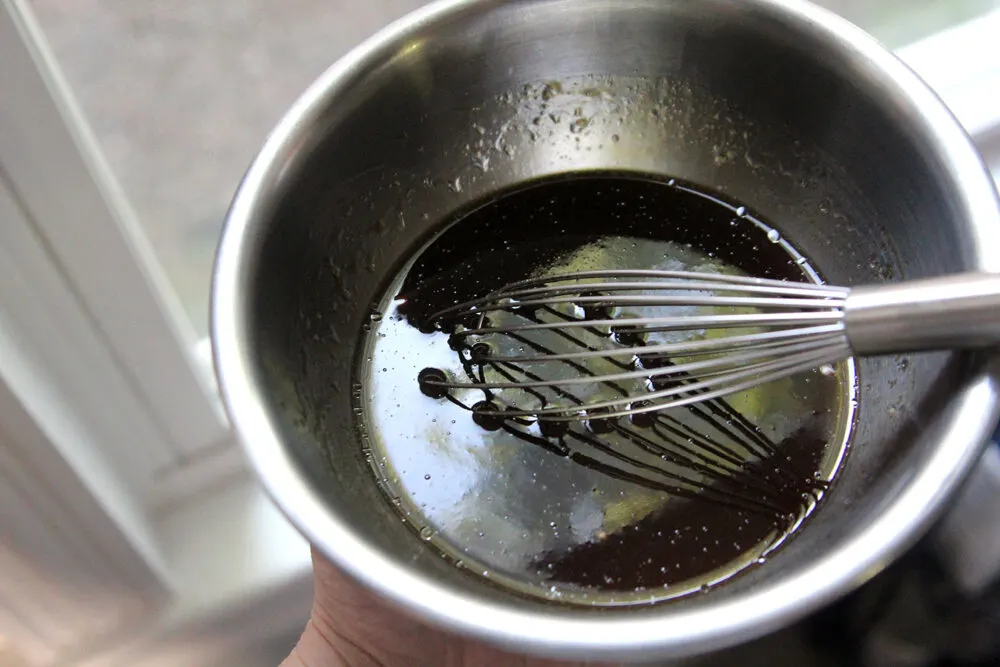 How do you make the marinade? It's time! Bourbon is whisked together with olive oil, soy sauce, garlic and ginger for a rich, bold marinade that leaves every bit of the chicken bursting with flavor. Stick the chicken in a shallow bowl with a lid, pour that luscious marinade on and then refrigerate it. Make sure to swish the chicken around before chilling so that all of it gets touched by the marinade.
Again, an hour of marinating time will work. But I prefer to leave it there for longer — all day if I can.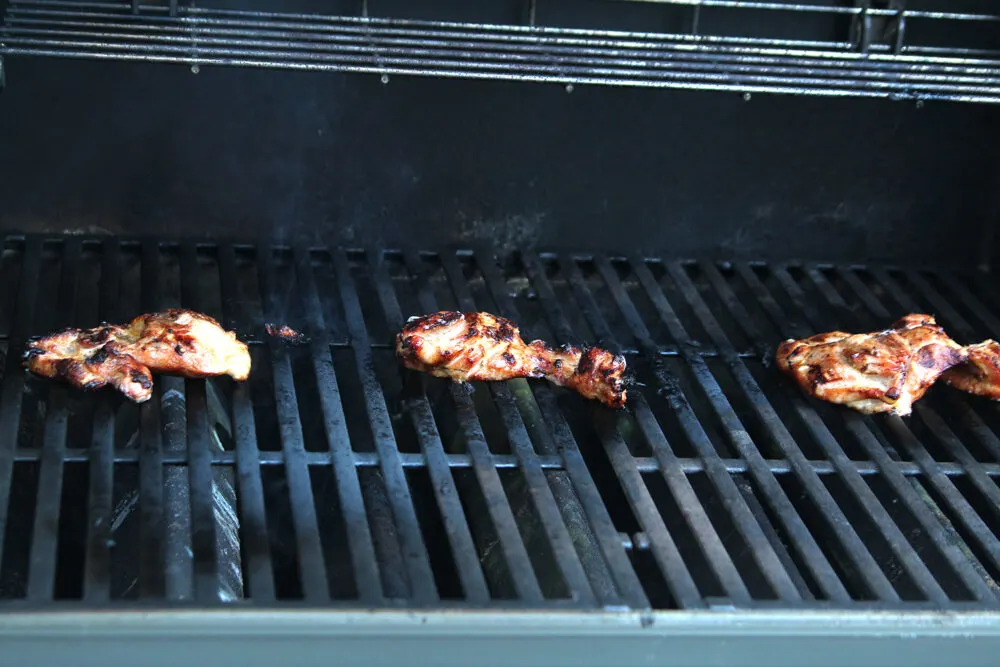 When the chicken is all marinated, it's time to cook. Grilling adds an additional dimension to the dish. Plus, chicken thighs cook quickly and easily on the grill — a happy bonus. Heat your grill to medium-high heat (if using a gas grill) or prepare your charcoals for cooking. Then toss on the marinated thighs, arranging them over the grates.
Chicken thighs cook for about 6-8 minutes per side. Use a good grilling spatula to flip them. The longer the handle, the better (that way you don't burn yourself!). Ultimately, you want the chicken to have an internal temperature of 165 degrees Fahrenheit — that's the temp at which it's done.
Then rest the chicken for about 5 minutes before slicing it. This time allows the juices to redistribute in the chicken.
Finally, slice the chicken. Use a sharp knife to cut it into thin pieces.
Want to eat it right away? Try it on a bed of rice with your favorite veggies such as steamed broccoli, sauteed greens or garlicky carrots. Sliced avocado is also delightful with it. Or pile it on baked potatoes or a salad.
Otherwise, you can store the slices in an airtight container in the fridge for up to five days, using them for sandwiches, wraps and more. Either way, this bold recipe is fabulous for summer meals.
Grilled Bourbon Chicken Thighs
Total Time:
1 hour
25 minutes
Flavored with a bold marinade, grilled bourbon chicken thighs are juicy, rich and delightful. Serve on salad, in a wrap or over rice.
Ingredients
1/3 cup bourbon
1/3 cup soy sauce
1/4 cup olive oil
1 tablespoon grated ginger
2 cloves garlic, minced
1 1/2-2 lbs boneless skinless chicken thighs, trimmed
Instructions
In a small mixing bowl, whisk together the bourbon, soy sauce, olive oil, ginger and garlic.
Arrange the chicken thighs, trimmed of as much fat as possible, in a shallow dish with a cover. Pour the bourbon mixture over, taking care to ensure it fully surrounds the chicken. Cover and chill for at least 2 hours to marinate.
Heat your grill to medium-high heat (or prepare your charcoals). Toss the chicken thighs on the grill and cook for 6-8 minutes per side, or until the internal temperature of the chicken reaches 165 degrees Fahrenheit.
Let the chicken rest for 5 minutes before slicing and serving.