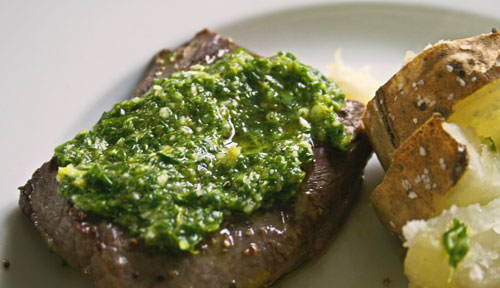 I've been staring at this screen for way too long. Of course, I want to tell you how much I love simple but flavorful sauces like this.
I want to describe how the tangy lemon is so well complimented with the mellow parsley and zesty garlic. Really, I do.
I really want to you to know that you need to make this and eat it over steak or potatoes … or both (but then you should make a double batch for four people).
It's kind of like chimichurri … without the spice.
Just try it.

Lemon Parsley Sauce
Author:
Sarah Walker Caron
Ingredients
1 cup parsley
¼ cup extra virgin olive oil
zest of 1 lemon
½ tbsp fresh lemon juice
3 large cloves garlic
salt and pepper
Instructions
Combine all ingredients in a food processor and pulse until combined.