Fiddlehead greens are the edible grow of the ostrich fern, ripe from late April to early June in the Northeast. Enjoy them in this Fiddlehead Greens Salad.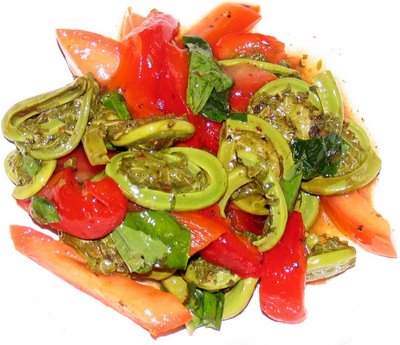 I was wandering the produce section of a local supermarket … I do that a lot … and came across these interesting greens right next to the sugar snap peas. "Fiddlehead greens," the sticker proclaimed. They weren't too expensive ($2.50 or so, for the package) so I decided to pick them up and figure out what you do with these foreign goods.
After checking out a million recipes for these fern shoots, named for their coiled centers that resemble a fiddle, I still wasn't sure what to do with them. But then it came to me: a salad. I could steam them until tender and toss them with great ingredients and hopefully, they would turn out to be yummy too.
Now what is a fiddlehead green exactly?
According to The Canadian Encyclopedia, they are the early shoots of the Ostrich Fern and can be eaten raw or cooked. However, if eating raw, be careful because they contain an enzyme that can attack vitamin B in the body. Oh, and they are a delicacy.
Note: I've since learned that it's really not recommended to eat fiddlehead ferns raw as they will likely make your tummy hurt.
I cooked them.
They need only to steam for 5-7 minutes and then they are ready to eat. Be sure to remove the ends and also any papery brown layers that remain before cooking
Here is my recipe (and ARF/5-A-Day entry) for this delicious salad that's great for a warm spring day like the ones we've been having in Connecticut of late. It's so incredibly simple that it almost can't be called a recipe. Check it out, and don't forget to check Sweetnicks on Tuesday night for other great recipes that contain great fruits and vegetables, and antioxidant-rich foods.
Fiddlehead Greens Salad
Ingredients
2 cups fiddleheads, steamed
1/2 cup roasted red peppers, cut into 2 inch long strips
1/2 cup tomatoes, sliced thin
2 tbsp. fresh basil, chopped
1/4-1/2 cup vinaigrette
Instructions
Combine all ingredients in a medium bowl and toss lightly until well combined.
Let sit 20 minutes before serving.